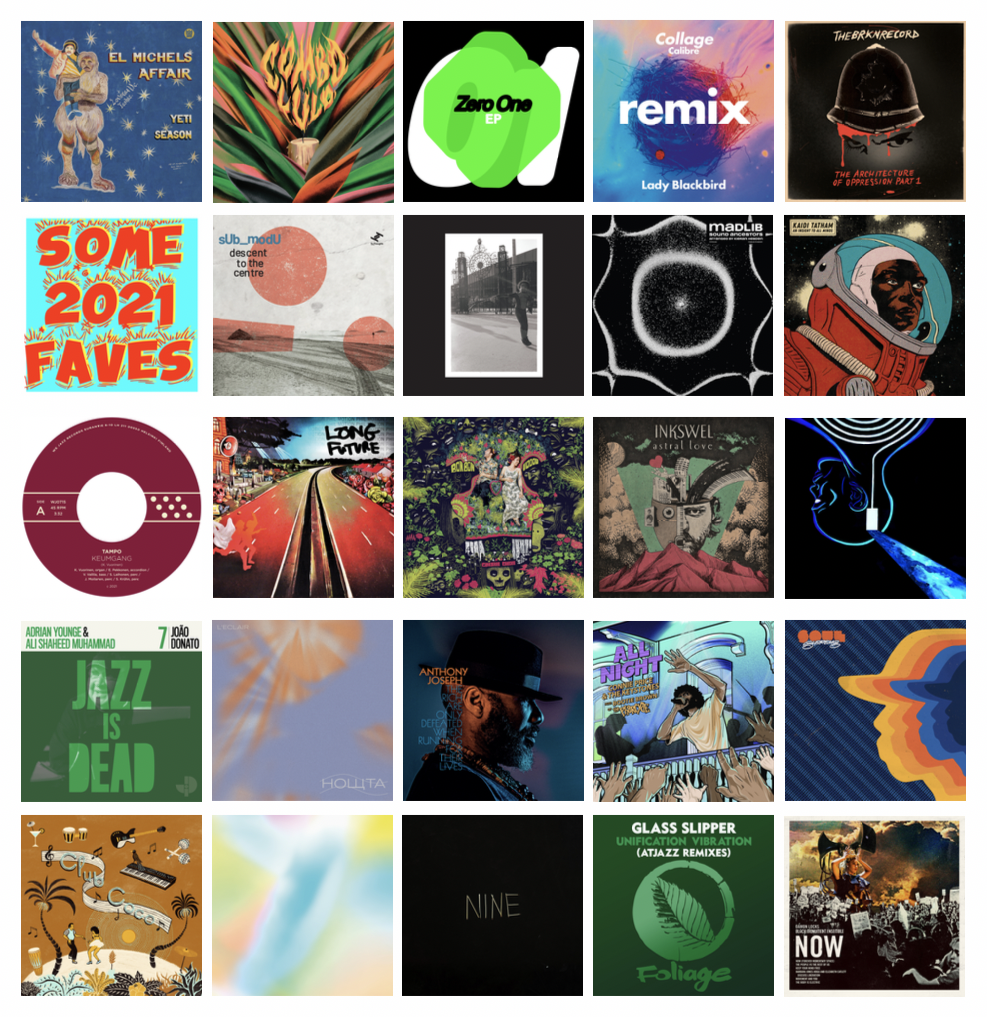 Friday Drive
Friday December 31st, 2021 with Trevor Walker
[NYE] Some favs...
Happy Friday "Drivers"! First I'd like to thank everyone who donated to this or any other show on ckcu for the 2021 funding drive! If you're tuned in as this show goes to air, it's December 31st and we're still accepting donations until midnight tonight! Still hoping to hit my lofty goal of 100 people and $5000. We almost got there! The drive total is $157,206 as I'm putting this episode together. Big big big ups and thank you to the now 51 of you at last count & counting, hopefully, who reached out bringing our total to $2767! Roll call: 1. Jefferson Park  2. Dave Paquette  3. Regis Loreau You can catch Regis on Thursdays 19h-20h30 EST for "Bizarre Bazaar"
https://cod.ckcufm.com/programs/463/info.html
4. Jim Reilly alumni extraordinaire Thanks Jim! 5. Kay & Pablito your donation is greatly appreciated  6. Sonia Vani great seeing you at the NAC! 7. Glenn, Maya, Sophia & Carter thanks fam! 8. Shawn Maloney from
streamwater.ca
  @streamwatercanada locally sourced spring water without plastic packaging thank you 9. Candace Nelson who puts  "Candyshop" together every Friday 16h-17h
https://cod.ckcufm.com/programs/481/info.html
10. Micheal Brogan thank you 11. Scruffy_Sac SoundZystem tuning in online from Finland! 12. Jas Nasty on rotation on Heavy Friends Saturday 20h-22h
https://cod.ckcufm.com/programs/410/info.html
13. David Dalle hosts yet another fantastic program Thursdays 14h-16h Journeying to every continent and exploring different traditions in the recordings he features every week!
https://cod.ckcufm.com/programs/105/info.html
14. Robert P in Gatineau thank you your comments are always appreciated  15. Robin Hutcheson  16. Daniel Verreault  17. Paulo Filipe  18. Mark Searl 19. Heavy Ben who does some killer programming on rotation on "Heavy Friends" 20h-22h Saturdays, "Chance Meeting" biweekly 15h-16h & on rotation doing "In A Mellow Tone" on occasion Wednesdays 21h-23h
https://cod.ckcufm.com/programs/94/info.html
https://cod.ckcufm.com/programs/581/info.html
https://cod.ckcufm.com/programs/410/info.html
20. Stefan Bergeron  21. Kevin &  22. Nicky 23. John Tackaberry thank you for donating twice! John has been bringing us "Black And Blues" every Sunday since the very early days of CKCU!21h-23h It's an honour to receive your donation
https://cod.ckcufm.com/programs/38/info.html
24. Terry Martin  25. Elisa Urrutia 26. Robin Dunbar, Annella & Kincaid  27. Daryl Campbell thank you Be sure to check out his shop "Chrontact Cannabis" corner of Carling and Woodroffe | 1-2280 Carling Avenue
https://chrontact.ca
28. Jeff & Cassandra 29. Mick Alalew 30. Gwynneth Hughes 31. Andrea Barker 32. Chris International who you can catch right here on CKCU Mondays 15h-16h doing "Turn Up The Radio"
https://cod.ckcufm.com/programs/48/info.html
33. Scott LeClair 34. Beatrix Picard 35. Donovan Byrd 36. Ann Rickenbacker 37. Elorious Cain who you should definitely try and catch on "The Groove" 13h-15h every Saturday 
https://cod.ckcufm.com/programs/131/info.html
38. Natacha Labelle 39. Serge & Andrea! 40. Thomas Purser  41. Stephen Martin 42. Gordon Walker thanks Dad 43. Matt Day 44. Jason Jaknunas 45. Matthew Ciavaglia 46. Zoe Mallett 47. Molly Stollmeyer 48. Richard White 49. Pierre-Louis Pinel 50. Pascal Marais 51. Mark Meurin 52. Sean Ralph Thank you all so much!!! If you're reading this and you'd like to donate don't be shy, Drive ends at midnight tonight, December 31st! We've almost made it through this year and have the final "Friday Drive of 2021 coming your way. 2021 may not have been a great year for some and although it could have been better in some respects, personally, I feel the year gifted us with some amazing music! This week's I'm doing a run through of some of the music that stood out for me chosen from new releases from 2021. Won't be a scientific top of the charts, more of an arbitrary mix of what will fit in the next two hours. My guess is there will be a follow up or part two and maybe three in the first couple of weeks of 2022. So glad you're all here thank you for sharing your NYE Friday evening or whenever you may be listening and hope you enjoy the ride! Thank you for taking the time and for all your support & comments! Wishing you all infinite health, prosperity and love and freedom in 2022! Hope we can all get together in person unmasked, indoors! Thank you for taking the time on Friday evenings or whenever you may be listening on demand Until next year, week and Friday! Be good to each other and lets try and treat each other with kindness! Extra curriculars: If you feel you're not getting enough from the Friday Drive you can always check out the archive links going back at least three years. And if that's still not enough you can always join me most Thursdays & Saturdays!
twitch.tv/lifeboogie
20h | Thursday/Saturday *sometimes Tuesday
Ala Vida
El Michels Affair - Yeti Season Album - Big Crown
Culebra Mentirosa
Combo Lulo feat. Alba Ponce de Leon - Neotropic Dream Album - Names You Can Trust
Skatta
DJ Sofa - Zero One EP - Straight Up Breakbeat

Collage (Caliber Remix)
Lady Blackbird - Single - Foundation Music
On The Daily
The Brkn Record feat. Ugochi Nwaogwugwu - The Architecture Of Oppression Album - Mr. Bongo

Water Get No Enemy
sUb modU - Descent To The Centre Album - Tru Thoughts

Open The Gates
Irreversible Entanglements - Open The Gates Album - International Anthem

Road Of The Lonely Ones
Madlib - Sound Ancestors Album - Madlib Invazion
Stro Kyat
Kaidi Tatham feat. Stro Elliot - An Insight To All Minds Album - First Word Records
Tampomambo
Tampo - We Jazz Records 7" Singles Box 3 v/a - We Jazz
El Muro
Phil Motion - Long Future Album - Unknown

Rituel
Bonbon Vodou & Sages Commes Des Sauvages - Cimetière Creole Album - Heavenly Sweetness

Astral Love
Inkswel feat. Dwight Trible, Michele Manzo & Planetself - Astral Love Album - Atjazz Records Company
The Spiral
Theon Cross feat. Afronaut Zu & Ahnanse - Intra-I Album - New Soil

end of first broadcast hour
Não Negue Seu Coraçäo
Joao Donato, Adrian Younge, Ali Shaheed Muhammad - Jazz Is Dead 7 - Jazz Is Dead
Cebando
L'Eclair - нощта Album - Les Disques Bongo Joe
Maka Dimweh
Anthony Joseph - The Rich Are Only Defeated When Running For Their Lives Album - Heavenly Sweetness
All Night (Professor Shorthair Extended Mix)
Connie Price & The Keystones feat. Bootie Brown - Single - Superjock Records
Feelin' Good
Soul Supreme - EP - Soul Supreme
Bomba Atomica
Meridian Brothers Y Grupo Renacimiento - Club Coco v/a Album - Les Disques Bongo Joe
A Big Brain
Nico Mauskovic - Club Coco v/a Album - Les Disques Bongo Joe
Andromeda Style Funk
Wonky Logic - Transdimensional Funk (Transposed For Human Consumption) Album - Super-Sonic Jazz Records
Trap Life
SAULT - 9 Album - Forever Living Originals

Elevate
Eye Of The High - Single - Eye Of The High

Unification Vibration (Atjazz Main Mix)
Glass Slipper - Single - Atjazz Records Company
end of on air broadcast
The Body Is Electric
Damon Locks - Black Monumental Ensemble - Now! Album - International Anthem

on demand exclusive