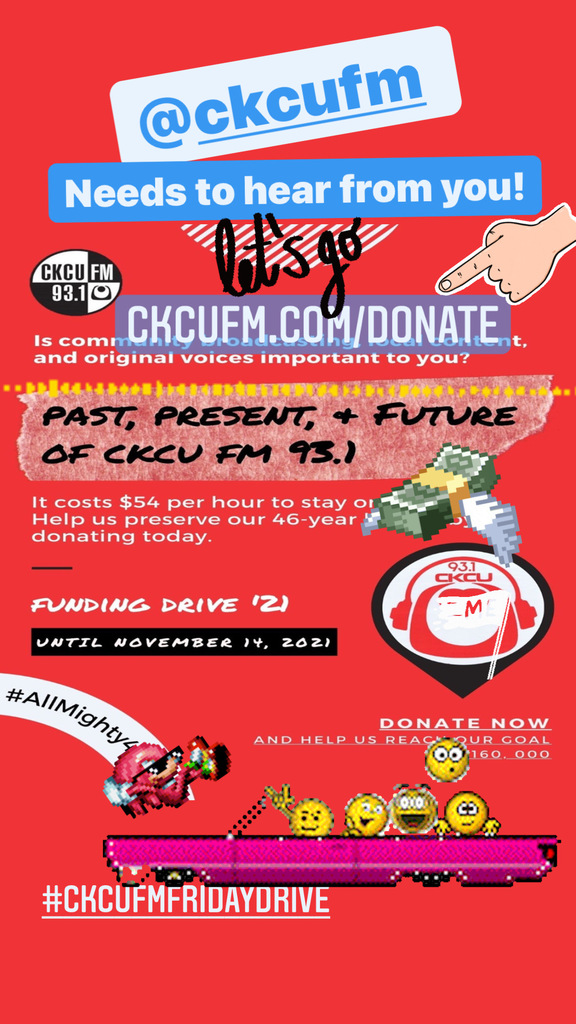 Friday Drive
Friday November 12th, 2021 with Trevor Walker
[FDFDF 3/3] aka "Friday Drive Funding Drive Free$$$tyle"
Happy Friday Drivers! Here we go with my last chance to hit the Friday Drive's goal of $5000, helping contribute my part to this year's drive total of $160, 000! Friday drive is sitting at 27 people who have donated and a total of $1255 as I'm putting this episode together. Station expenses broken down work out to about $52/hour to keep us on the air for another year. You could look at it as $1/week subscription that I'm hoping 100 of you will be enrolling to with a one time $52 donation. Pretty good deal, no? HUUUUUGE THANK YOU$$$$ & BIG UP$$$$$ To: Jefferson Park Dave Paquette Régis Loreau "Bizarre Bazaar" 19h-20h30 EST | Thursdays
https://cod.ckcufm.com/programs/463/info.html
Jim Reilly Kay and Pablito Sonia Vani Glenn, Maya, Carter & Sophia Shawn Maloney
www.streamwater.ca
@streamwatercanada Candace Nelson "Candyshop" 16h-17h EST | Fridays
https://cod.ckcufm.com/programs/481/info.html
Micheal Brogan Scruffy_Sac SoundZystem Jas Nasty "Heavy Friends" 20h-22h | Saturdays
https://cod.ckcufm.com/programs/410/info.html
David Dalle "David Dalle Show" 14h-16h EST | Thursdays
https://cod.ckcufm.com/programs/105/info.html
Robert P in Gatineau Daniel Verreault Paulo Filipe Heavy Ben "Heavy Friends" 20h-22h EST | Saturdays
https://cod.ckcufm.com/programs/410/info.html
"Chance Meeting" 15h-16h EST | Fridays (alternating)
https://cod.ckcufm.com/programs/581/info.html
"In A Mellow Tone" 21h-21h EST | Wednesday (alternating)
https://cod.ckcufm.com/programs/94/info.html
Mark Searl Stéphane Bergeron John Tackaberry "Black And Blues" 21h-23h EST | Sunday
https://cod.ckcufm.com/programs/38/info.html
Kevin & Nicky Elisa Urrutia Terry Martin Robin Dunbar Let's add your name, your business and your support to keeping us here for another year! Thank you all so much who have donated bringing us to 27 "Drivers" and just over $1255!!! Let's keep the ball rolling and try to hit my goal of 100 people reaching out and getting as close to or supass $5000, ideally. Support and believe in CKCU's volunteers for another year. It's truly admirable how so many of us have stepped up our volunteer efforts in all kinds of ways.. Learning how to record podcasts, editing, investing with our time, in equipment and all for free. Can't speak for everyone else but I do it because it's an amazing platform for me to share my wealth of music with you all weekly. A place where I've felt included and been allowed to express myself freely. The station's legacy is also as such an instrumental soundtrack to mine and so many youth as a place to discover music, alternative opinions, current affairs often and mostly ignored by the mainstream until platforms like CKCU with volunteer hosts and programmers working hard to bring you an alternative. Especially over the past two years. All of your love was most definitely felt during last year's drive and I hope to replicate it this year! Let's do this! Extra curriculars: Some events to take note of: Alex Edwards aka DJ Magnificent is back for Friday "Happy Hour" Queen Street Fare | 170 Queen st. w 17h30-20h Saturday: Framework is doing their weekly "Waiting Room" City At Night 222 Slater | 8pm Featuring on the decks: Nov 19 JFUN (premiering his new "be what you wanna be ep) alongside Rick LaPlante & Kirakuna Reservation + Event Links:
https://www.facebook.com/events/365267412055640/
www.cityatnight.ca
Axé Worldfest A non-profit Arts organization present Axé Concert Series (pronounced> Ashéé - Yoruba word meaning good vibrations!!!) Showcasing artists in various venues across our city Fall/Winter 2021/22 FEATURING *Gypsy Kumbia Orchestra* PLEASE NOTE: DOORS OPEN AT 9PM and SHOW START TIME WILL BE AT 9:30PM. DUE TO VENUE 11PM CURFEW Montreal' GKO is an explosion of music, dance and circus. The orchestra fuses Colombian Caribbean rhythms with musical styles from around the world in a melodic chaos. Nominated for the prestigious Canadian Juno Awards, GKO is promoting their second album "VelkomBak". A dozen songs that greatly expand the band's musical palette and that invite us on a musical journey from the Andes to Quebec, passing through India, Spain and the Balkans. A unique and tasty Canadian recipe, connecting disparate cultures and traditions through the common thread of the rhythmic language of Cumbia, with hints of ska, jazz and funk. GKO has to its credit more than 300 concerts in Canada and 3 international tours (Colombia in 2014, France in 2015 and the Czech Republic and Austria in 2016). It is a rhythm machine getting ready to invade the world with its madness and magic.
http://www.gkomusic.com/
This Project is funded by FACTOR and has been made possible in part by the Government of Canada If you feel you're not getting enough from the Friday Drive you can always check out the archive links going back at least three years. And if that's still not enough you can always join me most Thursdays & Saturdays usually around 20h EST on my twitch and working on a Tuesday stream possibly during the day. Check my channel:
twitch.tv/lifeboogie
Thursday/Saturday 20h EST And finally it's funding drive! Make that donation! Thank you for being here happy Friday and happy listening!
Ethnoegalvanik
John Reed & The Automatics - Single - FNR

Something That's Real
The Quantic Soul Orchestra - Single - Tru Thoughts
I Believe It's Alright
Jack Jacobs - Single - Melodies
All This Love That I'm Giving
Gwen McCrae - Single - Cat
Whisper To Me
E. Live - Single - Star Creature Universal Vibrations
Barely Breaking Even
Louie Vega Presents Leroy Burgess & The Universal Robot Band Feat. Patrick Adams - Single - Alim Music
All Aboard The Soul Funky Train
The JB's - Single - People
If You Don't Give A Dogone About It
James Brown - Single - Polydor
Mbele
Voilaaa - Des Promesses Album - Favourite
Suono Nuovo
Quintetto X - EP - Right Tempo
Keep The Fire Burning (Dump The Lump)
Micheal Rose - Single - RCA
end of first broadcast hour
Breaking Point
Central Line - Album - Mercury
Missione A Bombay
Nicola Conte - Single - Schema
Wa Do Wa
Nicola Conte & Spiritual Galaxy - Let Your Light Shine On Album - MPS
Peace On Earth
Ebo Taylor - Twer Nyame Album RE - Mr. Bongo
Hold On I'm Coming
George Benson - Space Album - CTI
Hold On I'm Coming
Aretha Franklin - Single - Arista
We Did It
The Star Beams - Play Disco Specials Album RE - Mr. Bongo
Root Down
Peter Kruder - Single - Compost Records
Cool Money
Prince Nico Mbarga - Cool Money Album - Phillips