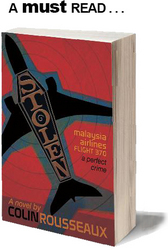 Unpaid & Uncaffeinated
Thursday February 26th, 2015 with Suzette Schmiedel
The Power of Creative Writing
THE POWER OF CREATIVE WRITING When is the last time you wrote something? Really wrote something, putting pen to paper, and not just typing away an email or report on a computer or smartphone. If it's been awhile, you might want to consider getting back into the practice. In this episode of I Am Alive we explore the amazing benefits of creative writing and an interview with Dr. Colin Rousseaux who has recently published a book, but not just any kind of book. He has written a very special interactive novel that engages the reader into...an adventure!
A Poem For Byzantium
Delerium - Poem

The Getaway
Farewell Davidson - Hometown Lights

Trampolin
Esmerine - La Lechuza

Fixate
Farewell Davidson - Hometown Lights

Special Guest:
Dr. Colin Rousseaux
Author of the new interactive novel STOLEN
To find out more about his fascinating new novel visit
www.stolen-mh370.com