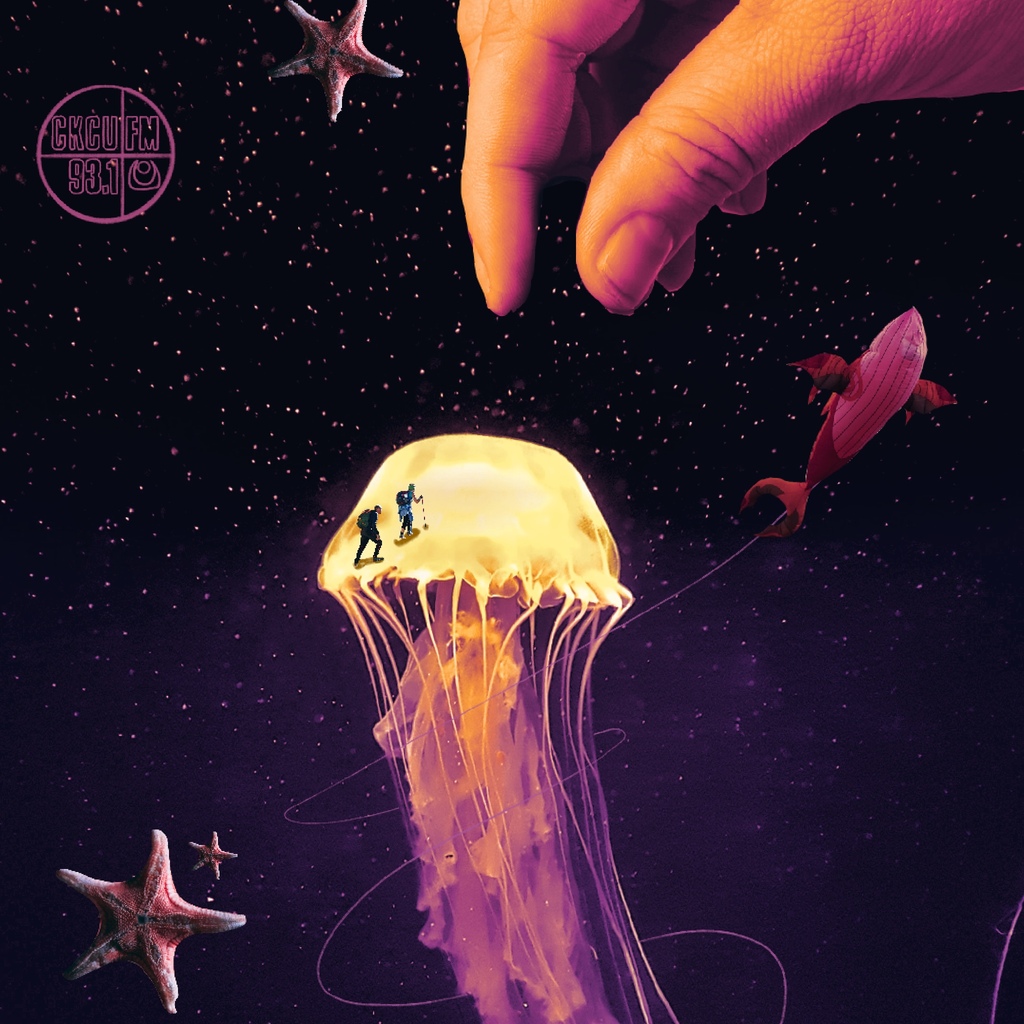 Monday Special Blend
Monday May 9th, 2022 with Jumpin' Joel Flash & Kim Valentine
It's Jesse Cook & Family Man & Encore Ottawa on the Monday Special Blend!
An interview with JUNO Winner Jesse Cook! He's touring his new album, bringing it to the NAC on May 15! Another interview with Family Man! This Montreal Band has a new album, and a show this Friday at Cafe Deckuf! Encore Ottawa is on until May 12! We play some tunes from this week's artists: The Angelina Hunter Trio & The Commotions! PLUS TUNES from Wise Atangana, TwoTiime, Paul Weber, The Ottawa Guitar Trio, & Max Webster!
Peanut Butter
Jumpin' Joel Flash - s/t

https://www.youtube.com/watch?v=3v573VszDAE
Oh War!
Max Webster - High Class In Borrowed Shoes

Gettin' Old Chid
The Angelina Hunter Trio - Roll With It

Baybeh
The Angelina Hunter Trio - Roll With It

The Angelina Hunter Trio is comprised of three friends who are veterans of the Ottawa scene. The band is based on the vocal and guitar stylings of Angelina Hunter. This conglomeration consists of vast influences of music, styles and tastes-from hard rock, gospel, soul, blues, jazzy flavors, pop, or whatever we want to play at any given time, stirred up and blown back out at the audience.

https://angelinahuntertrio.com/

PLAYING THURSDAY!

Encore Ottawa Season 3
Thursday, May 12, 2022
The Angelina Hunter Trio | 10 pm
The Commotions | 10:30 pm
https://shenkmanarts.ca/angelina-hunter-trio-commotions

Encore Ottawa: https://shenkmanarts.ca/en/encoreottawa3
Past Videos: https://www.rogerstv.com/show?lid=12&rid=4&sid=8448
Should've Known Better
Family Man - What's New

What's New
Family Man - What's New

With punk roots and power-pop sensibilities, alternative-rock band Family Man burst onto the scene in 2019. Their upcoming debut EP "What's New" is a refined cacophony of experimental synths, deeply personal lyricism and punk enthusiasm, inspired by the turmoil of one of the members' recent breakup.

When asked to describe the album's sound, the group defines it as the result of a lot of angry/sad songwriting and lyricism disguised by happy/upbeat melodies. With heart wrenching singles like the title track, What's New the band introduces themselves with their heart on their sleeves. Fearless and honest but never without humor.

https://www.familyman-music.com/

PLAYING FRIDAY

Family Man + Tarbox + Carlyn
FRIDAY, MAY 13, 2022 AT 8 PM
Cafe Dekcuf - 221 Rideau St.
https://thepointofsale.com/tickets/familymanxtarbox
Stardew Valley: Spring (Wild Horseradish Jam)
Ottawa Guitar Trio - s/t


Composed of Nathan Bredeson, Alex Bougie and François Lacelle, The Ottawa Guitar Trio has made it their mission to highlight the accessibility and reliability of classical music to modern audiences. The ensemble explores the classical guitar's unique dynamic and textural palette to bring to life a repertoire of dynamic movie soundtracks, nostalgic video game scores, timeless classical repertoire, as well as original music for guitar trio.

https://www.ottawaguitartrio.com/
New Suit
The Commotions - s/t

Trooper Strut
The Commotions - s/t

Take a blazing horn section, throw down some bombastic drums, pepper in piano and guitar, then stir in vocals shifting from sweet to soulful to sultry quicker than you can hop onto the dance floor. And you will hop onto the dance floor because that's a recipe for groove making. It's ingredients for crowd shaking. It sizzles. It pops. It jumps. It jives. It's The Commotions and the taste is soulicious!

https://www.thecommotionsband.com/

PLAYING THURSDAY!

Encore Ottawa Season 3
Thursday, May 12, 2022
The Angelina Hunter Trio | 10 pm
The Commotions | 10:30 pm
https://shenkmanarts.ca/angelina-hunter-trio-commotions

Encore Ottawa: https://shenkmanarts.ca/en/encoreottawa3
Past Videos: https://www.rogerstv.com/show?lid=12&rid=4&sid=8448
Solace
Jesse Cook - Libre


Libre
Jesse Cook - Libre


AN INTERVIEW with Juno-Winner Jesse Cook! He's touring his new album, bringing it to the NAC on May 15!

Multi-Platinum/Gold awarded, JUNO-winning and internationally acclaimed producer, composer, and guitarist Jesse Cook announces newly updated Canadian dates for his highly-acclaimed "Tempest II" tour.

Originally marked for 2020 in celebration of the 25th anniversary of his acclaimed debut album, Tempest, the newly announced 21 homegrown shows will span from Quebec to B.C.; with 48+ cross-continent dates on the docket, Cook recently kicked off the tour in the U.S. alongside the release of his 11th studio album, Libre — to rave reviews.

Released via his own Coach House label imprint, and distributed by Outside Music/Redeye, the 10-track album combines Cook's iconic Spanish guitar flair with Algerian multi-instrumentalist Fethi Nadjem, modern trap rhythms, and 808 beats.

https://www.jessecook.com/

PLAYING SUNDAY!

Jesse Cook
Sunday, May 15 - 8:00 PM
National Arts Centre - 1 Elgin St.
https://www.ticketmaster.ca/event/31005B68D7D9418A
Tiens moi par la main
Wise Atangana - Messimba


Incompréhension
Wise Atangana - Messimba


Wise Atangana's love for these diverse music and art forms results in a unique, innovative, acoustic musical style. Wise Atangana inspires, motivates, and offers insights about society, his perception of the world, and the African reality, as well as that of a new immigrant arriving in Canada. Through his music and lyrics, he shares his joyous, positive, energy, with powerful raising his voice and also that of the vulnerable.

Launching in partnership with the National Arts Center of Canada and The Gladstone Theatre, Wise Atangana's new album Messimba is a fusion of hip-hop/rap, African urban music and slam poetry.

http://wiseatangana.com/

PLAYING FRIDAY

Messimba Album Launch - Wise Atangana
Friday May 13, 2022 @ 8pm
The Gladstone Theatre - 910 Gladstone Ave.
https://www.thegladstone.ca/messimba/
On the Edge
TwoTiime - s/t


Off Some
TwoTiime - s/t


Over the past decade, only a small group of artists from Canada's capital have been minted as certified ambassadors for the local scene. Few have found a degree of success typically reserved for standout artists from larger, more established hip-hop markets; few have been true to their roots in the city, while having the charisma and talent to transcend its identity. Yet, at only 20-years-old, recording artist TwoTiime continues to push through barriers, and achieve new milestones on his most certain path to mass appeal. Since a young age, TwoTiime, born Khalid Omar, has been exposed to the harsh realities of the streets, and the impact it has on communities breeding an ongoing cycle of pain and despair.

Growing up in Ottawa's notorious west-side neighbourhood, Ritchie Street, TwoTiime's initial breakout came in 2020 as the community mourned the loss of a talented young rapper named FTG Metro. TwoTiime's single, "Hood Cry," was a tribute to his fallen friend, and the song and video were quickly celebrated by listeners across the world. The deep-rooted loss motivated TwoTiime to reaffirm his decision to pursue music as a career, and to focus his efforts on achieving success through experience-guided strategy and an onslaught of big singles. While "Hood Cry" certainly made a huge impact for TwoTiime, the release of "Keep It Real" opened TwoTiime's market to an even larger audience as Fortnite enthusiasts embraced the song for their highlight reel YouTube videos. Like "Hood Cry" before it, "Keep It Real" has amassed more than 1.43 million streams on just Spotify alone.

https://twotiime.com/

Found on Apt613 #ottmusic weekly playlist: https://apt613.ca/ottmusic-weekly-13-new-songs-added-to-the-apt613-playlist-4/
Heron Road Bridge Song
Paul Weber - Ode to Gerry Barber

Mansplainer
Paul Weber - Ode to Gerry Barber

Paul Weber is an engaging storyteller, singer and songwriter from Ottawa. He is a people's poet of sorts, telling tales of past times, stories of the street, and community struggles. With one foot in the narrative folk tradition and another foot in the digital world, Paul frequently combines self-made videos into both his live and online performances, making for an engaging and sometimes educational show. Paul just released, "Ode to Gerry Barber", a heartfelt collection of songs in a wide range of musical styles. In 2020 he was awarded a Bernard Grand Maître award for his musical contribution to Francophone culture.

https://www.paulweber.ca/

PLAYING THURSDAY!

Songs of Ottawa and the Valley, with Paul Weber Trio and Marc Audet Duo
THURSDAY, MAY 12, 2022 AT 8 PM
Live! On Elgin - 220 Elgin St.
https://www.liveonelgin.com/products/songs-of-ottawa-and-the-valley