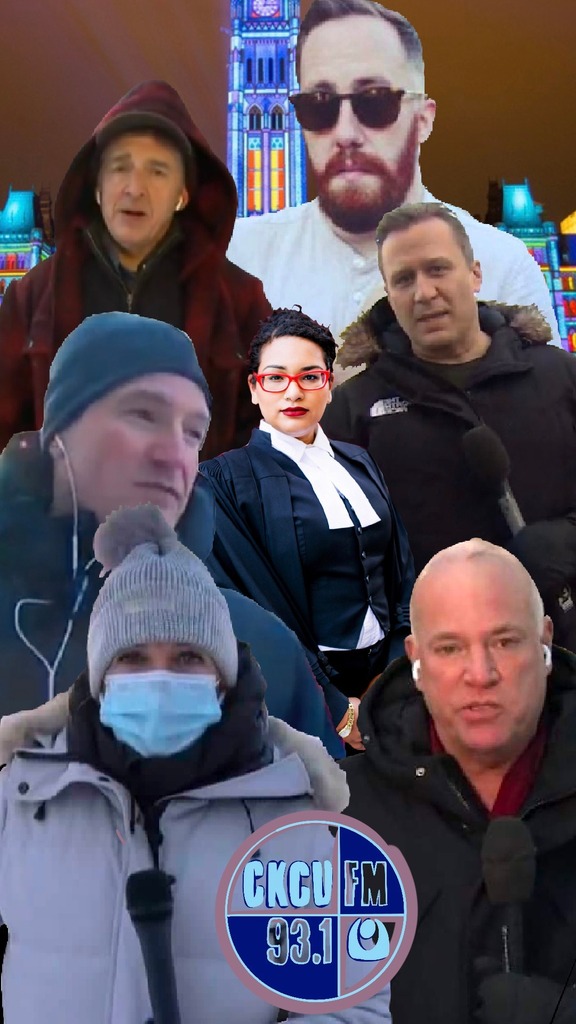 Monday Special Blend
Monday February 21st, 2022 with Jumpin' Joel Flash & Kim Valentine
It's Capital Music Awards and Country Club Pool Boys on The Monday Special Blend!
An Interview with Xavier Magloire and Jason Daniels from Country Club Pool Boy! This cool collective has new tunes, and more coming! And then an interview with Karim Rostom from the Ottawa Music Industry Coalition! Nominations for the 3rd Annual Capital Music Awards are open now! 10 categories, all genres welcome! Today's showpiece features some journalists who reported live from Ottawa this weekend! Thanks for doing what you do!
Water Me Down
Max Webster - Mutiny up my Sleeve

End of Magazines
Jasmine Trails - Cycles Of Love (Home Demos)


Mother You!
Jasmine Trails - Cycles Of Love (Home Demos)


Jasmine Trails is Allie O'Manique, a master of languid melancholia. She grew up outside of Ottawa, on the Rideau River, and her music feels like a search back to those more peaceful, nature-bound times.

Jasmine Trails' songs are profoundly intimate, often written and recorded not just from bedrooms but from beds. Her dusky alto simultaneously holds the darkness of a survivor and the promise of brighter days to come.

https://jasminetrailsss.bandcamp.com/

Playing Friday!
Yoo Doo Right, Ky Brooks & Skin Tone and Jasmine Trails at Club SAW
FRIDAY, FEBRUARY 25, 2022 AT 7 PM – 11 PM
Galerie SAW Gallery - 67 Nicholas St.
https://lepointdevente.com/billets/87e220225001
Nepotism Baby
Country Club Pool Boy feat. Almyr Jules, Tonami - s/t


Shakes
Country Club Pool Boy feat. Jason Daniels - s/t


AN INTERVIEW with Xavier Magloire and Jason Daniels from Country Club Pool Boy! This cool collective has new tunes, and more coming!

Country Club Pool Boy is a Collab crew & rhythm section featuring four Ottawa based multi-instrumentalists and producers.

https://countryclubpoolboy.bandcamp.com/releases
H O M E
Naevius - s/t


Sad and Horny
Naevius - Sad and Horny


SHRED FAST

https://www.naeviusofficial.com/
Apt613 #Ottmusic weekly playlist: https://apt613.ca/ottmusic-weekly-23-new-songs-added-to-the-apt613-playlist/
Debussy: Reverie
Ottawa Guitar Trio - s/t


Composed of Nathan Bredeson, Alex Bougie and François Lacelle, The Ottawa Guitar Trio has made it their mission to highlight the accessibility and reliability of classical music to modern audiences. The ensemble explores the classical guitar's unique dynamic and textural palette to bring to life a repertoire of dynamic movie soundtracks, nostalgic video game scores, timeless classical repertoire, as well as original music for guitar trio.

https://www.ottawaguitartrio.com/
YES!
ERU-ERA - ERA-Lude

Freak
ERU-ERA - ERA-Lude

'ERU-ERA' is a 7 piece hyper-funk outfit based out of Ottawa, Canada. The band delivers a relentless blend of hard groove, funk, soul and fusion that will leave you craving a second dose. Led by a powerhouse 3 piece horn section and backed up by a rock solid 4 piece rhythm section.

https://eru-era.bandcamp.com/releases

Playing Saturday!

ERU ERA
SATURDAY, FEBRUARY 26, 2022 AT 8:30 PM – 11:30 PM
Queen St. Fare - 170 Queen St.
www.eventbrite.ca/e/268962743807
Hood Cry
TwoTiime - s/t

Invaders
The Peptides - s/t

AN INTERVIEW with Karim Rostom from the Ottawa Music Industry Coalition! Nominations for the 3rd Annual Capital Music Awards are open now! 10 categories, all genres welcome!

MORE INFO AND NOMINATIONS: https://ottawamic.com/cma-2022

TwoTiime - Hood Cry
WINNER: 2021 Single of the Year
https://www.youtube.com/watch?v=psYR_xk8Vqc

The Peptides - Invaders
WINNER: 2021 Video of the Year
https://www.youtube.com/watch?v=YwzeFtzGj5I
Mind Control
Mindflip - s/t


Buss it
Mindflip - s/t


From Gatineau, Québec, Canada Born with Tourette's Syndrome and ADHD, Mindflip was told that keeping up with others would always be difficult. At 19 a critical realization shifted his fear of being limited by his conditions into using them as strengths. He decided he would no longer dwell on the negative and convert his weaknesses into powerful tools "The only limitations we have are the ones we set ourselves."⁣ ⁣⁣ ⁣While traveling the western regions of Canada on a summer hiatus with friends, Mindflip took this mentality further and discovered the force of meditation. He was introduced to the capabilities of channelling higher frequencies which manifested themselves through melodies. In this moment Mindflip was sparked with a deeper love for music and has since then dedicated himself to the craft. ⁣ ⁣⁣ ⁣Through his songs, millions of listeners are immersed in heartfelt vibrations and powerful sonics. These Energetic frequencies translate into gratitude, compassion, chasing dreams and in some cases "EVERYTHING IS ENERGY, it's just about having a good time on earth."

https://fanlink.to/Listen_Mindcontrol_now
Shifter Article: https://shiftermagazine.com/music/mindflip-mind-control
Drowning on Dry Land
JW Jones - Sonic Departures

When it all Comes Down
JW Jones - Sonic Departures

A Canadian blues guitarist, singer, songwriter, and bandleader. JW and his touring band were looking forward to a huge year before COVID-19 hit and halted the tour schedule. But that didn't stop him from turning isolation into inspiration. The latest album, Sonic Departures, sounds bigger and wider-than-ever.

https://jw-jones.com/

Playing Saturday!

JW JONES
SATURDAY, FEBRUARY 26, 2022 AT 8 PM
The Rainbow - 76 Murray St.
https://www.facebook.com/events/1365668687199423
Zelda Twilight Princess: Midna's Theme
Ottawa Guitar Trio - s/t