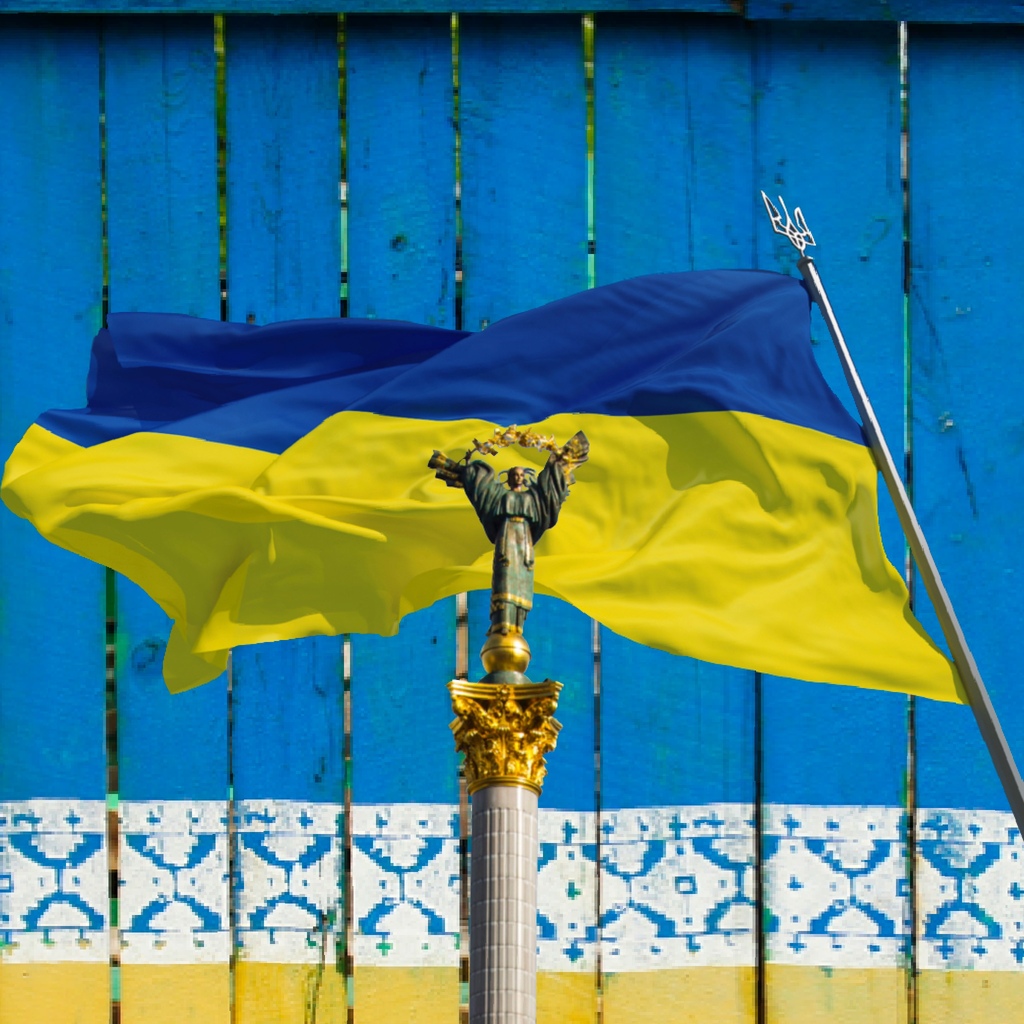 Monday Special Blend
Monday February 28th, 2022 with Jumpin' Joel Flash & Kim Valentine
It's Nothing But Local Music on the Monday Special Blend!
Today's showpiece is for Ukraine. The world stands with you! Check the show notes for links on how you can show support. TUNES from sunnyisdead, Gregory Naufal, Ash Ravens, Turjo, Rahi, Angelina Hunter Trio, Joel Frahm, The Prime Rib Big Band, A Mix of Sun & Cloud, Lindasson, 4amoutside, bliss, Okara, Roja Valentine, Shadow Young, The Ottawa Guitar Trio & Max Webster!
List of Charities by subject from r/ukraine:
https://www.reddit.com/r/ukraine/comments/s6g5un/want_to_support_ukraine_heres_a_list_of_charities/

List of Ottawa Ukranian Businesses to Support:
https://ucpbaottawa.ca/business-directory/

The Canadian Red Cross appeal for the Ukraine. Money sent to the Canadian Red Cross is guaranteed get to the on-the-scene Red Cross and Red Crescent societies. It's expected that Canada will match donations to the Red Cross dollar-for-dollar up to $10 million.
https://donate.redcross.ca/page/100227/donate/1

Médecins Sans Frontières. MSF has doctors and medical aid on the ground in Ukraine. This is the Canadian donation link.
https://www.doctorswithoutborders.org/what-we-do/countries/ukraine

The Kyiv Independent and the New Voice of Ukraine are English language local journalists fighting to keep the world updated. The Kyiv Independent is on Patreon and GoFundMe. The New Voice of Ukraine is on Patreon.
https://kyivindependent.com/
https://english.nv.ua/

Links sourced from The Ottawan: https://www.theottawan.com/
Rascal Houdi
Max Webster - A Million Vacations

Craving
Roja Valentine - s/t


Move Right
Roja Valentine feat. Shadow Young - s/t

Roja Valentine is an Ottawa-based singer, songwriter, rapper, and producer. Combining the Afro-Caribbean rhythms of her heritage with pop and R&B melodies, Roja delivers a sound that is sure to make you dance until you sweat. Her song "Move Right" is bursting with West Indian flavours due to its addictive dancehall beat, hip-swaying reggaeton feel, and smooth Haitian Kompa breakdown, resulting in a tastefully hot track.

With her latest single, "Craving," Roja shows her mischievous side through a jazz-inspired afrobeat track. She makes use of word play and double entendres as she tells the story of a woman chasing after her deepest desires in the way that the wolf hunts for its prey.

https://www.rojavalentine.com/


Apt613 ottmusic weekly playlist: https://apt613.ca/ottmusic-weekly-20-new-songs-added-to-the-apt613-playlist-2/
Accepting My Flaws
Lindasson - s/t


Eighties
Lindasson - s/t


The leading light of Ottawa's burgeoning hip-hop scene, Lindasson is emerging as one of Canada's most innovative young artists. Specializing in intimate storytelling and mesmerizing, self-produced tracks, he draws on his unique life experiences to create universally relatable songs. He first emerged in 2020 with a series of singles spotlighting his signature mix of sensitive lyricism and uplifting anthems. Since then, he has been on a creative hot streak, refining his artistry with every new track and attracting the attention of hip hop enthusiasts everywhere. As his career enters a new phase, Lindasson is dedicated to building his legacy, speaking up for underrepresented voices everywhere, and inspiring a new generation of artists.

https://linktr.ee/lindasson

Shifter Writeup: https://shiftermagazine.com/music/lindasson-releases-new-single-accepting-my-flaws
Also on Apt613 ottmusic weekly playlist: https://apt613.ca/ottmusic-weekly-20-new-songs-added-to-the-apt613-playlist-2/
Home
Ash Ravens - s/t


Beautiful Lies
Ash Ravens feat. Turjo & Rahi - s/t

Ash Ravens

Ottawa-based guitarist and singer/songwriter Ash Ravens serenades the soul with a tale of finding warmth and familiarity in new places with his melancholy new single "Home" — available now!

Enriched by a soothing groove and satisfying guitar harmonies, "Home" is a love song about the unparalleled comfort of feeling at home. For some people, feelings of warmth and belonging aren't associated with a place. As Ash puts it, "the feeling of 'Home' for some people might be a
person with whom they feel their truest self."

https://www.youtube.com/c/AshRavens/videos
Feeling Good
Okara - Stories Without Words

Cobblestones
Okara - Stories Without Words

Okara

Sandrine and David met in the summer of 2019 and soon connected over their shared sense of melody and passion for instrumental music. 'Okara' (loosely translating into 'story' within the Mohawk dialect) was founded the following fall. Okara aims at drawing from a diverse musical palette to share stories of the duo through their own musical language.

https://okaramusic.bandcamp.com/releases
Annabelle
Gregory Naufal - s/t


Raised on the Bruce Springsteen catalogue and countless Pearl Jam bootleg concerts, I (Gregory Naufal) started to take the guitar and music seriously in my last year high school. After discovering all things John Mayer in university, I enrolled in formal guitar lessons at the age of 22 and voice lessons/coaching at 23 (my grades were not great, but I was able to obtain an accounting degree).

It's the hard work and encouragement from friends and family that have got me to this point. I am motivated and excited to release my music for the world to listen to!

More Gregory here:
https://open.spotify.com/artist/2Jppb0WrwmGhWEk63dkvFN

FEATURED ACT at the GRAND RETURN of the LIVE ON ELGIN OPEN MIC!

Live! On Elgin Open Mic Night
TUESDAY, MARCH 1, 2022
7:00pm Doors - 7:45pm List - 8:00pm Show
220 Elgin St.
https://www.liveonelgin.com/collections/shows/products/open-mic-night
lil baby
sunnyisdead feat. 4amoutside - s/t


fantasy999
sunnyisdead feat. bliss - s/t

https://linktr.ee/sunnyisdead
Art of the Build
The Prime Rib Big Band feat. Joel Frahm - s/t

Stampede
The Prime Rib Big Band - s/t

https://edlistermusic.com/prime-rib-big-band

The Prime Rib Big Band 6 year Anniversary concert
WEDNESDAY, MARCH 2 2022 AT 8:00 PM
Irenes Pub - 885 Bank St.
https://www.tickettailor.com/events/irenespubandrestaurant/646457
Crazy Hazy Days
Angelina Hunter Trio - Roll With It

Better Than Today
Angelina Hunter Trio - Roll With It

The Angelina Hunter Trio, or AHT, are comprised of three friends who are veterans of the Ottawa scene. The band is based on the vocal and guitar stylings of Angelina Hunter.
This conglomeration consists of vast influences of music, styles and tastes-from hard rock, gospel, soul, blues, jazzy flavors, pop, or whatever we want to play at any given time, stirred up and blown back out at the audience.

https://angelinahuntertrio.com/

Playing Saturday!

AHT returns to the Atomic Rooster!
SATURDAY, MARCH 5, 2022 AT 6:00 PM
Atomic Rooster - 303 Bank St.
https://www.facebook.com/events/437464991495700
Go Outside and Play
A Mix of Sun & Cloud - s/t


Peace Summit on Insanity Street
A Mix of Sun & Cloud - s/t

Alt-rock-punk-dream-meddlers, doing our own thing in Ottawa, Ontario, Canada.

https://amixofsunandcloud.bandcamp.com/

Status/Non-Status, Strange Fugitive, A Mix Of Sun And Cloud
FRIDAY, MARCH 4 2022 8:30 PM (Doors 8:00 PM)
Club Saw - 67 Nicholas St.
https://www.ticketweb.ca/event/statusnon-status-strange-fugitive-a-club-saw-tickets/11801385
Super Mario World: Castle Theme
Ottawa Guitar Trio - s/t

Composed of Nathan Bredeson, Alex Bougie and François Lacelle, The Ottawa Guitar Trio has made it their mission to highlight the accessibility and reliability of classical music to modern audiences. The ensemble explores the classical guitar's unique dynamic and textural palette to bring to life a repertoire of dynamic movie soundtracks, nostalgic video game scores, timeless classical repertoire, as well as original music for guitar trio.

https://www.ottawaguitartrio.com/