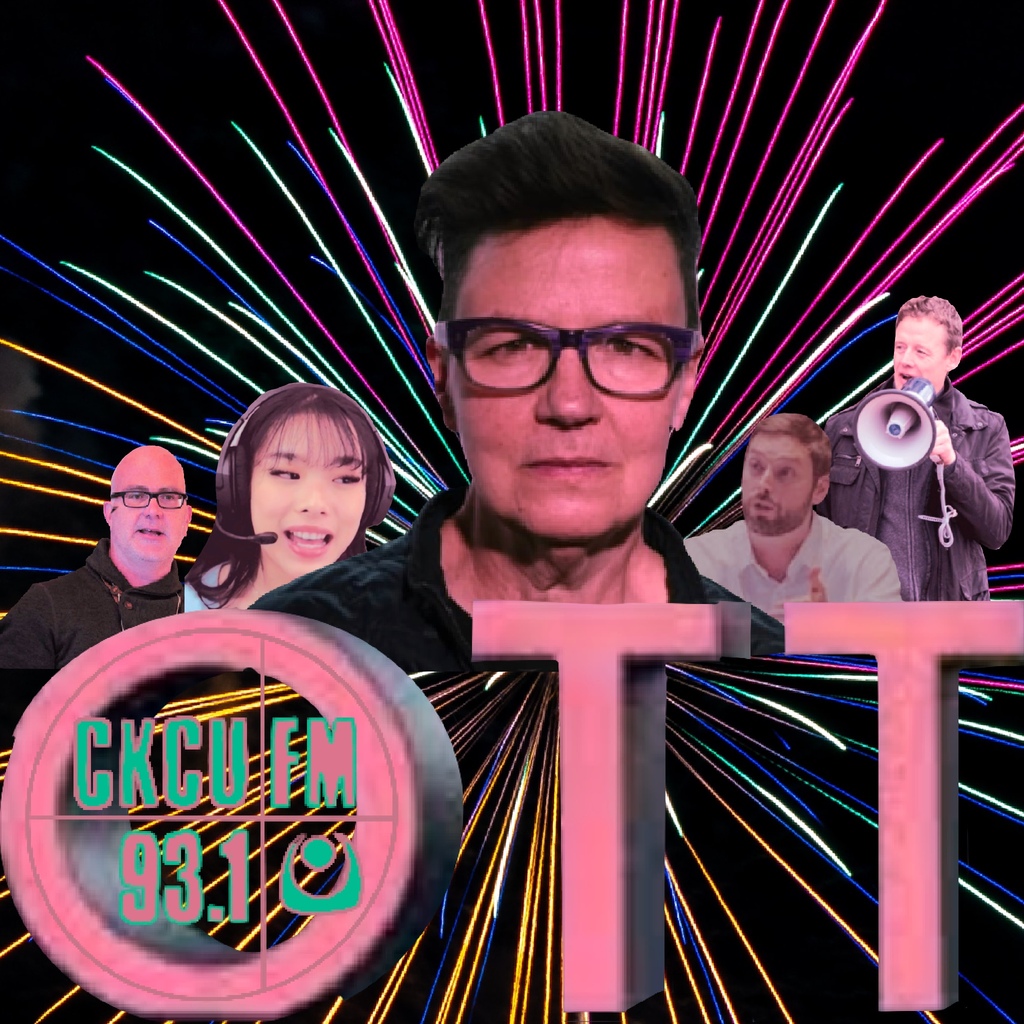 Monday Special Blend
Monday February 14th, 2022 with Jumpin' Joel Flash & Kim Valentine
It's Love and Fictional Instruments on the Monday Special Blend!
Today's showpiece honours some local councillors and others who have worked to keep the community safe these past few weeks. Thanks for standing up and being the voice of Ottawans in this trying time. It's Valentines day, and we've got some great tips for love! Scatters throughout the show are snippets from Kim & I about how to make love last a long long time! Know what else we love? OTTAWA/GATINEAU MUSIC! You'll hear tracks from 12AM, Tyla Yaweh, Pressa, Tom McMahon & Peter Beaudoin, MaCMuwsA, Exciter, Kristine St-Pierre, Horojo Trio, Resist the Throne, The Ottawa Guitar Trio & Max Webster!
Juveniles Don't Stop
Max Webster - Universal Juveniles

Break In The Sky
Kristine St-Pierre - s/t

La promesse
Kristine St-Pierre - La promesse

Kristine St-Pierre is a bilingual folk singer-songwriter with soul-searching ballads and a rollicking bluesy flair. Described as a 'chansonnière' with a traveling heart,' Kristine sings her life with passion, vulnerability and authenticity. She has released two bilingual albums, followed by a francophone album called La promesse in late 2017. The title track "La promesse" reached no. 2 on Sirius Xm Franco Country. The album consists of six catchy pop songs, all the while remaining true to her introspective and sensitive folk style.The album received a Canadian Folk Music Award nomination in the French songwriter of the year category in 2018, as well as a nomination for Francophone artist of the year by the Country Music Association of Ontario in 2019.

https://kristinestpierre.com/home

PLAYING FRIDAY

Kristine @ Broadway Prince of Wales
FRIDAY, FEBRUARY 18, 2022 AT 6 PM – 9 PM
Broadway Bar & Grill Central - 1896 Prince of Wales Dr.
https://www.facebook.com/events/515655859887621
Hard As I Can
Horojo Trio - Set The Record


Stay Crazy
Horojo Trio - Set The Record


With each member individually accomplished musicians, HOROJO Trio are drummer Jamie Holmes, singer/keyboardist Jeff Rogers, and guitarist JW Jones who has as a solo artist reached Top 10 on the Billboard Blues Charts, received multiple JUNO and Maple Blues Award nominations.

The result of a chance jam session that was so inspired it left both the audience and trio wanting more, they've since won 'Best Band' at the 2020 International Blues Challenge and performed at several top blues festivals and venues — as well as a recent nomination for 'Music Group of the Year' at the 2022 Ottawa Awards.

https://stonyplainrecords.com/horojotrio/
Tanga
Tom McMahon & Peter Beaudoin - s/t


Sleepwalk
Tom McMahon & Peter Beaudoin - s/t


Performances on the Baliset by Ottawa/Gatineau musician Tom McMahon!

https://www.youtube.com/channel/UCTDFgY1YHMWKetJWhBuSt1Q/featured

The Baliset is a Fictional instrument from the DUNE Universe!
From Wikipedia:
Baliset – "Nine-stringed musical instrument, lineal descendant of the zithra, tuned to the Chusuk scale and played by strumming. Favorite instrument of Imperial troubadours."[3] Gurney Halleck is a master at playing the baliset in the series.[4] In David Lynch's 1984 adaptation of Dune, a cosmetically altered Chapman Stick was used to portray the instrument.[9] In the miniseries Frank Herbert's Dune, the baliset resembles a renaissance-era lute, with the pegbox bent back almost 90°. A real-world version of the baliset has been created, divided into two sections, the treble played with the right hand, and the bass the left. Unlike a guitar, each hand can play either chords or separate notes.[10]
https://en.wikipedia.org/wiki/Glossary_of_Dune_(franchise)_terminology#B
SERIES FINALE
Elle Spina - s/t


The 1
Elle Spina - s/t

Raised in Ottawa, Canada, Elle fell in love with music at a very young age. By age 9, she was teaching herself to play piano and guitar using online tutorials, dabbling in an eclectic range of genres, participating in her school's choir, recording YouTube covers, and playing concerts for her peers. Eventually, however, she came full-circle to the music she was raised on, R&B, ready to cultivate her own sound and her own message.To harness her uniqueness, she started producing her own music entirely, making herself a one-woman operation.

"90's R&B is where all of my most profound inspirations come from — artists like Aaliyah, Janet Jackson, Ashanti, Destiny's Child, and Mariah Carey — I can only hope to portray that in combination with a modern edge, successfully in my own sound. I decided the best possible way to make sure that my sound is my own, is by making myself accountable for the entire song-making process, from start to finish." Elle released her debut EP, "Better Off" in April 2020, setting the tone for the rest of her career.

https://songwhip.com/elle-spina/series-finale
Bytown Blog Writeup: https://bytownblog.com/2022/01/13/ellie-is-thinking-outside-the-box/
Thank You!!
MaCMuwsA - s/t


ISayThankYouMore
MaCMuwsA - s/t


MaCMuwsA is a songwriter, producer, designer and entrepreneur. Born in Montreal and raised in North Miami, FL. I created this brand, HEAVY ZEB, in 2010 and have been growing it ever since. My goal is to move the culture forward and inspire other creatives with my artistry, independence and entrepreneurship. My most recent song "6PM IN OTTAWA" is a dedication to my new home and pays homage to Drake as the artist of the decade. It's a conversation with my fans and describes what I've been up to and what my thoughts have been during my absence from music. I am humbled to have been a 2020 recipient of the Ottawa Music Industry Coalition's Music Development Fund Grant. This led me to be chosen for a spot on Encore Season 2 on Rogers TV. My full concert + Interview will be airing on August 20th. What's next in 2021? I have started my own production platform to help my peers create better records and bring more awareness about ownership in our culture. I also have plenty of new music to be released. In closing, I'd like to thank my business partner and Queen, MJ, for her endless support and dedication to the brand.

https://heavyzeb.com/macmuwsa/
Bytownblog Writeup: https://bytownblog.com/2022/02/07/macmuwsa-is-all-about-art-fashion-and-sound/
Death Machine
Exciter - Death Machine

Hellfire
Exciter - Death Machine

Speed metal band from Ottawa, Canada formed in 1978. Named after a song by Judas Priest, they are widely considered to be one of the first speed metal bands and a seminal influence of the thrash metal genre. The band was heavily influenced by a variety of music styles including Judas Priest, Black Sabbath, AC/DC, Deep Purple, Scorpions, Iron Maiden, Motörhead, Rush, Jethro Tull and Grand Funk Railroad. Their debut record, Heavy Metal Maniac, in 1983 is largely accepted as one of the first speed/thrash metal records and is quoted as being a main influence for some of the biggest names in metal today.

https://www.facebook.com/excitercanada

PLAYING FRIDAY


Exciter
FRIDAY, FEBRUARY 18, 2022 AT 9 PM
Mavericks - 221 Rideau St.
https://www.facebook.com/events/685603492440967
She's So Nice
Wise Atangana - Messimba


Tiens Moi Par La Main
Wise Atangana - Messimba


Wise Atangana is a charismatic artist and songwriter who puts a lot of character into his sound. Originally from Cameroon, Wise is Ottawa based artist. Some artists are all about entertainment, but others have a much deeper philosophy, since they aim to bring positive mental attitude and good vibrations to the audience. Wise is all about that and he definitely belongs to this category.

https://wiseatangana.bandcamp.com/

Apt61 #ottmusic Weekly Playlist:
https://apt613.ca/ottmusic-weekly-15-new-songs-added-to-the-apt613-playlist/
Showgirls
12AM Feat. Tyla Yaweh & Pressa - s/t


Cold Season
12AM - s/t


heartbroken young soldier.......

https://12am.lnk.to/Showgirls
Shifter Writeup: https://shiftermagazine.com/music/canadian-artist-12am-pressa-tyla-yaweh-showgirls
Oceans of Rage
Resist the Throne - s/t


Explode
Resist the Throne - s/t


Forged by the darkness and chaos of our world, Resist the Throne is here to rock. Resist the Throne is the solo work of Rohan Deshpande. They are heavily influenced by classic and modern metal legends such as "Judas Priest" and "The Raven Age". Spreading messages of hope through topics of misery, Resist the Throne has a unique sound that keeps you coming back for more.

https://www.facebook.com/ResistTheThrone/

Apt61 #ottmusic Weekly Playlist:
https://apt613.ca/ottmusic-weekly-15-new-songs-added-to-the-apt613-playlist/
Final Fantasy IV: Theme of Love
Ottawa Guitar Trio - s/t
Composed of Nathan Bredeson, Alex Bougie and François Lacelle, The Ottawa Guitar Trio has made it their mission to highlight the accessibility and reliability of classical music to modern audiences. The ensemble explores the classical guitar's unique dynamic and textural palette to bring to life a repertoire of dynamic movie soundtracks, nostalgic video game scores, timeless classical repertoire, as well as original music for guitar trio.

https://www.ottawaguitartrio.com/