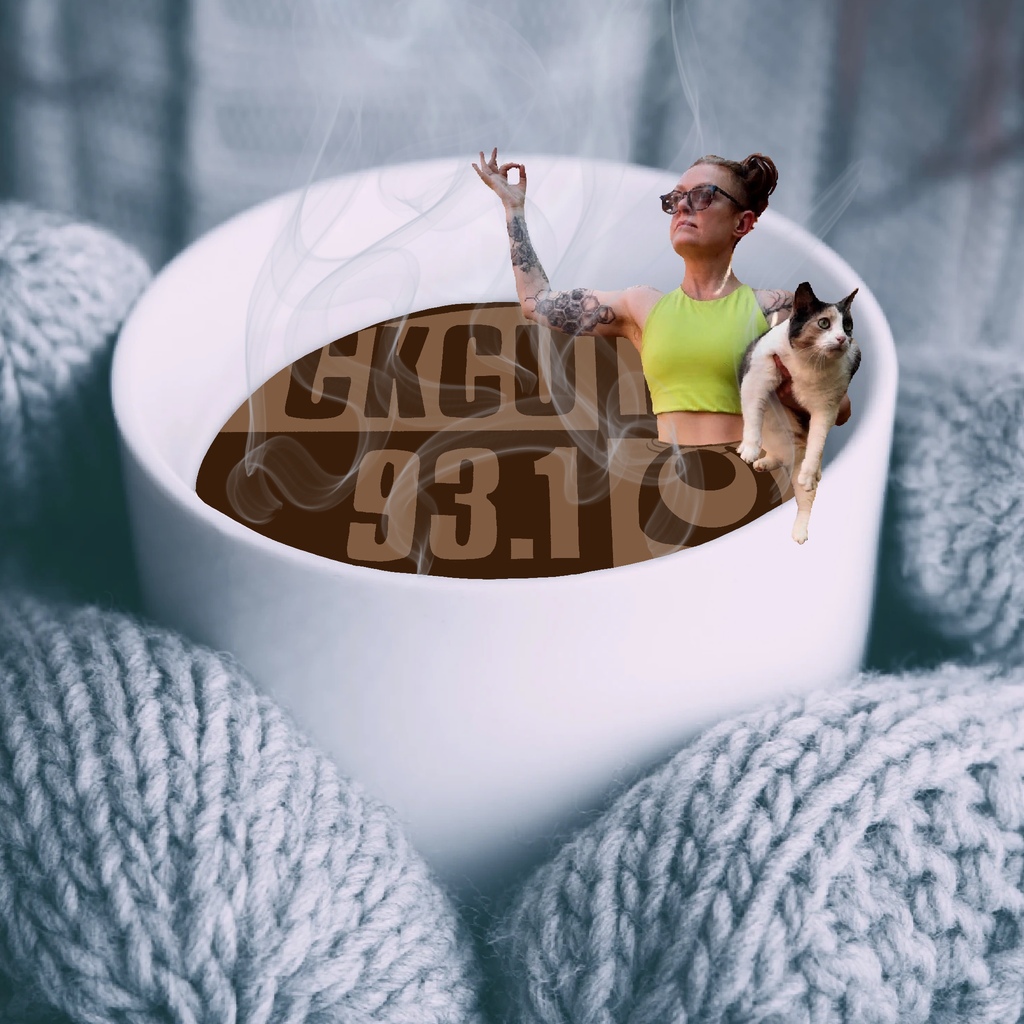 Monday Special Blend
Monday December 13th, 2021 with Jumpin' Joel Flash & Kim Valentine
It's Kim's Birthday and Sultans of String and Kenny Hayes and CAPITAL TUNES on the Monday Special Blend!
An interview with Chris McKhool from Sultans of String! They're on their Christmas Caravan Tour, stopping by Ottawa on Monday, Dec.20! They're playing the Algonquin Commons theatre with special guests Rebecca Campbell, Donné Roberts, Kristine St-Pierre, Kellylee Evans and Lynne Hanson! Then an interview with theatre player/music maker Kenny Hayes! He's got plans for an EP, and a show this Thursday at Live! On Elgin with Yours Truly! Also an interview with Kim Valentine! We yik-yak the excitement of having a Birthday (hooray!) and FULL MOON FLOW, happening this Saturday at Pranashanti Yoga Centre! You'll also hear tracks from PEAKS, The Ottawa Guitar Trio, Ultra Love, City of Prague Philharmonic, Kaspien, Holy Christopher & Max Webster!
Summer Turning Blue
Max Webster - Max Webster

NEMO
PEAKS - /\

VEILS
PEAKS - /\

PEAKS are a garage-rock trio based in Ottawa, with roots in the personals section of Kijiji.

https://peaks613.com/

PLAYING FRIDAY!


TALLEEN / THE EMBER GLOWS / PEAKS
FRIDAY, DECEMBER 17, 2021 AT 8 PM
Mavericks - 221 Rideau St.
https://www.facebook.com/events/1115224745680836
Tell Me Where You Want Me
Kenny Hayes - s/t


Shower You Off Me
Kenny Hayes - s/t


=============================================
AN INTERVIEW with theatre player/music maker Kenny Hayes! He's got plans for an EP, and a show this Thursday at Live! On Elgin with Yours Truly!

An award-winning singer-songwriter*, pianist and actor, Kenny's music has been heard in venues across Ottawa since 2013, having been a part of many theatrical productions including Lysistrata and Marion Bridge (Armagh Sifton-Price Award* – Best Original Score & Theme Song). With the help of his partner Rafael, Kenny performed to online crowds during the beginning of the COVID19 pandemic in his co-created 'Physical Distancing Sessions', amassing more than 50,000 listeners and viewers. His original songs explore indie, folk, pop, country, and ambient textures, with lyrics that relay stories ranging from healing and heartbreak, funny and feeling, to tragedy and triumph. Follow him @kennyhayesmusic on social media for all his latest music, including an EP release slated for 2022!

https://www.instagram.com/kennyhayesmusic/

KENNY HAYES w/ JUMPIN' JOEL FLASH
Thursday, December 16, 2021
7:00pm doors - 8:00pm show
Live! On Elgin - 220 Elgin St.
https://www.liveonelgin.com/products/kenny-hayes
=============================================
Hollow Knight: Dirtmouth Theme
Ottawa Guitar Trio - s/t


A Christmas Song
Ottawa Guitar Trio - s/t


Composed of Nathan Bredeson, Alex Bougie and François Lacelle, The Ottawa Guitar Trio has made it their mission to highlight the accessibility and reliability of classical music to modern audiences. The ensemble explores the classical guitar's unique dynamic and textural palette to bring to life a repertoire of dynamic movie soundtracks, nostalgic video game scores, timeless classical repertoire, as well as original music for guitar trio.

https://www.ottawaguitartrio.com/
The Long Way Home
Ultra Love - Ultra Love

Dead Spark
Ultra Love - Ultra Love

Ottawa's finest post-hardcore group comprised of Eric, Pascale, and Ted.

https://ultra-love.bandcamp.com/

PLAYING THURSDAY
Kawthra, They Grieve, Ultra Love w/ DJ Luke Nuke — RnR Pizza Party!
THURSDAY, DECEMBER 16, 2021 AT 9 PM
The Dominion Tavern - 33 York St.
https://www.facebook.com/events/421553329413596
================================
AN INTERVIEW with Kim Valentine! We yik-yak the excitement of having a Birthday (hooray!) and FULL MOON FLOW, coming this Saturday at Pranashanti Yoga Centre!

https://kimvalentine.org/

Full Moon Flow (In person or Virtual)
w/ Kim Valentine
Pranashanti Yoga Centre - 950 Gladstone Ave.
https://pranashanti.com/yoga-centre/ottawa-yoga-event-workshop-schedule/
================================
The Little Swallow (Carol of the Bells)/Al Vuelo
Sultans of String feat. City of Prague Philharmonic - Christmas Caravan

Hallelujah
Sultans of String feat. Rebecca Campbell - Christmas Caravan

=============================================
AN INTERVIEW with Chris McKhool from Sultans of String! They're on their Christmas Caravan Tour, stopping by Ottawa on Monday, Dec.20! They're playing the Algonquin Commons theatre with special guests Rebecca Campbell, Donné Roberts, Kristine St-Pierre, Kellylee Evans and Lynne Hanson!

This multi-award-winning, 3x Juno-nominated and Billboard charting band creates "energetic and exciting music from a band with talent to burn!" (Maverick, UK). For more than a decade, Sultans of String have thrilled audiences with their genre-hopping passport of Celtic reels, Flamenco, Django-jazz, Arabic, Cuban and South Asian rhythms. The group celebrates musical fusion and human creativity with warmth and virtuosity, with world rhythms that excite audiences to their feet!

https://sultansofstring.com/

SULTANS OF STRING CHRISTMAS CARAVAN
w/ Special Guests Rebecca Campbell, Donné Roberts, Kristine St-Pierre, Kellylee Evans & Lynne Hanson
Monday, December 20
6:00 PM Lobby Open - 7:00 PM Event Starts
Algonquin Commons Theatre
1385 Woodroffe Avenue, Building E
https://www.eventbrite.ca/e/sultans-of-string-christmas-caravan-tickets-202065131247
=============================================
Don't Fear the Beast
Kaspien - Diver

Beast Be Free
Kaspien - Diver

ah yes pls listen to kaspien's music or he will begin fading from reality and haunt the dreams of octopuses and entice them to crawl out of the ocean and mount an uprising of the likes we have never seen before

https://distrokid.com/hyperfollow/kaspien/diver

FEATURED ACT - Live! On Elgin Open Mic!
Tuesday, December 14 - 7:00pm
Live! On Elgin - 220 Elgin St.
https://www.facebook.com/groups/openmictuesdays/
https://www.liveonelgin.com/collections/shows/products/open-mic-night
On Top of Jeremy's Entire Jeremy
Holy Christopher - Land VS Sea

West Coast
Holy Christopher - Land VS Sea

Holy Christopher is a 4 Piece Power Pop band from Hull, Qc.

PLAYING FRIDAY!

The triumphant return of Holy Christopher, with special guests Stoby & CO91
FRIDAY, DECEMBER 17, 2021 AT 8:30 PM
Avant-Garde Bar, 135½ Besserer St.
https://www.facebook.com/events/268382615312082