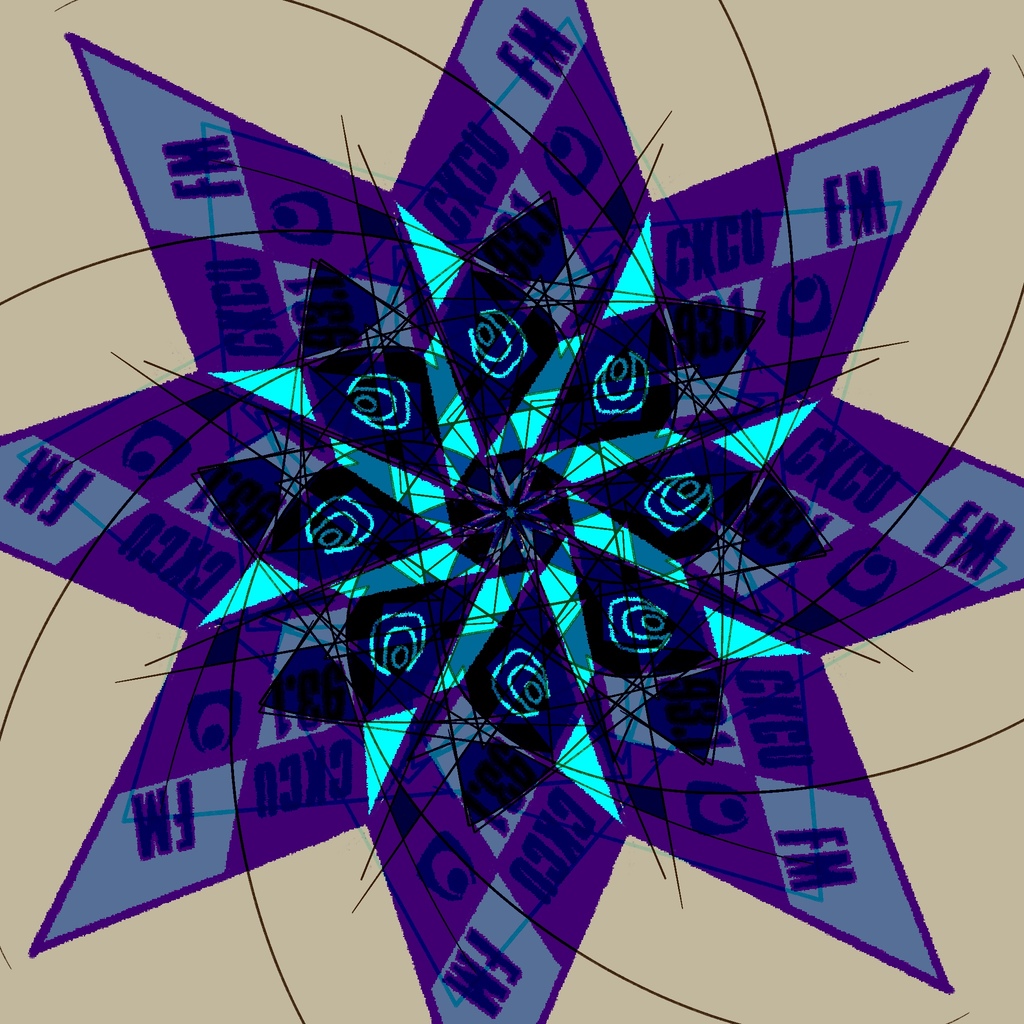 Monday Special Blend
Monday December 20th, 2021 with Jumpin' Joel Flash & Kim Valentine
It's Flute Sivas and Area Residents and TUNES FROM THE NATIONS CAPITAL on the Monday Special Blend!
An interview with Flute Siva! He's got himself a brand new Christmas album and we yik yakked all about it! Then another interview with Area Resident Doug Hempstead! He's teasing out his SIXTH album, Quasar, and we hopped onto the Zoom to talk about it! You'll also hear tracks from Bahska, The Five Man Electrical Band, Lycanthro DAV BOA, DRAE, Crook The Kid, Truly K, VSN, The Ottawa Guitar Trio & Max Webster! Until next time Gang!
The Party
Max Webster - Max Webster

Money Back Guarantee
Five Man Electrical Band - Sweet Paradise

Absolutely Right
Five Man Electrical Band - Coming of Age

It wasn't long before American music industry heavyweights began to take notice of five Canadians who had come to California to strike gold. They could see this was a band to be reckoned with. Exhaustive American tours with groups like The Allman Brothers, Edgar Winter, Sly And The Family Stone and Rare Earth so sharpened their skills that they were ready to take on the world when "Signs" exploded on American radio, soaring to the top of the U.S. Billboard Charts.

"Signs" went to #1 in Australia for 2 months and was huge Canada and Europe. A string of hits followed: "Absolutely Right", "Money Back Guarantee", "Moonshine (friend of mine)", "Werewolf", "I'm A Stranger Here" and a slew of others but the hit that truly places the band on hallowed ground in music history is "Signs". Tesla scored a huge hit with a cover of the song on their album "Five Man Acoustical Jam" in the '90's and more recently Fat Boy Slim had a hit called "Don't Let The Man Get You Down" based mostly off the now unforgettable line…… "And the sign said long haired freaky people need not apply".


https://www.fivemanelectricalband.ca/
Quasar
Area Resident - Quasar


Fight the Florists
Area Resident - Quasar


=============================================
AN INTERVIEW with Area Resident Doug Hempstead! He's teasing out his SIXTH album, Quasar, and we hopped onto the Zoom to talk about it!

Area Resident is Doug Hempstead. A CBC radio journalist twice-a-day and basement recording artist by night. This is the music he makes, mostly alone.

https://arearesident.bandcamp.com/

Area Resident needs musicians! If interested, get in touch with Doug!
https://www.instagram.com/arearesident/
iamarearesident@gmail.com
=============================================
Dollypon
Bahska Ft.Amutha - Bird Food


Donkini
Bahska - Bird Food


Canadian musician/composer Bahska has spent the past 3 years moving around throughout different cities creating art accompanied by inanimate objects

He has spent months on end with only minimal exposure to the outside world practicing his craft and developing an idea that can't be mimicked by any other mind. His work has been compared to a pleasant headache and an enjoyable colorful fever dream

Bahska's most recent work and first completed project "BirdFood" is the amalgamation of everything he's done so far. The project was worked on over the course of a year in 3 different cities throughout three different mindsets.

https://linktr.ee/bahska
Street Fighter II: Guile's Theme
Ottawa Guitar Trio - s/t

Composed of Nathan Bredeson, Alex Bougie and François Lacelle, The Ottawa Guitar Trio has made it their mission to highlight the accessibility and reliability of classical music to modern audiences. The ensemble explores the classical guitar's unique dynamic and textural palette to bring to life a repertoire of dynamic movie soundtracks, nostalgic video game scores, timeless classical repertoire, as well as original music for guitar trio.

https://www.ottawaguitartrio.com/
Like I Can
Truly K - Veracity


On My Own
Truly K - Veracity


Truly K is a Canadian R&B artist whose rhythmic and scintillating new music is sure to bring attention to the burgeoning Ottawa scene. Truly K is supported by numerous producers and engineers who have had the chance to work with her pure and ethereal voice. Her new single "My Truth" has shaken listeners to their core with its driving melody and haunting lyrics. 
 In a swiftly growing city full of new talent, Truly K is a force to be reckoned with. This singer / songwriter / musician is worth keeping an eye on

https://distrokid.com/hyperfollow/trulyk/veracity
Apt613 #ottmusic weekly playlist: https://apt613.ca/ottmusic-weekly-8/
Tomorrow
DAV BOA, DRAE, Crook The Kid - s/t


Death Race
Crook the Kid - s/t

Crook the Kid is a hip-hop artist and storyteller proud to call Fort Good Hope home. From living in a town of just over 500 people to rocking crowds in the thousands, Crook the Kid is poised for a breakthrough, rocking stages from coast to coast to coast

https://www.youtube.com/user/Crookthekid
Apt613 #ottmusic weekly playlist: https://apt613.ca/ottmusic-weekly-8/
Mary, Did You Know?
Flute Siva - Christmas Songs - Bamboo Perspective (vol​.​1)


Carol of the Bells (Orchestral Version)
Flute Siva - Christmas Songs - Bamboo Perspective (vol​.​1)


=============================================
AN INTERVIEW with Flute Siva! He's got himself a brand new Christmas album and we yik yakked all about it!

Flute Siva, a Canadian born Flautist with East-Indian roots, is releasing his 3rd studio album "Christmas Songs - Bamboo Perspective" this Christmas season. For the first time ever, Christmas songs are played on an Indian Bamboo Flutes (Bansuri), which is traditionally used to play relaxing music and known for its meditative tonal quality. The sound of bamboo is serene and spiritual which helps calm your body, mind, and soul.

Flute Siva creatively blends classic Christmas Songs with the traditional Indian Bamboo Flute to create a new and intriguing sound. The album brings out a different perspective of Christmas Songs that you have never heard before. The album also includes variety of music genres, varying from traditional orchestral music to modern day Pop and Electronic music styles. The featured artists on this album originate from different musical backgrounds and from different parts of the world. (Canada, India and Germany).

https://www.flutesiva.com/
https://www.youtube.com/c/flutesiva
=============================================
Mark of the Wolf
Lycanthro - Mark of the Wolf


Ride the Dragon
Lycanthro - Mark of the Wolf


Lycanthro is a Heavy Power metal band hailing from the capital of the great white north Ottawa Ontario.

https://lycanthro.bandcamp.com/
On My Mind
VSN - 2 Piece: Sincerely Yours


Ballin'
VSN - 2 Piece: Sincerely Yours


From humble beginnings in Accra, Ghana to Ottawa, Canada, VSN has always dabbled in music production since his youth. He began producing for aspiring artists in 2019 then went on to receive his first notable production credits in 2020 for 'Rollin' by S4G4 ft. Guapdad 4000.

Pronounced "Vision" - The producer shifted his focus from production to hone his skills of singing and songwriting to create his own path and sound in the industry as a do-it-all artist.

https://unitedmasters.com/a/thatboyvsn
Super Mario 64: Snow Mountain
Ottawa Guitar Trio - s/t