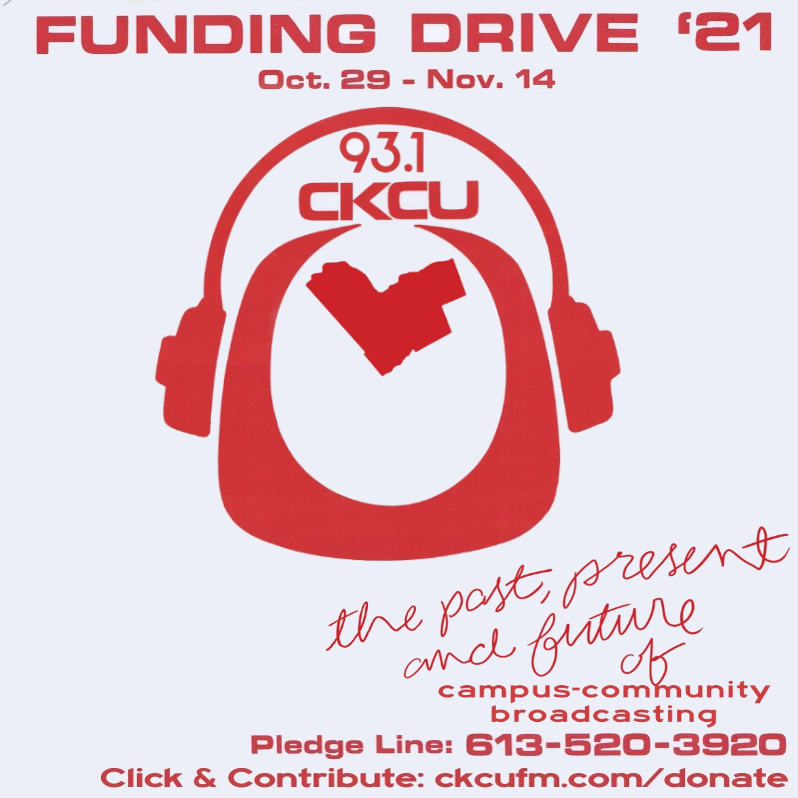 Monday Special Blend
Monday November 1st, 2021 with Jumpin' Joel Flash & Kim Valentine
It's DJ Roxy Sunset and Cruize Cntrl and a WHOLE LOT of local music on the Monday Special Blend!
The 2021 CKCU Funding Drive is on! Head to
ckcufm.com
and make your donation! You can also find the link in our bio! Local Art needs Local Love, and community radio spreads that love my friends! An Interview with DJ Roxy Sunset! Roxy hosts Night of Lights, first SAturday of every month at Swizzles Bar! Head down Nov.6 for funny and performances from Ben Dover, Tanya King, Orion O'Malley, Maverick, & Ron Schlongson! A preview of Cruize Cntrl, going down Friday Nov.5 at Happy Goat Coffee! Featuring performances from Chyme, Belena, Banggz, Kar33m, and DJ Dynamite! You'll also hear tracks from Subdimensionals, Squerl Noir, RyanGreenBlue, Violentene, Huguette Lavigne & Max Webster!
Blowing the Blues Away
Max Webster - Max Webster

Gotta Get to Hintonburg
Subdimensionals - Interlopers


Zombie Strippers from Planet 6
Subdimensionals - Interlopers


We conduct experimental sonic ritual periodically based on an obscure calendar, whereupon we bring ourselves to delirium and allow subdimensional entities to ride us as we play: it all happens on the spot, improvised and usually recorded, until finally we collapse in exhaustion and try to understand what happened.

https://subdimensionals.bandcamp.com/
Afro Pick
Banggz - s/t


OPEN UP
Banggz - s/t


https://www.twelve07live.com/banggz

Cruize Cntrl
Presented by: Twelve07 & Woke Studios
Featuring: Banggz, Belema, Chyme, KAR33M & DJ Dynamite
Happy Goat Coffee - 35 Laurel Street
Fri, 5 November 2021 - 6:00 PM – 11:00 PM EDT
https://www.eventbrite.ca/e/cruize-cntrl-tickets-194796109407
Irrationnels
Squerl Noir - s/t


Fantômes
Squerl Noir - s/t

Squerl Noir est auteur, compositeur et beatmaker d'Ottawa. Sa musique tire sa singularité de sonorités alternatives, indie-pop, flirtant entre la chanson et son rap poétiquement percutant.

https://www.squerlnoir.com/

Found on Apt.613 #ottmusic weekly playlist:
https://apt613.ca/ottmusic-weekly-country-club-pool-boy-squerl-noir-aspects-added-to-the-apt613-playlist/
Extra
Chyme ft Belema, Sage - s/t

Dudu
Chyme - s/t

https://www.twelve07live.com/chyme

Cruize Cntrl
Presented by: Twelve07 & Woke Studios
Featuring: Banggz, Belema, Chyme, KAR33M & DJ Dynamite
Happy Goat Coffee - 35 Laurel Street
Fri, 5 November 2021 - 6:00 PM – 11:00 PM EDT
https://www.eventbrite.ca/e/cruize-cntrl-tickets-194796109407
Vanad
RyanGreenBlue - Polygonal


Trip
RyanGreenBlue feat. WordOfTheDayIsYay - Polygonal


I swear I'm not a triangle in real life.

https://ryangreenblue.bandcamp.com/

Found on Apt.613 #ottmusic weekly playlist:
https://apt613.ca/ottmusic-weekly-andrew-cassara-l-j-p-one-pear-huguette-lavigne-ryangreenblue-added-to-the-apt613-playlist/
Banjo Kazooie: Gruntildas Lair
Ottawa Guitar Trio - s/t


Super Mario 64: Dire Dire Docks
Ottawa Guitar Trio - s/t


Composed of Nathan Bredeson, Alex Bougie and François Lacelle, The Ottawa Guitar Trio has made it their mission to highlight the accessibility and reliability of classical music to modern audiences. The ensemble explores the classical guitar's unique dynamic and textural palette to bring to life a repertoire of dynamic movie soundtracks, nostalgic video game scores, timeless classical repertoire, as well as original music for guitar trio.

https://www.ottawaguitartrio.com/
=============================================
AN INTERVIEW with DJ Roxy Sunset! Roxy hosts Night of Lights, first SAturday of every month at Swizzles Bar! Head down Nov.6 for funny and performances from Ben Dover, Tanya King, Orion O'Malley, Maverick, & Ron Schlongson!


NIGHT OF LIGHTS OTTAWA
GTBQ2SIA+ women, non-binary and trans people dance party every first Saturday of the month at Swizzles Ottawa with DJ Roxy Sunset & Guests. The goal is to create a safe space to dance, no one will be turned away, The event is inclusive of non-binary and trans folks. We ask only for everyone to be respectful

Come and dance the night away for a good cause and in turn give back to the community. DJ ROXYSUNSET remixes songs with a positive message from house to pop it's all good vibes. You just might meet the love of your life at Night of Lights.

Night of Lights Ottawa
Saturday, November 6, 2021 - 9:00pm
Feat: DJ Roxy Sunset, Ben Dover, Tanya King, Orion O'Malley, Maverick, & Ron Schlongson
Swizzles Bar - 246 B Queen St
https://www.facebook.com/nightoglightsottawa
=============================================
Delusions
Violentene - Otherworld


Divide Between Us
Violentene - Otherworld


Mvrijo and Roland M are Violentene - moody synthpop meets dreamy - darkwave from Canada.

https://violentene.bandcamp.com/

Apt613 writeup: https://apt613.ca/video-of-the-week-delusions-by-violentine/
Ego
Belema - s/t

Konji
Belema - s/t

His illustrated story-lines go in depth of what his lyrics exude and with time, we'll come to know more about Pompela's life and his artistry.

https://www.twelve07live.com/belema

Cruize Cntrl
Presented by: Twelve07 & Woke Studios
Featuring: Banggz, Belema, Chyme, KAR33M & DJ Dynamite
Happy Goat Coffee - 35 Laurel Street
Fri, 5 November 2021 - 6:00 PM – 11:00 PM EDT
https://www.eventbrite.ca/e/cruize-cntrl-tickets-194796109407
On Cloud 9
Huguette Lavigne - Yin and Yang

Huguette Lavigne is a composer of 40 piano works. She has recorded three albums: Five O'clock Somewhere, Yin and Yang and Free and Easy, a total of 29 pieces.
She studied composition at McGill University and piano at l'universite de Montreal.
Her music has been influenced by elements of Neo-Classicism, Neo-Romanticism, Minimalism, Jazz, Folk and Classical music from India. In effect, she creates in a modern fusion of styles.

Huguette Lavigne was brought up in a milieu of three Canadian cultures - Franco Ontarian, Quebecois, and English Canadian.

Huguette Lavigne does not fully notate her music: she relies instead on shorthand of her own to facilitate recall for future performances. The final composition eventually is stored entirely in her head and fingers. Once recorded she moves on to the next piece.
"Somehow and unexpectedly, a style, theme, mood, emotion or vision is released from the deep recesses of memory. It's a place where the subjective is stored and it surprises me when it lets something loose. Then, I either capture it, or let it go. Perhaps, that's where the music originates.

https://pianonotesottawa.ca/