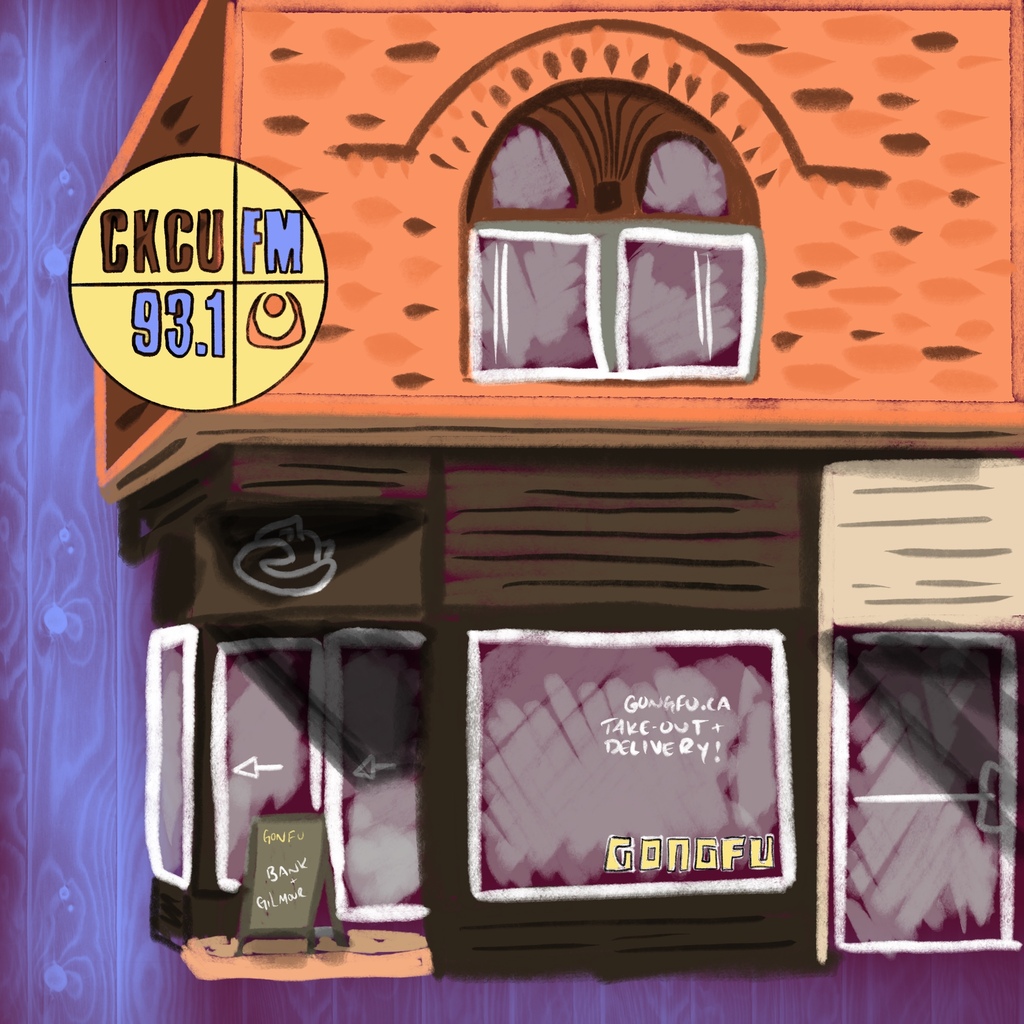 Monday Special Blend
Monday August 23rd, 2021 with Jumpin' Joel Flash & Kim Valentine
It's MORE House of Paints & Encores & Ovations & LOCAL TUNES on the Monday Special Blend!
An Interview with Hueso! He was part of the 2021 House of Paint CKCU Takeover this past weekend, and he's got all kinds of new music coming! We yik yakked all about it! Music from House of Paint, #OvationOttawa and #EncoreOttawa! TUNES from KAR33M, Asuquomo, Amanda Cottreau, Townes, John Ian, Blake Alexander, City Fidelia, Alanna Sterling, Country Club Pool Boy, Taming Sari, & Max Webster! Showpiece today is Gongfu Bao on Bank St! All thanks to Co-host/show artist Kim Valentine!
A Million Vacations
Max Webster - A Million Vacations

Tale
KAR33M (feat. Asuquomo) - s/t


Summertime
KAR33M - Who Am I?


KAR33M is an award-winning R&B fusion artist, singer/songwriter and composer. His music is inspired by Hip-Hop, Afrobeats, Folk & Classical Music. He aspires to intersect music & entrepreneurship with the launch of his company, called Woke Studios – a full-service artistic residency for young, aspiring musicians.

https://www.kar33m.com/
Twelveo7: https://www.twelve07live.com/artists

Playing #CitySounds!
City Sounds: Twelve07 and KAR33M, and Mad Gamma
Sunday, Aug.29, @ 2:00PM at Lions Park in Westboro - 294 Elmgrove Ave
More Info: https://ottawamic.com/city-sounds-sons-de-la-ville
FB Event: https://www.facebook.com/events/206639178097883
Hiatus
Amanda Cottreau - Universe in a Soft Shell

Flowers / Tattered Boxers
Amanda Cottreau - Universe in a Soft Shell

Amanda is a generous woman with a conscious, intuitive, and consistent will to connect people. Her music expresses a desire to love and be loved, as well as the nuances of what it means to have those desires in a complex world. Her music is introspective, comforting, delicate and captivating.

Over the last decade, this melody seamstress has been refining her hauntingly beautiful unclassifiable brand of music, elevating sadness to triumph and desolation to celebration. As alluring as the sculpted landscapes skirting the Bay of Fundy, Amanda's voice will leave an unforgettable impression.

http://amandacottreau.reverbnation.com/#about

Playing Ovation Ottawa!
Jumpin' Joel Flash, John Ian, & Amanda Cottreau!
Thursday, Aug.26 @ 7:00pm at Live! On Elgin!
TICKETS: https://www.eventbrite.ca/e/ovation-from-live-on-elgin-tickets-166082036843
More info: https://ottawamic.com/concerts
Donation Link: https://bit.ly/3jynHyj
Maury Povich
Townes - s/t


Same Old Thing
Townes - s/t


Hailing from Ottawa, Ontario, Radich has spent six years perfecting his live shows in both a festival setting and small- to mid-size venues. Along with headlining his own shows, he's supported acts such as Zola Jesus, Geoffrey, Holy Fuck, and many others. Townes engages his audiences with the might of a four-piece band, incorporating set pieces and manually programmed lights, despite being a solo act. In the fall of 2019, Radich completed his first tour dates in the United States.

https://open.spotify.com/artist/3DEQNKnFomIoHNlDB3Pfbf
Good Luck, Good Night
John Ian - Good Luck, Good Night

Run
John Ian - Good Luck, Good Night

In his intense, poetic and heartfelt songs inspired by folk, rock and alternative music John Ian tells stories, observes and ponders. Things may at times look somber in his songs but never hopeless. Despite the sadness and the madness in this world there always is a way out of the darkness into the light.

John is a member of the LGBTQ community and the fact that he's transgender explains the long journey and many detours he had to take to reach a state of finally feeling okay in his own skin and having a voice he feels comfortable singing with.

https://www.john-ian.com/

Playing Ovation Ottawa!
Jumpin' Joel Flash, John Ian, & Amanda Cottreau!
Thursday, Aug.26 @ 7:00pm at Live! On Elgin!
TICKETS: https://www.eventbrite.ca/e/ovation-from-live-on-elgin-tickets-166082036843
More info: https://ottawamic.com/concerts
Donation Link: https://bit.ly/3jynHyj

ALSO PLAYING #CitySounds!
City Sounds: John Ian and Alanna Sterling & the Silvers
Saturday, Aug.28, @ 6:00PM at Parkdale Park!
More Info: https://ottawamic.com/city-sounds-sons-de-la-ville
FB Event: https://www.facebook.com/events/442540764145389
The Usual
Blake Alexander - s/t

Hallelujah
Blake Alexander - s/t

Blake Alexander is an inspired, motivated, dedicated and new upcoming artist from Ottawa, Canada. He has always loved music, always had musical abilities, but did not realize he was really preparing for his future music career. 2019 was when he really decided to pursue his music career. For the past decade, he has been battling addiction with alcohol and drugs. There have been highs and lows. In 2018 his addiction took him to places he would wish no one would ever have to be. Addicted to drugs and alcohol, he ended up homeless on the street of downtown Ottawa. However, in the last 2 years he has remained sober.

He ended up living in hospitals, shelters and trap houses to stay out of the cold. During the summer, he lived in parks and anywhere else he could. Though, still struggling, he kept working on his craft. He proceeded to find anyway to record his music, by any means possible. He would record in cars, parks, hospital washrooms and libraries. In 2018 he decided that he had enough and checked himself into a long-term Christian based drug and alcohol treatment center in Ottawa. He explained that he knew God was always present in his life and was watching over him. This is when he really accepted the help he needed and got connected with community. He also has built his relationship with Jesus during his time in treatment.

https://linktr.ee/blake.alexander

Playing #CitySounds!
City Sounds: Derek McKinley and Blake Alexander
Saturday, Aug.28, @ 2:00PM at 180 Sparks St.!
More Info: https://ottawamic.com/city-sounds-sons-de-la-ville
FB Event: https://www.facebook.com/events/230280599007439
Legacy
Hueso feat. City Fidelia - Legacy


Gone Till November
Hueso - Legacy


AN INTERVIEW with local Music Maker Hueso!

2021 has presented individuals with a plethora of societal hurdles ranging from the Covid-19 pandemic to protests of systemic racism, police brutality, climate change and arguably the most divisive US election any of us have ever experienced. For the Ottawa-based recording artist Hueso, trying to understand and cope while trying to motivate himself during this trying time was challenging and at time strenuous. However, after several months of vexation, Hueso was able to find a middle ground and work on his latest ep titled Legacy. Legacy is a 6 song Ep that showcases Hueso's layered musical prowess. The 25-year-old Ottawa crooner finds himself creating poignant and impactful music such as "Prime", a genre-defying story featuring heterophonic recordings and gentle and natural vocals that showcase his distinct story of transition – or the title track "Legacy", a heavy-hitting collaborative effort that explores breaking the generational curse experienced by many Black Canadians. The EP reflects the manifestation of confidence Hueso has developed, and his desire to overcome the barriers of being a Canadian recording artist. The story-telling acumen and lyrical adroitness on display throughout his EP will be accompanied by 808's, beats switches and guitar sampling instrumentals that will challenge and gratify your senses. Hueso's music is best described as a merging of smooth vocals and lyricism.

https://open.spotify.com/artist/5px5qdwlkLxEYOBRKDBlyI

Played House of Paint CKCU Takeover!
More info: https://houseofpaint.ca/
Mural Map: https://houseofpaint.ca/mural-map/
Heartbeat
Alanna Sterling - s/t

My Battery is Low
Alanna Sterling - s/t

Alanna Sterling is a gender-fluid, genre-fluid vocal shapeshifter and multi-instrumental sorcerer. As an advocate for mental illness, their ultimate passion is to create musical movements out of moments of struggle, in hopes to work through life's adversities and inspire others to overcome their own battles.

Upon learning piano at the age of 2, Alanna made it her mission to pursue the arts in all of its forms - music, visual arts, dance, drama, literary works. In their teen years, Sterling took it upon themselves to learn over 40 different instruments and start writing poetry, as a way to escape from bullying, trauma, social anxiety and depression. Musci ultimately became their sword and savior and gave them the confidence they needed to carry on. Songwritingv came naturally, and since the age of 12, Alanna has composed hundreds of songs, most of which will remain hidden in a notebook, never to be recorded.

Currently, Alanna has made her mark asa partnered streamer on Twitch, under the alias "MermaidUniocrn", aka Merms. Merms has gathered a huge loving community of over 40k people from their weekly broadcasts, and has been able to skyrocket their career into a global platform.

https://www.alannasterling.ca/

Playing #CitySounds!
City Sounds: John Ian and Alanna Sterling & the Silvers
Saturday, Aug.28, @ 6:00PM at Parkdale Park!
More Info: https://ottawamic.com/city-sounds-sons-de-la-ville
FB Event: https://www.facebook.com/events/442540764145389
Shakes
Country Club Pool Boy - s/t


Collaborative rhythm section & production crew founded by four Ottawa based multi-instrumentalists and producers.

https://linktr.ee/countryclubpoolboy
Gone and Run Away
Taming Sari - s/t


A road of mishaps and intricate life experiences made the Taming Sari guys collide and band together. With a new sound to the playground, they bring that classic rock and blues feel back into modern day rock and roll. Toronto producer Ross Hayes Citrullo helped them tap into the melodic and unique voice of Warren Meredith and directed them towards what is now the Taming Sari sound.
​
They released their debut single titled Down With The Devil in May 2019 and second single ''Wake Up Boy'' in July 2019 in order to build up the hype and promote the release of their debut album Thirsty from the Drought in September of 2019. Carson Roswell of Canadian Beats writes: ''It is easy to say that Taming Sari are doing what they want to do: get their music to the world. Their style is a style that anyone could listen to and dance or sing along.'' Since the album release last fall, the band has been on a roll in playing shows such as opening up for the Planet Smashers, The Lazys, playing during an Ottawa Senators game (intermission), and being part of events with local rock station Rebel 101.7 (Real Rock Concert Series & Rebel Real Rock Search). Taming Sari was selected by fan vote to take part in the finals of the Real Rock Search. Down with the devil made it as a finalist for Ottawa rock song of the year and Wake up boy came in as a top 50 judges favorite for the CBC Searchlight competition. 2020 saw the departure of their then lead guitarist Danny, to welcome Joe Fraser as their new lead axe.

https://www.tamingsariband.com/bio

Playing #CitySounds!
City Sounds: Raphael Weinroth-Browne and Taming Sari
Friday, Aug.27, @ 6:00PM at 180 Sparks St!
More Info: https://ottawamic.com/city-sounds-sons-de-la-ville
FB Event: https://www.facebook.com/events/2925242227749901