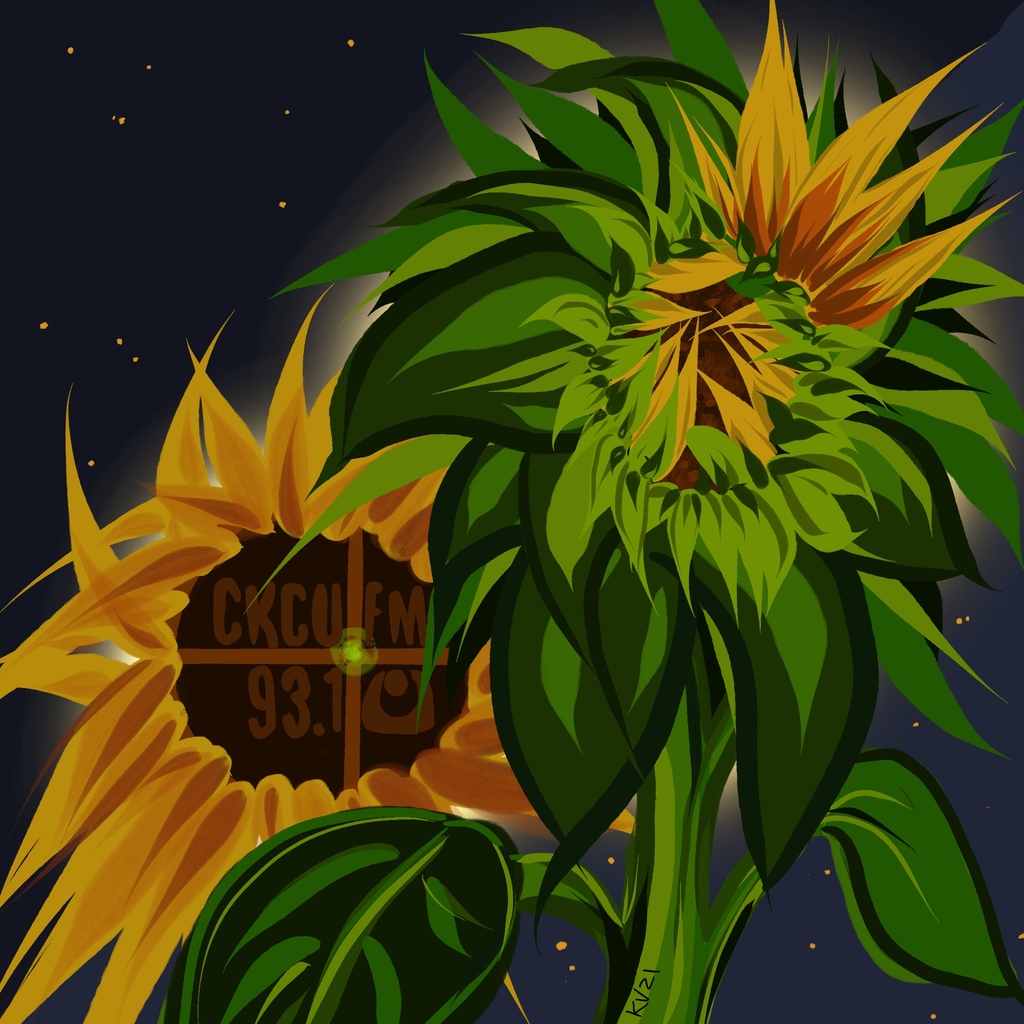 Monday Special Blend
Monday August 30th, 2021 with Jumpin' Joel Flash & Kim Valentine
It's #CitySounds, A Company of Fools, an almost-interview & LOCAL TUNES on the Monday Special Blend!
An Interview with A Company of Fools! "Love From Afar" is a Theatre production on tour all over the city! We yik-yakked being back on stage and bringing art to the people! Music from #citysounds! Free Outdoor Shows happening all across the city! Put on by Local BIA's and the Ottawa Music Industry Coalition! TUNES from Hevve, Mischa, ChRIS KEEZ, Sophie D'Orleans, Five + None, The Riot Police, Terrence & The High Flyers, Lucas Haneman Express, SVDVM, Lia Kloud, Shawnee Kish, The Ottawa Guitar Trio, and Max Webster!
Oh War!
Max Webster - High Class in Borrowed Shoes

From Me
Sophie D'Orleans - s/t


Sophie D'Orléans is an indie R&B singer-songwriter and multi-instrumentalist with a warm, inviting presence. Intuitively layering pop hooks and jazz harmony, her sound is contemplative and polished. D'Orléans serenades past versions of herself in a dreamy exploration of womanhood.

https://www.sophiedorleans.com/

Playing #CitySounds!
City Sounds: Sophie D'Orléans and Double Experience
Saturday, Sept.4, @ 6:00PM at Orleans Town Centre
More Info: https://ottawamic.com/city-sounds-sons-de-la-ville
FB Event: https://www.facebook.com/events/1488100111524413

Also Played Encore Ottawa Aug.27!
Recording here: https://shenkmanarts.ca/sophie-dorleans
Faded
Hevve feat. ChRIS KEEZ - V


Gone
Hevve feat. Dynamic - V


Ottawa native Hevve is a versatile artist, rapper and singer. In 2017, he released a series of 4 EPs entitled "Year of the Bangers" in collaboration with producer Quest. The four EPs represented the four seasons and demonstrated the variety of rap styles Hevve and Quest are able to do.

Hevve recently signed a management deal with SHIFTER Agency and continues to establish himself as one of the top artists coming out of the capital. The future is bright for Hevve, stay tuned!

https://open.spotify.com/artist/0dInSEr35PjfP1PNnpdusj?si=vsLi4t7YQxeakKUGjg6Weg&dl_branch=1
commas
SVDVM - s/t

Lost a Lot
SVDVM feat. Lia Kloud - SVISA

A rapper who grew up on the beats of rock-rumba & the late Michael Jackson's thriller, SVDVM emerged from Ottawa, Ontario. His Charismatic, confident personality is polished all over his sound. He went viral hit with his first single " Auston Matthews" garnered more than 1 million views across all platforms. SVDVM was born in Bunia, Congo DRC In 1996 where he spent the first 8 years of his life before migrating to Canada with his family. He played soccer growing up & began rapping by the time he was in high school. Svdvm is poised to become the next superstar artist. Known by fans as the energetic guy, the buzzing act is finally ready to have his voice heard.

https://open.spotify.com/artist/467im4dG6VxvgkXxga3a6C

CHECK OUT HIS LATEST TRACK & VIDEO - F*** That - https://www.youtube.com/watch?v=Y18Raiox2kY
Gunner
Five + None - Gunner + Down

Down
Five + None - Gunner + Down

Based in Ottawa, Five+None has evolved from a fun cover band to writers and musicians finding their own unique sound, complete with blistering rock, amazing guitar riffs and poetic lyrics. The band originally met as students of Ottawa's Bluesfest School of Music and Arts in 2015 and soon started playing local events and festivals such as Bluesfest, Kemptville Live Music Festival, and CityFolk. Five+None rapidly gained industry support from people such as Alan Cross ("We need more female-fronted rock, give this a listen") and DJ Noah of LiVE 88.5 FM ("... a really promising young new Ottawa band").

https://fiveplusnone.com/

Also played Encore Ottawa Aug.27!
Recording here: https://shenkmanarts.ca/fivenone
Super Mario 64: Dire Dire Docks
The Ottawa Guitar Trio - s/t


Composed of Nathan Bredeson, Alex Bougie and François Lacelle, The Ottawa Guitar Trio has made it their mission to highlight the accessibility and reliability of classical music to modern audiences. The ensemble explores the classical guitar's unique dynamic and textural palette to bring to life a repertoire of dynamic movie soundtracks, nostalgic video game scores, timeless classical repertoire, as well as original music for guitar trio.

https://www.ottawaguitartrio.com/
Alpha Barbie
Mischa - Like Woah

I Need You To Stop
Mischa - Like Woah

Born and raised in Ontario, Canada, Mischa is a Hip-hop artist reigning from Ottawa, the nation's capital. After countless hours of dedication to her music, collaborating with various artists, and releasing intoxicating melodies that you couldn't forget if you tried, Mischa has found an intriguing way to dip into the realm of Hip-hop, while illuminating components of the Contemporary R&B spectrum. Her fortified persona shines through every word she pens, as she embodies an unapologetic personality, bringing life to her lyrical dexterity through a knack for word play. With several projects currently out, including the FACES Magazine 2021 nominated album of the year "Alpha Barbie," Mischa continuously finds a way to engage and connect with her audience through high energy performances and vibrant lyricism.

https://open.spotify.com/artist/3jS3797so1J8uHuhwWifhL
Lay It to The Line
Lucas Haneman Express - Catch Me Westbound

Ms. McGrim
Lucas Haneman Express - Catch Me Westbound

With a top 5 Album on the "Roots Music Report: Top 50 Canada Album Chart" in 2019, a 2020 Maple Blues Sapphire Award for their music video "Ms. McGrim" and a nomination for "Best New Act" at the 2018 Maple Blues Awards, the Lucas Haneman Express is a soulful, fun-filled and electrifying musical ride!

http://www.lhexpress.ca/

Playing #CitySounds!
City Sounds: Terrence O'Brien and Lucas Haneman Express
Saturday, Sept.4, @ 2:00PM at 1138 Mill St. in Manotick!
More Info: https://ottawamic.com/city-sounds-sons-de-la-ville
FB Event: https://www.facebook.com/events/983564395552085
AN INTERVIEW with A Company of Fools! "Love From Afar" is a Theatre production on tour all over the city! We yik-yakked being back on stage and bringing art to the people!

Love From Afar: a Shakespeare Mashup
Sept 2-25, 2021 - Locations all across Ottawa!
Tickets: https://www.eventbrite.ca/o/a-company-of-fools-12098757585
More Info: https://fools.ca/
Crying Over You
Terrence & The High Flyers - Lovers Lane


Mind's Made Up
Terrence & The High Flyers - Lovers Lane


Terrence & the High Flyers are 'Retrock': vocal harmony-infused Rock n' Roll drawing from the sounds and styles of the 60's and 70's to create a modern vintage experience. Based out of Canada's capital of Ottawa, Terrence & the High Flyers were born out of a love for writing simple songs and having fun with melody and harmony.p"!

Playing #CitySounds!
City Sounds: Terrence O'Brien and Lucas Haneman Express
Saturday, Sept.4, @ 2:00PM at 1138 Mill St. in Manotick!
More Info: https://ottawamic.com/city-sounds-sons-de-la-ville
FB Event: https://www.facebook.com/events/983564395552085
Ladder
The Riot Police - s/t

Keep Dreaming
The Riot Police - Movement

The Riot Police are a four piece Indie Rock band from Ottawa, Ontario. Drawing influences everywhere from; The Tragically Hip, to the Killers. From graceful melodies that stick to your brain, to razor sharp arena rock anthems, TRP is gearing up to bring their famous live show energy back to you! After a quiet year through quarantine The Riot Police are stoked to be back playing for you live! Keep your ears to the ground as they gear up to release their latest single "Get Up"!

Playing #CitySounds!
City Sounds: Kristine St-Pierre w Raphael Weinroth-Browne | The Riot Police
Friday, Sept.3, @ 6:00PM at 64 George St in the Market!
More Info: https://ottawamic.com/city-sounds-sons-de-la-ville
FB Event: https://www.facebook.com/events/229157178979604

Also played Encore Ottawa July 2
Recording here: https://shenkmanarts.ca/en/riot-police
Light Me Up
Shawnee Kish - Shawnee Kish


Diagnosed Disassociative
Shawnee Kish - Shawnee Kish


Canadian Mohawk Two Spirit singer/songwriter uses music as medicine. Searchlight 2020 CBC Winner and Billboards "LGBTQ2 Artists You Should Know" in music. Shawnee's voice is filled with power, dynamic strength all the while there is a soul and vulnerability that is captivating. With songs like Warrior Heart and Mirror Me Shawnee demands awareness and promotes community healing inspiration through music for community issues and struggles like the Suicide Crisis in Indigenous communities. Her music journey is to share healing, promote self love and encourage empowerment through the hardest of times. She recently performed her single for Suicide Crisis (Warrior Hear) summer 2019 at the Prime Ministers Canada Day event and World Pride NYC StoneWall Anniversary. Shawnee's voice is a strong one, her message is powerful and her journey in Canadian music continues to reach out impacting Warrior Hearts internationally.

https://www.shawneekish.com/

Playing NAC's Undisrupted series!
https://nac-cna.ca/en/undisrupted

Apt613 writeup here: https://apt613.ca/the-nacs-undisrupted-series-features-unique-collaborations-for-unprecedented-times/
Hollow Knight: Dirtmouth
The Ottawa Guitar Trio - s/t