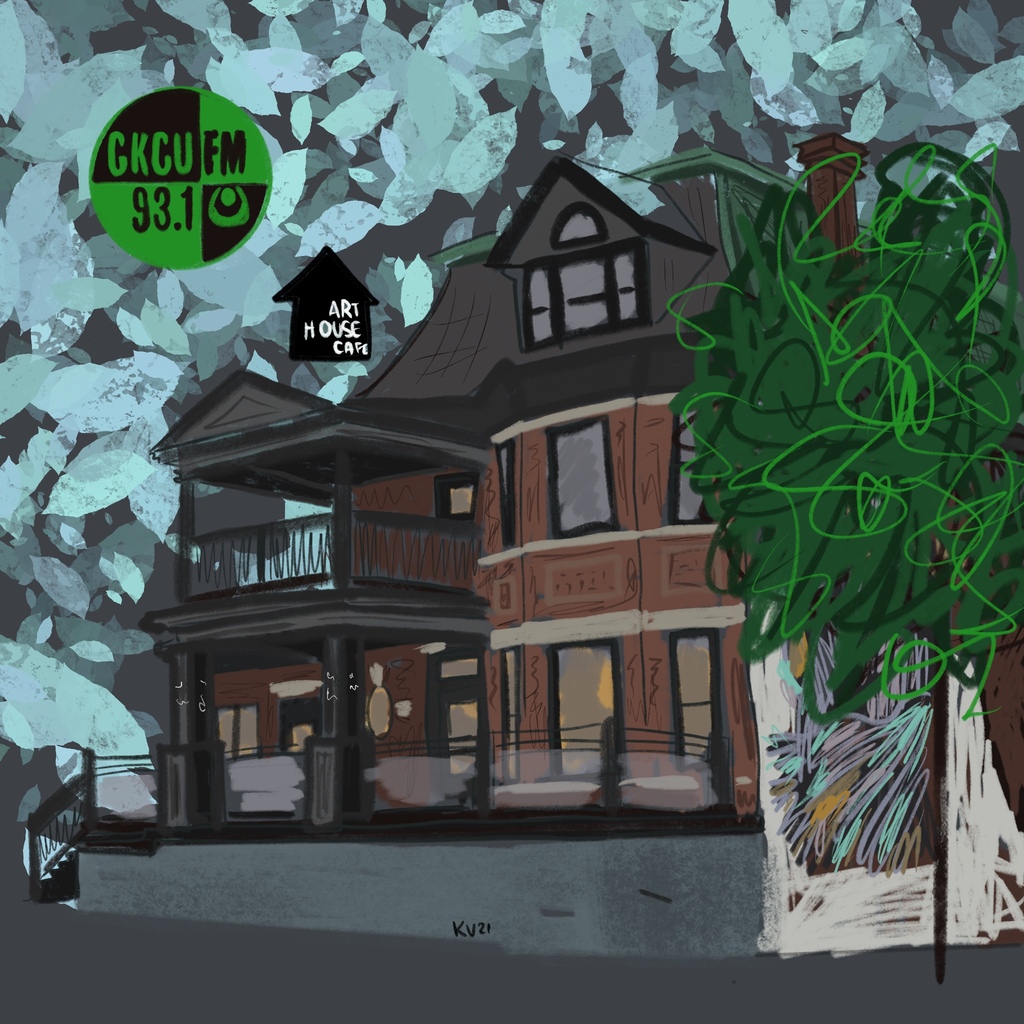 Monday Special Blend
Monday August 2nd, 2021 with Jumpin' Joel Flash & Kim Valentine
It's Gloria Guns, Encores, Ovations, and LOCAL MUSIC on the Monday Special Blend!
An Interview with Gloria Guns! Gloria's new album, hibernation, releases TODAY and we yik yakked all about it! More music from #OvationOttawa and #EncoreOttawa! Non-stop local music streams organized by The Ottawa Music Industry Coalition (OMIC)! TUNES from Rachel Beausoleil, Erica Brighthill, Mindy Amelotte, BIIPIIGWAN, Ottawa Guitar Trio, Willy Nilly, The Miguel de Armas Quartet, Winnie Julot, & Max Webster! Showpiece today is The Art House Café! Lots of local creativity is shared and performed here! Thanks to co-host with the most-most and show artist Kim Valentine!
Night Flights
Max Webster - A Million Vacations

As Rosas Não Falam
Rachel Beausoleil - Brazz

O Bêbabo e a Equilibrista
Rachel Beausoleil - Brazz

Rachel Beausoleil is a French-Canadian world jazz artist. Known for her love of languages, world musics and on-stage dramatic flair, Rachel performs seamlessly in English, French, Portuguese, Spanish, and Russian. Since the late 1980s, Rachel has been part of many vocal groups, jazz and Latin combos. She has performed in both North and South America.

Where Brazilian popular music meets Jazz.

http://www.rachelbeausoleil.ca/

Playing Encore Ottawa!
Friday, August 06, 2021 at 8:00 PM
More info: https://shenkmanarts.ca/rachel-beausoleil
Still Small Voice
Erica Brighthill - s/t

Erica Brighthill is an upcoming singer/songwriter from Ottawa. Her style ranges between country and pop. She quickly discovered a passion for music by being constantly surrounded by artists at a young age. As part of a festival called Idole St-Jean, coordinated by Michel Benac from the band Swing, she earned the public's choice award during the singing competition in 2014. Following that experience she toured different schools in the area with Plectrum, a music group she was part of. In 2017, Erica won first place at the Someday Live Singing Competition and in addition to that she performed at Bluesfest.

In October 2018, Erica joined The Syndicut, an artist developing program founded by Debbie Zavitson and Tara Shannon. Zavitson is a Nashville executive and manager who has worked with Sony, Giant Records and who has managed Blake Shelton for the first years of his career.

https://www.ericabrighthill.com/

Playing Ovation Ottawa!
Thursday, Aug.5 @ 8:00PM via Facebook
More info: https://ottawamic.com/concerts
Donation Link: https://ottawamic.com/checkout/donate?donatePageId=60c281e06b505f2b90b3778b
Lemonade
Mindy Amelotte - s/t


High Tide
Mindy Amelotte - Full Blast

Mindy Amelotte is a solo DIY artist (previously Dynamite Motel). She explores realms of Rnb,Neo Soul, Pop with Smooth jazz like vocals to create her own unique compositions. She experiments with drum machines, vocal loops, guitars, bass and synths.

https://mindyamelotte.bandcamp.com/

Playing Unsociably High's Tour through town!
Sunday, August 8th at Venus Envy!
More info: https://www.unsociablyhigh.com/shows
Descamisados
BIIPIIGWAN - Something for Everyone; Nothing for Anyone
Nishkaak
BIIPIIGWAN - Something for Everyone; Nothing for Anyone

https://biipiigwan.bandcamp.com/
Street Fighter II: Guile's Theme
Ottawa Guitar Trio - s/t


Composed of Nathan Bredeson, Alex Bougie and François Lacelle, The Ottawa Guitar Trio has made it their mission to highlight the accessibility and reliability of classical music to modern audiences. The ensemble explores the classical guitar's unique dynamic and textural palette to bring to life a repertoire of dynamic movie soundtracks, nostalgic video game scores, timeless classical repertoire, as well as original music for guitar trio.

https://www.ottawaguitartrio.com/
Talk
Willy Nilly - s/t


What Are We Gonna Do If The Drugs Run Out?
Willy Nilly - Confused and Rejuvenated
A bunch of raccoons wearing trenchcoats playing various instruments.

https://willynilly1.bandcamp.com/
Continuous
Miguel de Armas Quartet - Continuous


Welcome Back from Varadero
Miguel de Armas Quartet - Continuous


Miguel De Armas is a versatile jazz pianist and composer. He weaves strands of Cuban and American jazz influences in a compellingly eclectic way. Born in Havana, Cuba, Miguel studied at the Conservatory Amadeo Roldan and graduated from the Instituto Superior de Arte with a Bachelor in Cuban Percussion.

For over a decade, he toured with this band around the world and performed at world-class Jazz Festivals such as the North Sea, Montreaux, Nice, Nantes, Normandia, Couleur Café, Barranquijazz, and Río de Janeiro Film Festival, among others.

https://www.migueldearmas.com/

Playing Encore Ottawa!
Friday, August 06, 2021 at 8:30 PM
More info: https://shenkmanarts.ca/miguel-de-armas-quartet
desideration (i miss roller derby)
Gloria Guns - hibernation


hibernation
Gloria Guns - hibernation


AN INTERVIEW WITH GLORIA GUNS! Gloria's new album, hibernation, releases TODAY!

Gloria Guns is an experimental multi-instrumental artist based in Ottawa, Ontario, Canada. She has been the frontwoman of indie band Scary Bear Soundtrack since 2010 and a roller derby skater with Ottawa Roller Derby. She recently began training on traditional Korean music, taking lessons on danso (flute) and haegum (violin) at the Korean Cultural Centre, and practicing janggu (drum) with the Ottawa Korean percussion group Ottapae.

https://gloriaguns.wordpress.com/
I Got You
Winnie Julot - s/t

Mister Mister
Winnie Julot - s/t

Winnie is a talented singer-songwriter and guitarist, She is one of the brains behind Norm the Collective. She has always been a visionary with a brilliant mind. After her grandmother passed away, she was inspired to create the foundation Gift of Giving -Umoja to help the less fortunate after falling in love with her homeland. Aside from her philanthropic work, Winnie is a remarkable songwriter and she confessed that during her creative process, she listens to the melody of her guitar and let the instrument speak to her which you will discover on her next performance.

https://onenorm.com/winnie-julot

Playing Unsociably High's Tour through town!
Sunday, August 1st at Seed to Sausage!
More info: https://www.unsociablyhigh.com/shows
Child of Light: Aurora's Theme
Ottawa Guitar Trio - s/t