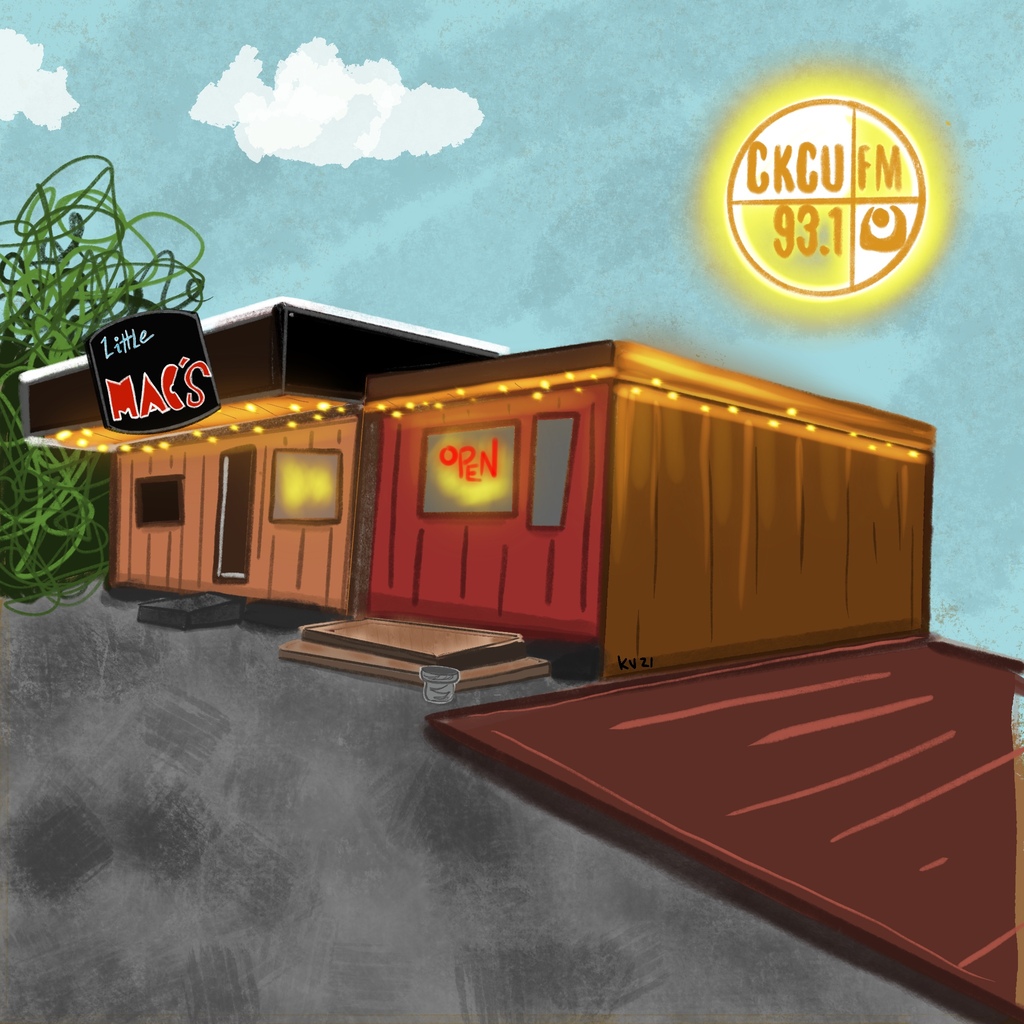 Monday Special Blend
Monday July 19th, 2021 with Jumpin' Joel Flash & Kim Valentine
It's Fundraisers, Ovations, and Encores from the Ottawa Music Industry Coalition on the Monday Special Blend!
#OvationOttawa is on every Thursday until September 2! 50+ local artists playing streaming shows to raise money for the local music industry! I'll be playing on August 12! Check out my bio link for more info on the series, and how you can make a donation! Encore Ottawa Season 2 is on as well! Tune in Fridays to see HIGH QUALITY performances recorded at Shenkmen Arts Centre with Rogers 22! Encore and Ovation are all done through the Ottawa Music Industry Coalition! Nice work! TUNES from Musk Ox, Gutta King Chris, City Fidelia, Uvaune, Ghvstz, Alanna Sterling, Kestrel Blue, Danielle Allard, Malayka, Sam the Producer, Khalifa, Cody Coyote, Vision Quest & Max Webster!
Look Out
Max Webster - A Million Vacations

Island
Danielle Allard - Passing Notes

Passing Notes
Danielle Allard - Passing Notes

Singer-Songwriter. Chameleon. Her tender voice and her combination of jazz, folk, pop, and blues will leave you pleasantly astounded. Danielle Allard is a singer-songwriter, multi-instrumentalist and Twitch Partner. She has been performing publicly for over 15 years and graced stages across Canada and Europe. This Ottawa native has toured Germany, Portugal and much of Canada but also performs 3 times a week for an international audience as a music streamer. By day she is a professor at Algonquin College in the Music Industry Arts program.

More Danielle here: https://www.danielleallard.com/

Playing Ovation Ottawa!
Thursday, July 22 @ 7:00PM via twitch
More info: https://ottawamic.com/concerts
Donation Link: https://ottawamic.com/checkout/donate?donatePageId=60c281e06b505f2b90b3778b
Sheraton
Malayka Feat. Khalifa & Sam the Producer - s/t

Inside Out
Malayka Feat. Sam the Producer - s/t

Malayka (known formerly as Malak Sound), is a Canadian-based singer-songwriter, whose music is inspired and driven by her experiences as a Canadian-Egyptian, and bridges the gap between Western and Middle Eastern pop culture. Coupling electronic and organic elements, she melds her memorable songwriting and charismatic persona into an impactful and engaging live show.

Having won multiple vocal competitions throughout Egypt and Europe, including Greece, Germany and Italy, Malayka has turned her youthful passion for music into a flourishing music career. Now a graduate of music performance and songwriting at Carleton University, she has garnered many accolades for her songwriting and musicianship.

Most recently, Malayka was a quarter-finalist on the 5th season of The Voice Middle East (AKA The Voice Ahla Sawt), making her one of 48 voices among a total of 21,000 applicants. Capitalizing on the successes of the past year, Malayka is currently recording her full length album, The Neighbor.

More Malayka here: https://malaykamusic.com/

Playing Ovation Ottawa!
Thursday, July 22 @ 7:00PM via twitch
More info: https://ottawamic.com/concerts
Donation Link: https://ottawamic.com/checkout/donate?donatePageId=60c281e06b505f2b90b3778b
Ballin'
Uvaune Feat. Ghvstz - s/t


Ride
Uvaune - s/t


Julian Baker, also known as "Uvaune" is best known for his ability to turn his most memorable moments into concise lyrics with catchy melodies. Growing up in the Greater Toronto Area, Uvaune was influenced by Mac Miller, Eminem and Dr. Dre.
More Uvaune here: https://uvaune.com/

Playing Encore Ottawa Season 2!
Friday, July 23, 2021 at 8:30 PM
More info and streaming link: https://shenkmanarts.ca/uvaune
Weightless
Musk Ox - Inheritance


Musk Ox is a Canadian chamber folk trio featuring Nathanael Larochette (classical guitar), Raphael Weinroth-Browne (cello) and Evan Runge (violin).

More Musk Ox here: https://muskoxofficial.bandcamp.com/
Joker
Alanna Sterling - s/t

Cookie Cutter
Alanna Sterling - s/t

Alanna Sterling is a gender-fluid, genre-fluid vocal shapeshifter and multi-instrumental sorcerer. As an advocate for mental illness, their ultimate passion is to create musical movements out of moments of struggle, in hopes to work through life's adversities and inspire others to overcome their own battles.

Currently, Alanna has made her mark asa partnered streamer on Twitch, under the alias "MermaidUniocrn", aka Merms. Merms has gathered a huge loving community of over 40k people from their weekly broadcasts, and has been able to skyrocket their career into a global platform.

More Alanna here: https://www.alannasterling.ca/

Playing Ovation Ottawa!
Thursday, July 22 @ 7PM via Twitch
More info: https://ottawamic.com/concerts
Donation Link: https://ottawamic.com/checkout/donate?donatePageId=60c281e06b505f2b90b3778b
Let's Lie Awake
Kestrel Blue - s/t

From Bliss to Abandon
Kestrel Blue - s/t

Kestrel Blue is the performance name of Ottawa-based alternative singer-songwriter Michael Robert Lisinski.

Musically, Kestrel Blue is a blend of '90s alternative and '60s folk revival, with notes of jazz and psychedelia. Philosophically, Kestrel Blue is about using music to twist meanings out of their contexts, using expression to try to influence the world around you.

More Kestrel here: https://kestrelblue.bandcamp.com/

Playing Ovation Ottawa!
Thursday, July 22 @ 7:00PM via twitch
More info: https://ottawamic.com/concerts
Donation Link: https://ottawamic.com/checkout/donate?donatePageId=60c281e06b505f2b90b3778b
Luv Urself
Gutta King Chris Feat. City Fidelia - s/t

Back to the Safe
Gutta King Chris - s/t

Gutta King Chris is an artist/producer who has been on the Ottawa Hip-hop scene for the last five years and has been working on music for over a decade.
More Gutta King Chris here: https://www.theguttakingchris.com/

Playing Encore Ottawa Season 2!
Friday, July 23, 2021 at 8:00 PM
More info and streaming link: https://shenkmanarts.ca/gutta-king-chris
Memoriam
Musk Ox - Inheritance


Helpless
Cody Coyote - s/t


Manidoo Dewe'igan
Cody Coyote - MA'IINGANAG

Northern Lights
Cody Coyote feat. Vision Quest - MAMAWI

Warrior
Cody Coyote - s/t

Cody Coyote was born on April 17th, 1992, raised in Ottawa, Ontario, Canada and is of Ojibwe/Irish descent with ancestry from Matachewan First Nation. With his fusion of strong, profound lyricism accompanied by corresponding influential sounds, this multi-award nominated and award winning Hip-Hop/Electronic artist grasps his listeners attention and delivers a mesmerizing performance. Outside of music, Cody Coyote is also a motivational speaker, workshop facilitator and is the host of "The Beat" on elmnt fm.

While being actively engaged in the music industry, Cody Coyote's journey includes being up for nominations in the "Best Rap/Hip-Hop CD" and the "Single Of The Year" categories at the 2015 Indigenous Music Awards. He has also received nominations in the "Best Music Video" category at the 2018 Indigenous Music Awards and the "Radio Song Single Of The Year" and the "Youth Leadership In Music" categories at the 2021 Indigenous Music Awards. Cody Coyote was also a recipient of the Ontario 150 Award, received the Ottawa's Favourite Hip-Hop Artist Award at the 2020 Ottawa Awards, the "Best Music Video" award at the 2021 Canadian Independent Music Video Awards and the "Best Male Hip-Hop Artist Of The Year" award at the 2021 International Indigenous Hip-Hop Awards Show.

More Cody here: https://www.codycoyotemusic.com/
SHIFTER article on "Helpless" here: https://shiftermagazine.com/music/cody-coyote-helpless

The Indian Residential Schools Survivor Society
https://www.irsss.ca/
1-800-721-0066