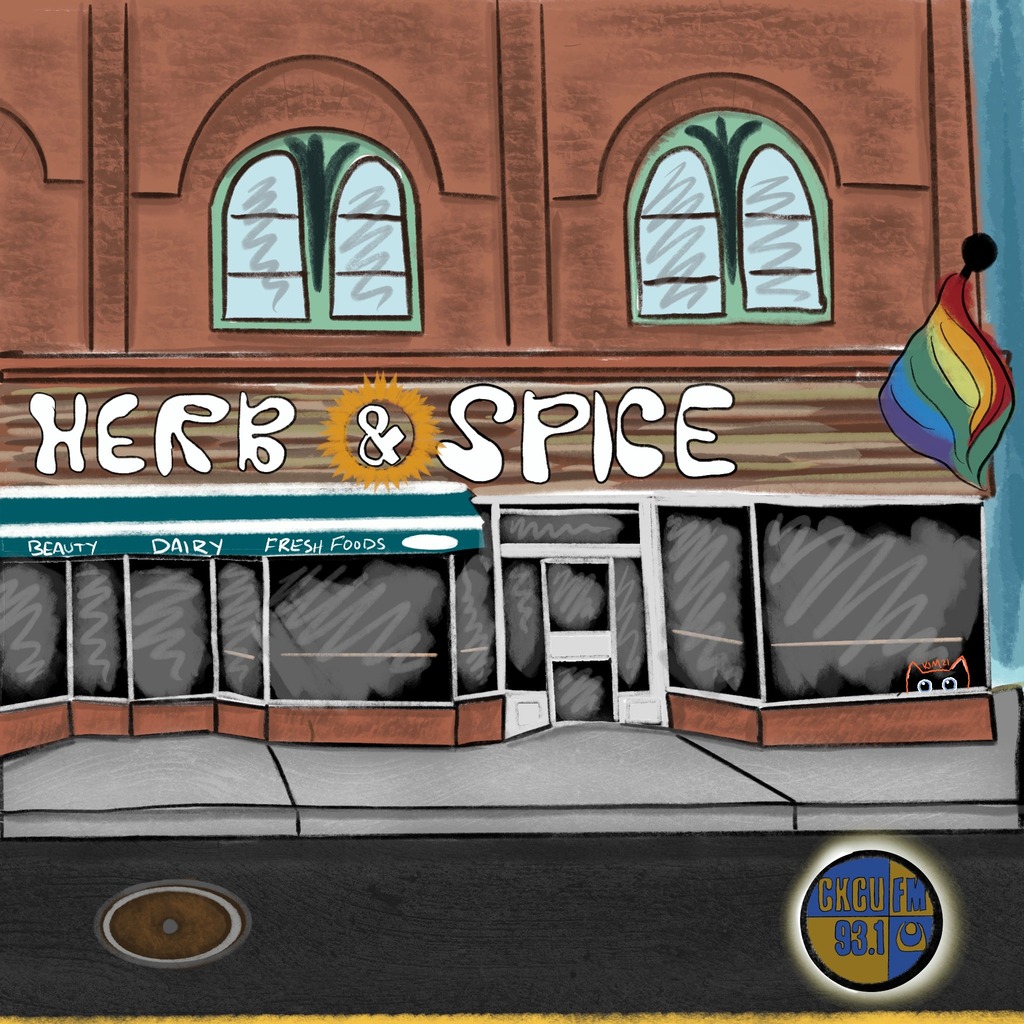 Monday Special Blend
Monday April 19th, 2021 with Jumpin' Joel Flash & Kim Valentine
It's Capital Music Awards, Best Wishes, & Sunday Riots on the Monday Special Blend!
An interview with Executive Director of the Ottawa Music Industry Coalition, Jamie Kwong! The Second Annual Capital Music Awards are upon us, and public voting for three categories ends Wednesday! We yik yakked awards, the Ottawa Music Development Fund, and the Encore Ottawa concert series! Preview of this week's show includes tracks from Sing Song Party Time & Moonfruits! Then an interview with local sing-songer Renée Landry! She's got a brand new single called "Best Wishes", and lots to talk about it! Then, the return of Sunday Riot Club! Alex Maheux shares his thoughts on "Where the Wild Things Are", and teases some new acoustic material! Also played tunes from Jacob Neufield, The Ottawa Guitar Trio, Swisha T, Jstn Dmnd, Desren, Mattpoz, Matt, Wayfie, Omari Mydz & Max Webster!
Gravity
Max Webster - High Class In Borrowed Shoes

Prince
Renée Landry - s/t

Best Wishes
Renée Landry - s/t


NEW LOCAL MUSIC AND AN INTERVIEW!

​Fiery and uninhibited, Renée Landry is a powerhouse of Northern Ontario soul. Hailing from Sault Ste. Marie, this Ottawa artist enthralls audiences with her commanding stage presence and fierce vocal delivery, as she weaves her confessional stories of love gone wrong with 90's pop-soul sensibilities.

More Renée here: http://www.reneelandryofficial.com/
Straight into Night (Live)
Sunday Riot Club - s/t


Where the Wild Things Are
Sunday Riot Club - s/t


NEW LOCAL MUSIC AND AN INTERVIEW!

The band was founded in 2017 and made close to100 appearances throughout Ontario and Quebec. In 2019, the highly talented Gethyn Hatch joined the fold and helped solidify the band's reputation through Canada's National Capital region and everywhere else. Their live show will bring you back to the 80's era of rock music when the show was as important as the music.

More SRC here: https://www.sundayriotclub.com/
Oh What if a Bunny Could Talk
Sing Song Party Time - Sing Song Party Time

Sing Song Party Time - LOCAL MUSIC AND A CONCERT!

Singer and children's entertainer Derek McKinley brings his joy of life to music in a fun way, inspiring children and adults alike! Supporting and encouraging the creativity and fun of music through songs that empower children and foster an appreciation for living healthy and environmentally aware. Songs that focus on protecting our earth and living environmentally conscious. In the show there is a strong influence towards using our ears to listen to the different sounds of the instruments – a fun form of sound exploration :)

More SSPT here: https://www.singsongpartytime.com/

Encore Ottawa - Live Performance: Sing Song Party Time
Friday, April 23, 2021 at 8:00 PM
More info and watch link: https://shenkmanarts.ca/en/sing-song-party-time
Roustabout
Moonfruits - Ste​-​Quequepart

Moonfruits - LOCAL MUSIC AND A CONCERT!

Fronted by partners Alex Millaire and Kaitlin Milroy, Ottawa-based Moonfruits are makers of art-folk bilingue. In a forest of banjo, guitar, kalimba and glockenspiel, their voices burrow and soar. Here is a reverie, tender and powerful, beckoning listeners to elevate the stuff of everyday life.

More Moonfruits here: https://moonfruits.ca/

Encore Ottawa - Live Performance: Moonfruits
Friday, April 23, 2021 at 8:00 PM
More info and watch link: https://shenkmanarts.ca/en/moonfruits
Techno Syndrome - Mortal Kombat Theme
Ottawa Guitar Trio - s/t


NEW LOCAL MUSIC!

Composed of Nathan Bredeson, Alex Bougie and François Lacelle, The Ottawa Guitar Trio has made it their mission to highlight the accessibility and reliability of classical music to modern audiences. The ensemble explores the classical guitar's unique dynamic and textural palette to bring to life a repertoire of dynamic movie soundtracks, nostalgic video game scores, timeless classical repertoire, as well as original music for guitar trio.

More OGT here: https://www.ottawaguitartrio.com/
The Park Song
Sing Song Party Time - Sing Song Party Time

The Erie Canal
Moonfruits - Début

Dusk til Dawn
Desren Feat. Jstn Dmnd & Swisha T - s/t


No Love
Jstn Dmnd Feat. Matpoz & Matt - s/t


San Diego producer Desren has teamed up with Ottawa artists Swisha T and Jstn Dmnd on his recent single "Dusk Till Dawn". On the track, Desren takes time to address his haters and his love for money, as the two Ottawa rappers also talk about their grind and the haters they've attracted along the way.
More Desren: https://open.spotify.com/artist/1v21stz51eeOrovaAeUtb5
Shifter writeup here: https://shiftermagazine.com/music/desren-swisha-t-jstn-dmnd-dusk-till-dawn


JSTN Diamond
Set to captivate the industry with his unique sound, Jstn Dmnd is a quickly rising artist, designer, producer, and songwriter from Ottawa, Canada. Through his emotion-evoking sound and lyricism, Jstn Dmnd has developed a style that will have people hooked. With a growing discography and releases on renowned labels such as Tribal Trap, Elysian Records, and Trap Town Records, Jstn Dmnd is poised to take over the trap charts. With a memorable style and a sound that will resonate with anyone, Jstn Dmnd is set to take the electronic/trap community by storm.

More Jstn here: https://open.spotify.com/artist/3apiGaGR4luHv38fTEw0I2

Swisha T
Swisha-T is an emerging hip-hop artist hailing from Canada who is known for his highly versatile style and rich story-driven lyricism. He has developed a cult following for his consistent releases over the past few years which touch on subjects like mental illness all the way to your usual party tunes, often aiming to uplift and inspire his listeners. He is due to drop his next album sometime in 2021.

More Swisha here: https://open.spotify.com/artist/1KNGrimbkpYFO5jKiBSCLZ

More Matt: https://soundcloud.com/prodmatt
More Matpoz: https://soundcloud.com/matpoz
I just wanna see my friends
Wayfie - s/t


Fairytale
Wayfie - s/t


NEW CANUCK MUSIC

Bio:
Over the past 8 years, Wayfie has been working with talented artists in Canada and
abroad - developing his career from the bedroom. At only 22 years of age, Wayfie is an
extraordinarily talented multi-instrumentalist, songwriter (winner of Music BC's Canadian
Songwriting Challenge 2020), producer, and audio engineer.

It all started with nearly getting trapped in Paris during a global pandemic. "By the
time 2020 arrived, I no longer felt a sense of purpose doing what I had once claimed to love. I decided to finally stop, drop, and get lost across Europe with my girlfriend. It took getting stuck in hotel rooms for me to realize I wanted to share my story with the rest of the world."

More Wayfie here: https://open.spotify.com/artist/06W2ZAfvzFskEWy9cNTTNB?si=BL64bu5qQoKV-edSnfe8bQ
Tonight
Omari Mydz - s/t


On a Mission
Omari Mydz - s/t

NEW LOCAL MUSIC!

Omari Mydz is a versatile artist whose music is relatable to all. He is a star ready to shine who continues to entertain his listeners by expressing his perspectives on life through his unique voice and captivating vibes.

More Omari here: https://open.spotify.com/artist/5EWdhjdLWkENIgz3NVxY5c
Shifter writeup here: https://shiftermagazine.com/music/omari-mydz-tonight
Athletic Theme - Yoshi's Island
Jacob Neufield - s/t


NEW LOCAL MUSIC!

I play guitar and make no money doing it.

More Jacob here: https://www.youtube.com/channel/UCW0I9Gznq3hbTktd1d2JNiQ