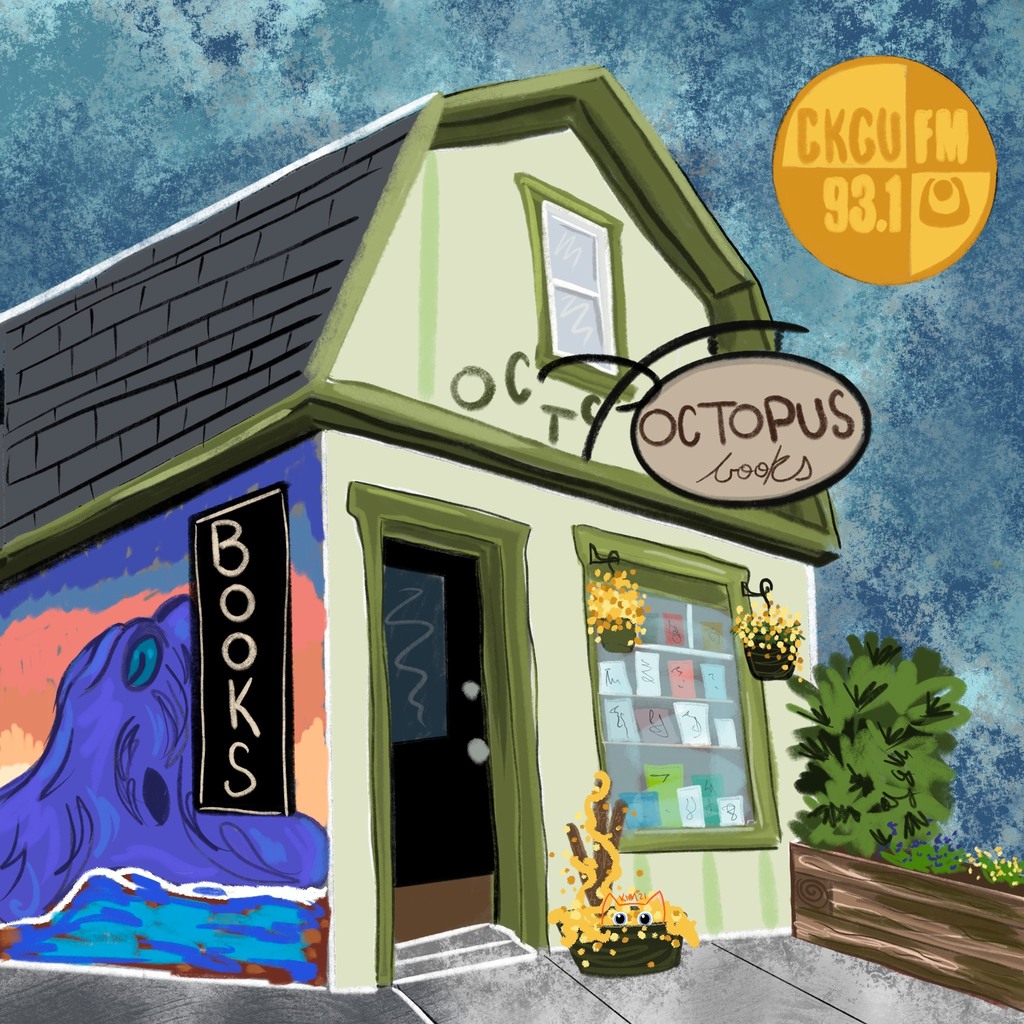 Monday Special Blend
Monday April 12th, 2021 with Jumpin' Joel Flash & Kim Valentine
It's Interviews and Octopi on the Monday Special Blend!
This week's show had more previews of the Encore Ottawa concert series with some tracks from Mischa and Marie-Clo! An interview with local artist & community builder Jah'Kota! He's been busy during the pandemic… we talked all about new tunes and the music streaming platform, TR1BE Music! Then an interview with local artist Fletcher G! He was here in August talking about his newest EP, and less than a year later, he's back with ANOTHER new EP! We yik yakked all about it! Also great tunes from Silent Era Cinema, Mad Gamma, ChRIS KEEZ, Jonny Brown, Chalawa Collins, Sunday Riot Club, & Max Webster! Local Art needs Local Love! Thanks for sharing it, friends! Show art by co-host with the most most, Kim Valentine! Check out Octopus Books for all your reading/research needs!
Sun Voices
Max Webster - A Million Vacations

Whirlpool
Mad Gamma - Moving On


Diferent Sides
Mad Gamma - Moving On


NEW LOCAL MUSIC!

We are Mad Gamma, an Ottawa-based folk-rock band composed of members Matt Atchison (drums, bass, vocals), Emma Bulchak-Healy (vocals, piano, synth), and Sam Fisher (guitar, vocals).

Drawing inspiration from artists including Hawksley Workman, Pink Floyd, and Fleetwood Mac, our music blends dynamic three-part harmonies and anthemic rock with progressive, folk, and jazz influences.

We write about our lived experiences with conflict, mental health, recovery, and personal growth. Our songs seek to find beauty in the unexpected, meaning in moments of darkness, and strength in our struggles.

More MG here: https://www.madgammamusic.com/
Apt613 #ottmusic weekly playlist: https://apt613.ca/ottmusic-weekly-cody-coyote-mad-gamma-silent-era-cinema-added-to-the-apt613-playlist/
Self Determination
Jah'Kota - s/t


Loop Holes
Jah'Kota - s/t


NEW LOCAL MUSIC AND AN INTERVIEW!

Justin "Jah'kota" Holness is a 2019 Indigenous Music Award Nominee for best rap hip hop album of the year for WOKE. His song WOKE also hit number one on the Indigenous Music Countdown for Aug 3-9, 2019. He made history for being the first Native Hip-Hop Artist to drop a verse in the Senate 2016. He is an award winning entrepreneur receiving the 2018 CBC Trailblazer Award for TR1BE Music. He is an award winning youth worker receiving the Youth Community Service Award from the Committee of Youth Officers Ontario while working at the Wabano Centre for Aboriginal Health as an Indigenous Youth Diversion Coordinator. His life purpose is to help young people to find their genius and manifest their dreams through art, music, fashion, and entrepreneurship. His music is inspired by the mission to help Indigenize Canada.

More Jah'kota here: https://open.spotify.com/artist/2F1JdaX9qA7IozojvTtxr8
Cruise Control
Mischa - s/t


Tic-Tac (Remix)
Mischa - feat. ChRIS KEEZ & Jonny Brown - s/t


NEW LOCAL MUSIC!

Born and raised in Ontario, Canada, Mischa is a Hip-hop artist reigning from Ottawa, the nation's capital. After countless dedication to her music, collaborating with various artists, and releasing intoxicating melodies that you couldn't forget if you tried, Mischa has found an intriguing way to dip into the realm of Hip-hop, while illuminating components of the Contemporary R&B spectrum. Her fortified persona shines through every word she pens, as she embodies an unapologetic personality, bringing life to her lyrical dexterity through a knack for word play. With several projects currently out, including the FACES Magazine 2021 nominated album of the year "Alpha Barbie", Mischa continuously finds a way to engage and connect with her audience through high energy performances and vibrant lyricism.

More Mischa here: https://mischaofficialmusic.com/

Encore Ottawa - Live Performance: Mischa
Friday, April 16, 2021 at 8:00 PM
More info and watch link: https://shenkmanarts.ca/en/mischa
Where the Wild Things Are
Sunday Riot Club - s/t


Light This City
Sunday Riot Club - s/t


NEW LOCAL MUSIC!

Sunday Riot Club is Ottawa's relentless upcoming act.
​
The band was founded in 2017 and made close to100 appearances throughout Ontario and Quebec. In 2019, the highly talented Gethyn Hatch joined the fold and helped solidify the band's reputation through Canada's National Capital region and everywhere else.
​
Their live show will bring you back to the 80's era of rock music when the show was as important as the music.

More SRC here: https://www.sundayriotclub.com/
Lève tes voiles
Marie-Clo - Shell(e) Pt III


At Ease
Marie-Clo - Shell(e) Pt III


NEW LOCAL MUSIC!

A true creative chameleon and seasoned traveler, Marie-Clo is a born performer who ropes her audiences into a feverish pitch in both official languages; thanks to "hooked on phonics". Singer-songwriter and dancer, her eclectic indie pop tackles current themes & conscious lyrics, but also conjures a colourful and enchanted world.

More Marie-Clo here: https://marieclo.com/

Encore Ottawa - Live Performance: https://marieclo.com/
Friday, April 16, 2021 at 8:00 PM
More info and watch link: https://shenkmanarts.ca/en/marie-clo
Wa Dem Feel Like
Chalawa Collins - s/t


NEW LOCAL MUSIC!

More Chalawa here: https://www.youtube.com/channel/UC5tiz9DNZecVJKibf07Vu2Q
Pressure
Fletcher G - Note to Self

Ball
Fletcher G - Escape


NEW LOCAL MUSIC AND AN INTERVIEW!

Hailing from Canada's capital, rapper Fletcher G challenges you to not only seek self reflection but to enjoy and dance while doing so. His music reflects creativity, vulnerability, and inspiration. 
 Known in Ottawa for one of the most versatile catalogs in the genre, Fletcher G has peaked major attention and will continue to spark your curiosity. His EP "Note To Self", to be released on August 7th 2020, will make you want to move, take you into your feels and have you reflecting on life's deepest meanings.

More Fletcher G here: https://open.spotify.com/artist/3pP3FSlAUkAiScbTc9YCwx
City Sunlight (ft. Trice)
Silent Era Cinema - EP​-​04


Surefire
Silent Era Cinema - EP​-​04


NEW LOCAL MUSIC!

Silent Era Cinema is the instrumental studio project of Canadian songwriter and composer Kris Ward.

More SEC here: https://silenteracinema.bandcamp.com/
Apt613 #ottmusic weekly playlist: https://apt613.ca/ottmusic-weekly-cody-coyote-mad-gamma-silent-era-cinema-added-to-the-apt613-playlist/