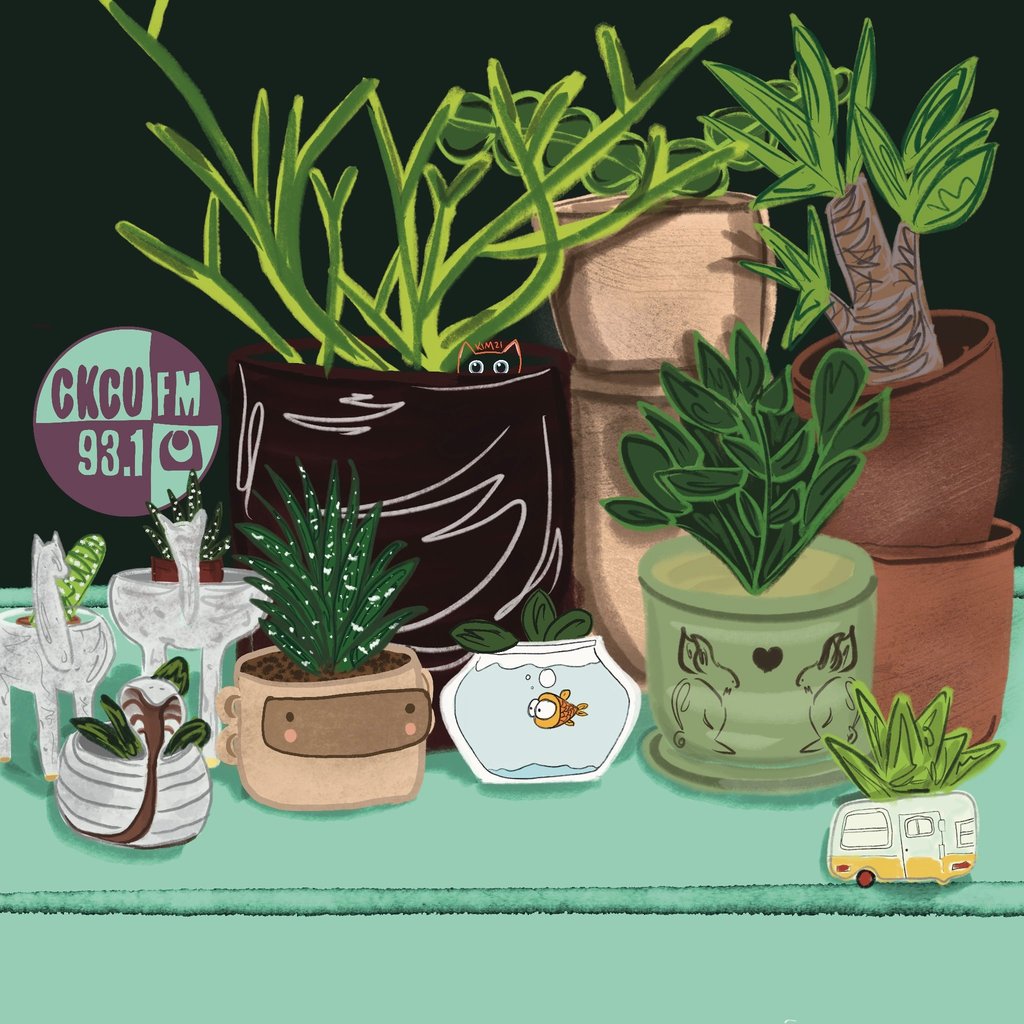 Monday Special Blend
Monday April 5th, 2021 with Jumpin' Joel Flash & Kim Valentine
It's a maybe interviews, mysterious plant woo, & local music on the Monday Special Blend!
More previews of the Encore Ottawa concert series with some tracks from Rosalyn Dennett and Jess Wedden! Plus tunes from Xil, SÜS, Zakk V, Class of 91, Asuquomo, Grand Malheur, DJ Unpier, Chloé Doyon, Queenyy, the Liquid Edge, and Max Webster! Local Art needs Local Love! Thanks for sharing it, friends!
Juveniles Don't Stop
Max Webster - Universal Juveniles

Spiders
Xil - Mitochondriac

Bruised Apple
Xil - If I Should Live Forever, Then Know That I Am Dead Inside

LOCAL MUSIC!

XiL is a group of washed up punk rockers coming together to make some sweet 90's inspired alternative vomit pop. We write story rich music that explores the concepts of life, love, loss, god, death, the devil, and the great lengths we go through to just escape. We are looking at trying to write several conceptual projects exploring these ideas during our career as a band. The first of which being our recently released EP, "If I Should Live Forever, Then Know That I Am Dead Inside.

More XiL: https://thebandxil.bandcamp.com/
Nobody's Calico
Oh My Darling - s/t

Boll Weevil
Dennett & deGroot - s/t

LOCAL MUSIC!

Rosalyn Dennett is a fiddler, singer-songwriter, and multi-instrumentalist who established herself on the international roots scene as one of the founding members of the highly acclaimed quartet Oh My Darling. With four nominated albums, international tours, and sold out shows across the country, she has also travelled extensively through Ireland, Appalachia and Louisiana to pursue her love of traditional music. Rosalyn has had the pleasure of performing with Donovan Woods, Fred Penner, David Francey, and many more great artists and has recorded on over 20 albums as a freelance musician. She performs as a solo artist with her husband Rob McLaren (Union Duke, Barrel Boys).

More Rosalyn here: https://www.rosalyndennett.com/

Encore Ottawa - Live Performance: Rosalyn Dennett
Friday, April 16, 2021 at 8:00 PM
More info and watch link: https://shenkmanarts.ca/en/rosalyn-dennett
Have a Thrill
Zakk V - s/t


False Restart
Zakk V - s/t


NEW LOCAL MUSIC!

More Zakk: https://soundcloud.com/user-986289055
Feel at Home
Asuquomo - DIOBU


Never Die
Asuquomo - DIOBU


NEW LOCAL MUSIC!

Bio:
Canadian Emcee, Songwriter and Ottawa Arts Council x RBC 2020 Emerging Artist Award recipient MO, delivers Debut Ep as ASUQUOMO. From an interdisciplinary background in the arts, he maintains an unmistakable and unique dexterity in both visual and auditory storytelling. His rise to prominence in the Canadian hip-hop scene and highly energetic stage presence has earned him opening slots for the likes of Nigerian superstar Wizkid, Grammy nominated Burna Boy; as well as, sharing stages with Toronto's Jazz Cartier, Lido Pimienta, Montreal's Shay Lia, Cadence Weapon, Kimmortal, BROCKHAMPTON and Kodie Shane. Asuquomo debuted his first single Wide Awake at the Blue Crane Agency, an Afrofest Showcase at Canadian Music Week, in the Spring of 2019. "...Asuquomo's latest EP is titled after a neighborhood in his home country, Nigeria, and it has the warmth of a family reunion. Though Diobu is more rooted in Afrobeat than Asuquomo's past releases, he remains deeply invested in the immigrant experience within his current city, Ottawa..." - Madison Bloom for Pitchfork Staff Picks

More Asuquomo here: https://asuquomo.com/
Apt613 video of the week: https://apt613.ca/video-of-the-week-feel-at-home-by-asuquomo/
Incantations
Grand Malheur - s/t


NEW LOCAL MUSIC!

Grand Malheur, which translates as "misfortune" in French, is the instrumental doom metal project of local musician Cory Levesque who is best know for playing guitar in punk bands (Fresh Hell and Jon Creeden and the Flying Hellfish) and country/folk groups (Jon Becker and the North Fields and his solo acoustic music). Self-described as "Blasphème Instrumental" (instrumental blasphemy), Grand Malheur is heavy, dark, gloomy and the perfect soundtrack to spring showers or late night summoning circles.

More Grand here: https://grandmalheur.bandcamp.com/releases
Showbox writeup here: https://www.ottawashowbox.com/2021/04/02/premiere-incantations-by-grand-malheur/
Oxytocin Dreams
S.U.S - s/t


NEW LOCAL MUSIC!

For the person who makes you feel alive in a world that doesn't care about you.

More SÜS: https://soundcloud.com/k-b0/tracks
Perspective
DJ Unpier - s/t


Permission accordée
DJ Unpier & Chloé Doyon - s/t


NEW LOCAL MUSIC!

More DJ Unpier here: https://soundcloud.com/djunpier
Apt613 #ottweekly playlist here: https://apt613.ca/ottmusic-weekly-simon-provencher-dj-unpier-summersets-added-to-the-apt613-playlist/
Destroyer
Class of '91 - Eyes on Fire


Cassettes in Helsinki
Class of '91 - Eyes on Fire


NEW LOCAL MUSIC!

Class of 91 is Ian Ferguson, Brock Sarault, Fred Pantalone Jr. & Steve Clifford.

More 91 here: https://classof91.bandcamp.com/
Showbox writeup here: https://www.ottawashowbox.com/2021/04/01/class-of-91-graduates-with-eyes-on-fire/
Macopin Pond
Jess Wedden - s/t


Landslide
Jess Wedden - s/t

NEW LOCAL MUSIC!

Jess Wedden is an 18-year-old folk/Celtic fiddler, singer, songwriter and multi-instrumentalist from Sharbot Lake, Ontario. In the short time Jess has been in the industry, she has earned national recognition as a 2016 and 2018 Canadian Folk Music Award nominee and a 2018 Canadian Songwriting Competition semi-finalist. It's no surprise she received a standing ovation opening for Ashley MacIsaac at the Festival of Small Halls Ontario.

More Jess here: https://www.jesswedden.ca/

Encore Ottawa - Live Performance: Jess Wedden
Friday, April 16, 2021 at 8:00 PM
More info and watch link: https://shenkmanarts.ca/en/jess-wedden
Broken English
Queenyy - s/t


What I like about you
Queenyy - s/t

NEW LOCAL MUSIC!

Queenyy is a Canadian recording/movement artist and songwriter born and raised in Ottawa, Canada. Her boisterous and unapologetic personality seeps into her songs, offering listeners genuine lyrics and lived experiences to grasp hold of. Queenyy has a unique raspy voice and her songs have a dynamic and bona fide sound that captures the spirit of heavy groove R&B hitters—such as TLC, Timbaland and Aaliyah to modern day hip-hop—all while keeping up with scintillating modern era rhythms and production elements.

More Queenyy here: http://www.queenyymusic.com/
Shifter writeup here: https://shiftermagazine.com/music/queenyy-broken-english-movement-visual
Undertale: Megalovania
Ottawa Guitar Trio - s/t


Godzilla: King of the Monsters
Ottawa Guitar Trio - s/t


NEW LOCAL MUSIC!

Composed of Nathan Bredeson, Alex Bougie and François Lacelle, The Ottawa Guitar Trio has made it their mission to highlight the accessibility and reliability of classical music to modern audiences. The ensemble explores the classical guitar's unique dynamic and textural palette to bring to life a repertoire of dynamic movie soundtracks, nostalgic video game scores, timeless classical repertoire, as well as original music for guitar trio.

More OGT here: https://www.ottawaguitartrio.com/
Beautiful
The Liquid Edge - s/t


NEW LOCAL MUSIC!

The Liquid Edge is a music project from songwriter and producer, Tim Connors.

More Edge here: https://www.facebook.com/TheLiquidEdge