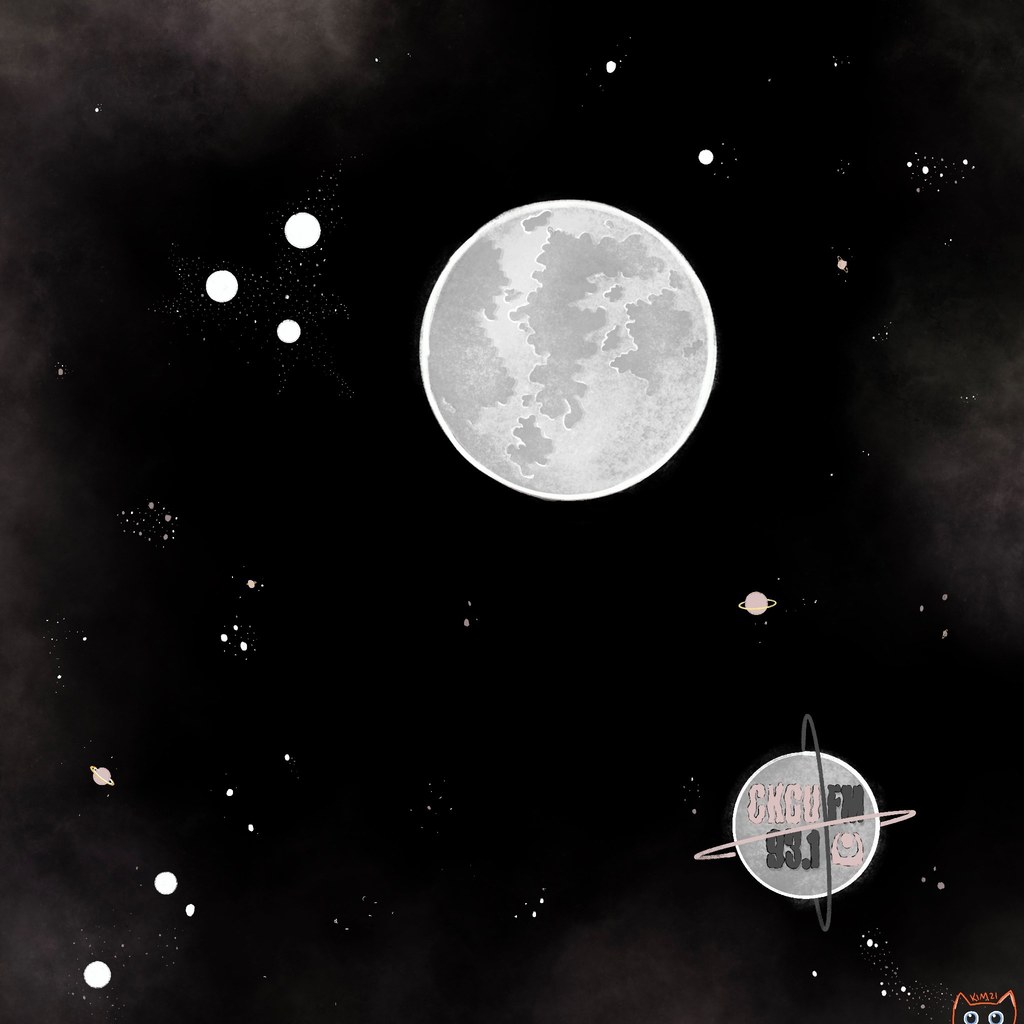 Monday Special Blend
Monday March 29th, 2021 with Jumpin' Joel Flash & Kim Valentine
It's Online Shows & Lunar Flows on the Monday Special Blend!
More previews of the Encore Ottawa concert series with some tracks from KAR33M & IAMSOULFUL! Tune in this Friday for some awesome online shows! Plus an interview with co-host and show artist KIM VALENTINE! She's got a new yoga series based around everyone's favourite satellite: The Moon! Tranquil Lunar Flow starts April 6th, and we yik yakked all about it! Plus tunes from Dogma, Bug Bites, Ottawa Guitar Trio, Freddy Printz, JUWN, dad sports, Jah'kota, Michael Feuerstack, and Max Webster!
Rain Child
Max Webster - High Class In Borrowed Shoes

Passion
IAMSOULFUL - s/t


On My Way
IAMSOULFUL - s/t


NEW LOCAL MUSIC!

Bio:
IAMSOULFUL is an Arab-Canadian independent artist from Ottawa, Ontario, whose musical palette is inspired by the likes of J. Cole, Drake, Kendrick Lamar, and 6lack. Using his spoken word background and powerful delivery, IAMSOULFUL has garnered global attention across North America, Europe, and the Middle East. The strength of his music and creative content has led him to perform at over 25 different venues across Canada in 2020, guest performing at the UN Impact Gala, and considered one of "Canada's Most Slept on Artists" by acclaimed urban media firm Shifter Magazine. A dynamic social media presence and a very strong dedication to his craft has seen IAMSOULFUL grow a loyal fanbase around the world, especially in the Arab global community, amassing over 3 million views across all social media platforms on his infectious content.

More IAMSOULFUL here: https://www.weallsoulful.com/

Encore Ottawa - Live Performance: IAMSOULFUL
Friday, April 2, 2021 at 8:00 PM
More info and watch link: https://shenkmanarts.ca/en/iamsoulful
MANY FACES
dad sports - I AM JUST A BOY LEAVE ME ALONE


nrvs again
dad sports - I AM JUST A BOY LEAVE ME ALONE


NEW LOCAL MUSIC!

Bio:
In 1954, enterprising salesmen named Alex Keyes and Miguel Plante discovered a small burger music restaurant in California, and wrote the first page of dad sports's history. In 1967, Keith McDonald joined the effort and subsequently the first McDonald's Canada opened in Richmond, B.C. We've been growing with our communities and serving quality food at great value ever since. Today, McDonald's Canada is proud to be one of the world's leading food service retailers. From coast to coast, we serve delicious choices to more than 2.5 million people in over 1,400 locations every day. We're also more than just your local restaurant. We're hardworking small-business men and women, students working part-time, seniors getting the most out of life, and volunteers lending time to make a difference in the communities we live and work in.

More dad sports here: https://open.spotify.com/artist/62iEYJuqOpo6M5UAu4aw3U
Apt 613 writeup here: https://apt613.ca/video-of-the-week-many-faces-by-dad-sports/
Feel Like
Freddy Printz - s/t


C.P.T.
Freddy Printz ft. Juwn - Cicada Underground

NEW LOCAL MUSIC!

Bio:
Artist & Songwriter from Ottawa, Canada. Bridging the gap between art and sound.

More Freddy here: https://www.youtube.com/user/fprintz613/featured
Shifter writeup here: https://shiftermagazine.com/music/freddy-printz-feel-like
Beach Goth
Bug Bites - Let Me Lead You Nowhere

Crazy
Bug Bites - Let Me Lead You Nowhere

LOCAL MUSIC!

Bio:
drums - patty pierce
vox - shay butta
guitar - anna-log
bass - fefe algae

pic by jordan

More Bug Bites here: https://bugbites613.bandcamp.com
Austerity
Dogma - Dogma


Indoctrination
Dogma - A New World

NEW LOCAL MUSIC!

Bio:
We are an anarcho/peace punk from Ottawa, Ontario formed in 2017.

More dogma here: https://dogmapeacepunk.bandcamp.com/
NASO
KAR33M - s/t


Everyone
KAR33M - s/t

NEW LOCAL MUSIC!

Bio:
KAR33M is an award-winning R&B fusion artist, singer/songwriter and composer. His music is inspired by Hip-Hop, Afrobeats, Folk & Classical Music. He aspires to intersect music & entrepreneurship with the launch of his company, called Woke Studios – a full-service artistic residency for young, aspiring musicians.

More KAR33M here: https://www.kar33m.com/

Encore Ottawa - Live Performance: KAR33M
Friday, April 2, 2021 at 8:00 PM
More info and watch link: https://shenkmanarts.ca/en/kar33m
Harmonize the Moon
Michael Feuerstack - Harmonize the Moon


Time to Burn
Michael Feuerstack - Harmonize the Moon


NEW LOCAL MUSIC!

Bio: Montreal-based song-maker, musician and producer Michael Feuerstack (fka Snailhouse) has built an ever growing archive of crooked and beautiful songs. Live and on record, Feuerstack's panoramic and literate song-craft can be heard in many forms, transcending boundaries with his unmistakable voice and unique perspective hovering between humour and heartbreak.

More Michael here:
Apt613 #ottmusic weekly playlist: https://apt613.ca/ottmusic-weekly-6-new-songs-added-to-the-apt613-playlist-2/
Final Fantasy 8: Don't Be Afraid
Ottawa Guitar Trio - s/t


Shadow of the Colossus: Revived Power
Ottawa Guitar Trio - s/t


NEW LOCAL MUSIC!

Bio:
Composed of Nathan Bredeson, Alex Bougie and François Lacelle, The Ottawa Guitar Trio has made it their mission to highlight the accessibility and reliability of classical music to modern audiences. The ensemble explores the classical guitar's unique dynamic and textural palette to bring to life a repertoire of dynamic movie soundtracks, nostalgic video game scores, timeless classical repertoire, as well as original music for guitar trio.

More OGT here: https://www.ottawaguitartrio.com/
Welcome to the Matriarch
Jah'kota - s/t


Heal From it
Jah'kota - s/t


NEW LOCAL MUSIC!

Bio:
This song and video is not about me (Jah'kota) its about amplifying the rematriation movement!

Welcome to the MATRIARCH is a song dedicated to to all of the strong, powerful womxn throughout Turtle Island making change, advocating for Indigenous peoples rights, and those who are on the frontline defending our land and waters. Written by Justin "Jah'kota" Holness is a reflection on the rise of the sacred feminine (Credit: Andrea Menard).

Justin "Jah'kota" Holness grew up with three gandmothers (each sisters). One of them taught Nakota language classes at the First Nation University in Regina, the other was part of Chief and Council until her last breath, and the other fought for land back and re-established Ocean Man First Nation in 1990 which became the 1st all female Chief and Council in Canada. His mother did the work of healing so her kids wouldn't have to.

More Jah'kota here: https://www.youtube.com/c/OfficialJahkota/featured
Tr1be Music: https://www.tr1bemusic.com/
Apt613 #ottmusic weekly playlist: https://apt613.ca/ottmusic-weekly-6-new-songs-added-to-the-apt613-playlist-2/
Beyond the Moon
Max Webster - Mutiny up my Sleeve