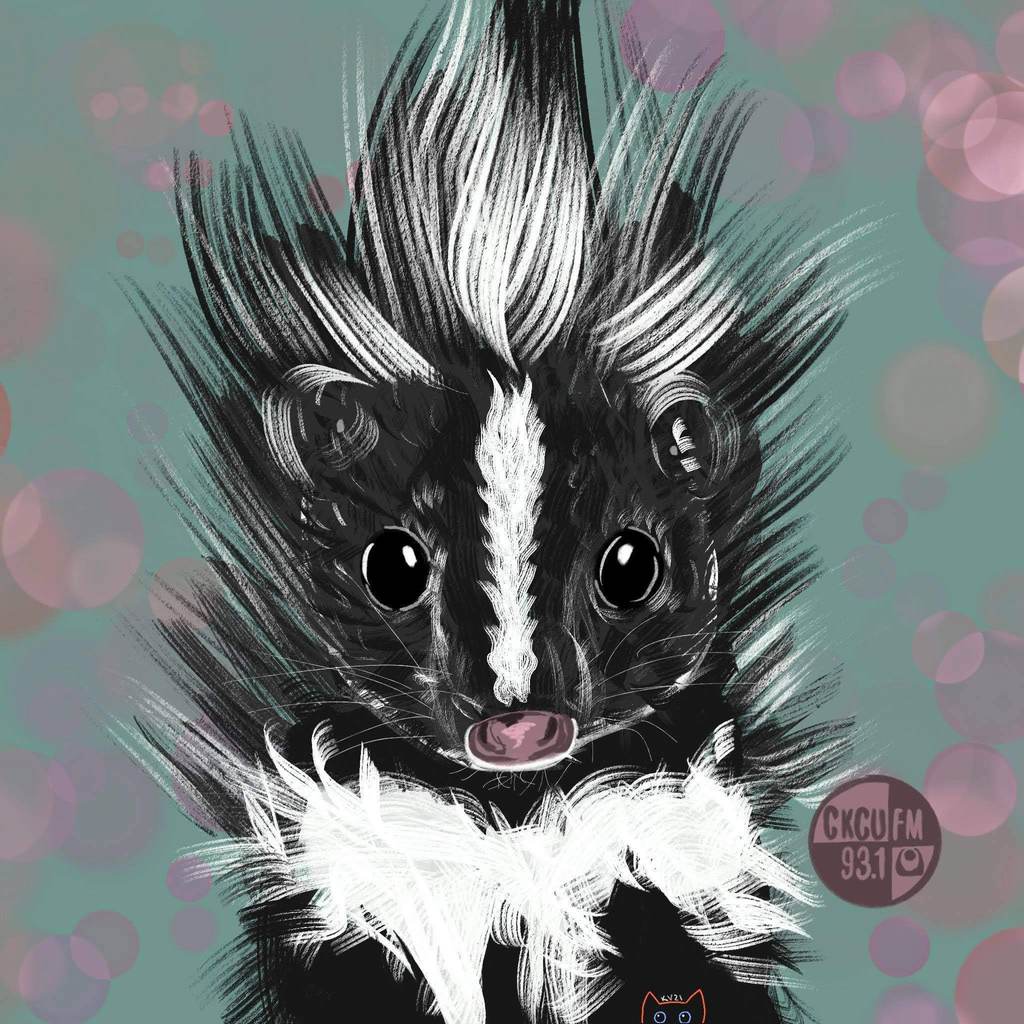 Monday Special Blend
Monday March 22nd, 2021 with Jumpin' Joel Flash & Kim Valentine
It's online concerts, Juno Nominees, and backyard skunks on The Monday Special Blend!
Tunes from local JUNO Nominees Lynne Hanson and Annihilator! Also a preview of the Encore Ottawa concert Series with some tracks from Harea and Crystalena! We talk the merits of urban backyard baby skunk fostering. There aren't many. You'll also hear music from Ciggie Tarbox, Jay Swiss, SVLM, Monostrat 56 Blvd Blues, & Max Webster!
Summer's Up
Max Webster - Max Webster

Magic
Harea - s/t


Mess With Me
Harea - s/t

NEW LOCAL MUSIC!

Bio:
Harea Band is proud of their achievements such as being nominated for the Stingray Rising star award in 2016, playing some of Canada's biggest stages like Ottawa Bluesfest, Jazzfest, and Canadian Music Week, as well as having their music in featured and circulated on CBC radio across the country. 2020 has been a bit of a set back for all performers, but Harea Band has taken the opportunity to hunker down, refine their sound, and continue to release new music and content which is propelling them forward toward their goals of reaching international stardom. Keep your ear to the ground, because these young funksters are just getting started!

More Harea here: https://hareaband.com/

Encore Ottawa - Live Performance: Harea
Friday, March 26, 2021 at 8:00 PM
More info and watch link: https://shenkmanarts.ca/harea-band
End of the Lie
Annihilator - Ballistic, Sadistic

Out With The Garbage
Annihilator - Ballistic, Sadistic

LOCAL MUSIC!

Nominated for a 2021 Juno Award!
METAL/HARD MUSIC ALBUM OF THE YEAR - Ballistic, Sadistic
https://junoawards.ca/nominees/

Bio:
The band is called "ANNIHILATOR" and is led by founding member Jeff Waters. Formed in 1984, the band has released 17 studio cd's and numerous other live and DVD offerings. Waters is the guitarist, vocalist, studio bassist & writer for Annihilator as well as a studio owner, producer, engineer and mix & mastering engineer. Killer live shows, lots of touring since 1989 and pure, honest Heavy Metal-meets-Thrash Metal music.

More Annihilator here: https://www.annihilatormetal.com/
Pas de chance
56 Blvd Blues - s/t


Fort comme ça
56 Blvd Blues - s/t


NEW LOCAL MUSIC!

Bio:
Old dogs, new tricks ! All original music from local blues/rock band in Ottawa/Gatineau. Groupe blues rock d'Ottawa Gatineau présentant du matériel original anglais et français. Robert Villeneuve on bass and vocals, Gilles Cholette on drums and vocals, Yves Côté on harmonica and vocals, and Louis Betournay on guitar and vocals.

More 56 here: https://56blvdblues.bandcamp.com/
8PM in Ottawa (Freestyle)
Jay Swiss - s/t

Show Me Your Heart
Jay Swiss - Apex Park

LOCAL MUSIC!

Bio:
Canadian vocalist and producer Jeffrey Leahy more commonly known as Jay Swiss makes alternative pop music inspired by Flume, Frank Ocean, Drake, and Post Malone. His first single and music video "Show Me Your Heart" was released on April 9th of 2020. His first debut Album, Apex Park featuring six songs was released on May 3rd 2020.

More Jay here: https://www.youtube.com/channel/UC0wJ3ZVNPXa1XBqnulpqcFw
Impulse
Crystalena + The Connection - s/t

Found
Crystalena + The Connection - s/t

LOCAL MUSIC!

Bio:
Crystalena wears her heart on her sleeve. Her canvass contains the deep blues of heartbreak with splashes of vibrant reds when her mood shifts into something animalistic. Her fiery thought-provoking lyrics look to address a range of complex topics, from social issues to the struggles of self-empowerment.

More Crystalena here: https://crystalena.bandcamp.com/

Encore Ottawa - Live Performance: Crystalena
Friday, March 26, 2021 at 8:00 PM
More info and watch link: https://shenkmanarts.ca/crystalena
Yeslamli Jamalik (Beirut)
SVLM - s/t


Six Speed
SVLM - s/t


NEW LOCAL MUSIC!

Bio:
I love what I do, and I hope you do too xoxo.

More SVLM here: https://www.youtube.com/channel/UCxAOR0ubfdsxO8_d35e2Kcw
Shifter Writeup here: https://shiftermagazine.com/music/svlm-yeslamli-jamalik-beirut
Just Words
Lynne Hanson - Just Words

Lollipops and Roses
Lynne Hanson - Just Words

LOCAL MUSIC!

Nominated for a 2021 Juno Award!

ALBUM ARTWORK OF THE YEAR - Just Words, Lynne Hanson
Jared Barter (Art Director & Designer), Michael Zavacky (Art Director & Illustrator), Maryn Devine And Rémi Thériault (Photographers)
https://junoawards.ca/nominees /

Bio:
Too tough for folk and too blues influenced for country, Lynne Hanson's brand of "porch music with a little red dirt" can turn on a dime from a sunshine, blue sky ballad to a full-on thunderstorm of gritty Americana swamp from one song to the next. She's known for her high-energy, roots guitar driven live performances, whether playing solo or with her band the Good Intentions. A closet stand-up comedian, Lynne often leaves the audience howling with laughter with her between-song-banter.

Lynne is a two-time Canadian Folk Music Award winner, a recipient of the Colleen Peterson Songwriting Award, winner of the Blues and Roots Radio International Song Contest, two-time Folk Music Ontario Song From The Heart Blues Award winner, a two-time Indie Acoustic Project Alt-Country album of the year winner, and a two-time Kerrville New Folk finalist.

More Lynne here: https://www.lynnehanson.com/
Johnny Revelation
Ciggie Tarbox - s/t


Acid Country
Ciggie Tarbox - s/t


NEW LOCAL MUSIC!

Bio:
Songs and musings from singer song writer, pack a day sensation Ciggie Tarbox.

More ciggie here: https://www.youtube.com/user/HBKFCRUE/featured
Let it Slide
Monostrat - Deep Fuzz

Down The Hall
Monostrat - Deep Fuzz

LOCAL MUSIC!

Bio:
A solo psych rock act taking influences from artists like Pink Floyd and Tame Impala. Monostrat has a dark psychedelic sound that is full of washy guitars and swirling 80's synths.

More Monstrat here: https://monostrat.bandcamp.com/