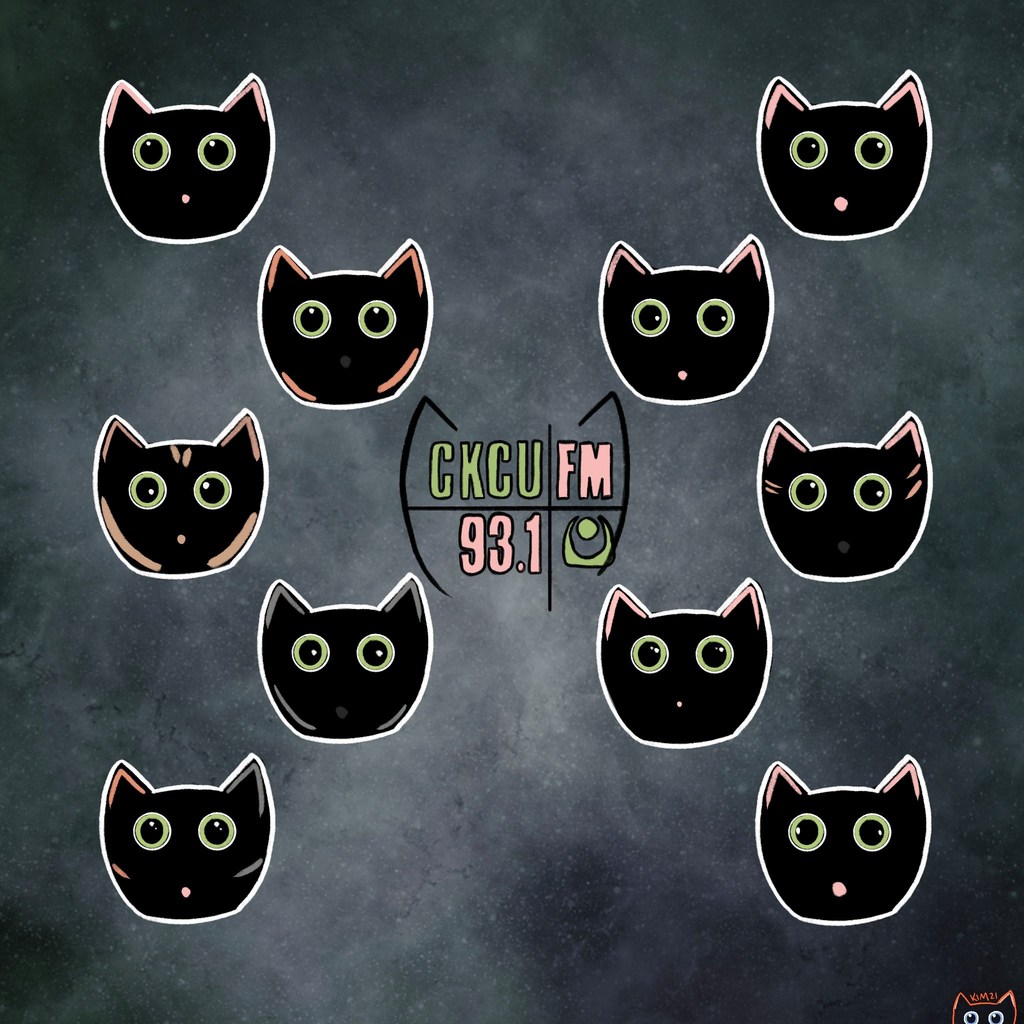 Monday Special Blend
Monday March 15th, 2021 with Jumpin' Joel Flash & Kim Valentine
It's Cats and Foxes and Furry Fun Local Music on The Monday Special Blend!
Joel speaks with Montreal Music-maker Jono Townsend! He's got a folky fun new EP and we yik yakked all about it! THEN Kim speaks with Katherine Clements from the Feline Cafe! A great convo about adoption plans and caring for cats in a pandemic! You'll also hear music from Shyanne, feydrid, leMeow, Mike Mountain, Simon Provencher, Céleste Lévis, CHRISSY, Unsociably High, Oddeline, and Max Webster!
Lip Service
Max Webster - Mutiny up my Sleeve

You Feel Like Home
Mike Mountain - s/t


Pharaoh
Mike Mountain - Caught in Time


NEW LOCAL MUSIC!

Bio:
Mike Mountain is an Ottawa based electronic artist who got his start at the tail end of 2019 with a microKORG. He is inspired by listening to artists like Carpenter Brut, movies like Blade Runner and The Thing, and a long history of being involved with heavy metal.

More Mike here: https://open.spotify.com/artist/2pvoGoZTnbIyVeNLWnGp5J
Little Bit of Water
Jonathan Townsend - Crooked Creek


Grandma's Song
Jonathan Townsend - Crooked Creek


NEW CANUCK MUSIC AND AN INTERVIEW with Jonathan Townsend!

Joel speaks with Montreal Music-maker Jono Townsend! He's got a folky fun new EP and we yik yakked all about it!

Bio:
Jono Townsend is a Canadian Folk/Bluegrass musician from Montreal. His songs are about the joys of being a musician in small town Ontario.

More Jonathan here: https://jonotownsend.bandcamp.com/releases
Your Dove
CHRISSY - Your Dove

Not Nice
CHRISSY - Your Dove

LOCAL MUSIC!

Bio:
CHRISSY is a Hull/Montreal duo that flirts with pop, rock, and electronic influences to build their unique sound. They weave their performances together with storytelling and comedy bringing you deep into their world of love, lust, and living free.

More CHRISSY here: https://chrissymusic.bandcamp.com/

Encore Ottawa - Live Performance: CHRISSY
Friday, March 19, 2021 at 8:00 PM
More info and watch link: https://shenkmanarts.ca/chrissy
Choix multiples
Simon Provencher - Mesures


Et quart
Simon Provencher - Mesures


NEW LOCAL MUSIC!

Bio:
Hull resident Simon Provencher released his second single of the year, an experimental electro-acoustic track made with clarinet loops played by Elyze Venne-Deshaies. Both "Et quart" and the earlier single "Choix multiples" form a preview of Provencher's Mesures EP due March 26 via Michel Records.

More Simon here: https://simonprovencher.bandcamp.com/
Apt613 #ottmusic weekly playlist: https://apt613.ca/ottmusic-weekly-4-new-songs-added-to-the-apt613-playlist/
I Still Break
Shyanne - s/t


NEW LOCAL MUSIC!

Bio:
Just a girl who loves to sing ♫

More Shyanne here: https://www.youtube.com/c/ShyanneGauvin/videos
Je serai là
Céleste Lévis - s/t

Simplement
Céleste Lévis - s/t

LOCAL MUSIC!

Bio:
From her very first notes, you will be entranced by Céleste Lévis' singular voice. Since her impressive journey on the popular Quebec TV version of The Voice, she has taken the stage across Canada touring her first album "Celeste" and her second self-produced album "Donne-moi le temps". Through her songs, she conveys her unique depth and style that will surely lull those who take the time to listen.

More Céleste here: https://www.celestelevis.com/

Encore Ottawa - Live Performance: Céleste Lévis
Friday, March 19, 2021 at 8:00 PM
More info and watch link: https://shenkmanarts.ca/celeste-levis
Drip Drop
leMeow - s/t

York St.
leMeow - s/t

LOCAL MUSIC!

Bio:
leMeow is the stage name and project of Ottawa-based singer-songwriter Gin Bourgeois. Known for her sultry, cinematic quality voice, leMeow's sound is a fresh take on the music of the 60's and 70's. With close to 7000 followers and subscribers on Twitter and YouTube, her video content has been viewed more than 100K times since the project first launched in 2014 with a growing and continuously engaged fanbase. Her latest single and video Drip Drop was proudly premiered by Canadian Beats and features Jansen Richard on drums, Brent Hultquist on keys, and James Rooke (co-writer and co-founder) on bass.

leMeow's songwriting and performance chops were formally recognized by award-winning bassist and composer Nathan East when she and her bandmates represented Canada at the 2016 Yamaha Music Asian Beat competition in Tokyo, Japan. She has since captivated crowds with her powerful voice and hook-filled melodies at the RBC Ottawa Bluesfest, JUNOFest, the Tim Horton's Roar of the Rings Curling Final (Canadian Tire Centre), and the TD Ottawa Jazz Festival, among others. Stay tuned for her next new music release in the fall of 2020.

More leMeow here: https://www.lemeowmusic.com/
we're DOOM'd
feydrid - s/t


cybernetik
feydrid - s/t

NEW LOCAL MUSIC!

Bio:
muzic is cool 4 you

More Feydrid here: https://soundcloud.com/feydrid/tracks
Daughter
Oddeline - Fated to Drown


Despondency
Oddeline - Fated to Drown


NEW LOCAL MUSIC!

Bio:
Known for weaving dreamy vintage sounds into thoughtful, carefully crafted songs, Oddeline is a musical project founded in Ottawa, Ontario. After two years of performing in local bars and coffeehouses, sometimes solo and sometimes with her band, Oddeline's first release was the 2020 single "Daughter," a shimmering folk rock track with introspective lyrics that question the influence societal expectations have on how we see ourselves. After the release of "Daughter" and the breakup of her band, Oddeline began to experiment with a more independent, DIY approach to music-making, learning to record, produce, and release music from the comfort of her low-budget home studio. Oddeline's self-penned and produced debut EP "Fated to Drown" is out now on all major streaming services and for purchase on Bandcamp.


More Oddeline here: https://oddeline.wixsite.com/fatedtodrown/listen
Pit of My Heart
Unsociably High - s/t


NEW LOCAL MUSIC!

Bio:
Unsociably High is an Ottawa-based Indie soul jazz duo of Tiffany Wallace and Brendon Bartlett. They create a smooth and sentimental sound that is cholesterol reducing and recommended with scotch.

More UH here: https://unsociablyhigh.bandcamp.com/