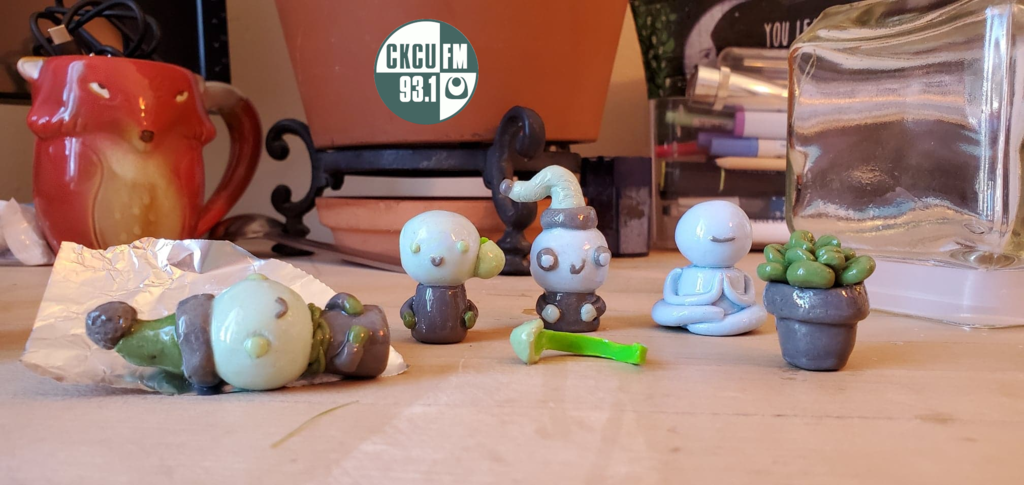 Monday Special Blend
Monday March 8th, 2021 with Jumpin' Joel Flash & Kim Valentine
It's Canadian Soundclashes, Co-host clay sculpting, and Local music galore on The Monday Special Blend!
An interview with The All Canadian soundclash! This local music maker has some new tracks, and he hopped in his car to tell us all about it! You'll also hear music from Townes, Raphael Weinroth-Browne, Andrew Cassara, The Cleanup Crew, Bearbrook, Eric St-Cyr, Jasen Colson, Ottawa Guitar Trio, LONELYBOYXXO, Slick Gato, Taming Sari, Ciggie and the Darts, and Max Webster! Show art by Kim Valentine! Sculpted while recording!
Drive and Desire
Max Webster - Universal Juveniles

Tell Me What I'm Living For
Townes - s/t


Overnight Train
Townes - s/t


NEW LOCAL MUSIC!

Bio:
Hailing from Ottawa, Ontario, Radich has spent five years perfecting his live shows in both a festival setting and small- to mid-size venues. Along with headlining his own shows, he's supported acts such as (7.1m), (10.9m), (2.9m), and many others. Townes engages his audiences with the might of a four-piece band, incorporating set pieces and manually programmed lights, despite being a solo act. In the fall of 2019, Radich completed his first tour dates in the United States.

While Radich's sound evolves with each new EP, his latest single Tell Me What I'm Living For is best described as a nod to the cowboy psychedelia of the 1960s. Townes has created a space for himself within the indie rock genre. His awaited projects of 2021 will only further solidify that space, embracing infectious hooks and dark grooves.

More Townes here: https://townesmusic.com/
Affliction (Improvisation)
Raphael Weinroth-Browne - s/t


From Above
Raphael Weinroth-Browne - Worlds Within

NEW LOCAL MUSIC!

Bio:
Raphael Weinroth-Browne (The Visit, Musk Ox, Kamancello) channels the energy and intensity of a full metal band with his solo cello performances. His highly virtuosic compositions evoke a sound world that is at once ancient and modern, all the while redefining expectations of how the cello should sound.

More Raphael here: https://raphaelweinroth-browne.bandcamp.com/
Apt613 #ottmusic weekly playlist: https://apt613.ca/ottmusic-weekly-6-songs-added-to-the-apt613-playlist/
Shock
Andrew Cassara - Freak on Repeat


Gimme More Bass
Andrew Cassara - Freak on Repeat


NEW LOCAL MUSIC!

Bio:
Describing Andrew Cassara's style in words doesn't do it justice. Hearing and feeling his music are really the only ways to fully appreciate the Ottawa-based artist's singular blend of funk, disco and pop. Fuelled by influences ranging from Shawn Mendes, to the Bee Gees and artists like Jamiroquai – who, like Cassara, blur stylistic lines fluidly – Cassara's debut album, Freak on Repeat (SGMGroupArtists), may sound familiar, but it's absolutely impossible to pigeonhole.

In 2018, Cassara headlined the Youth X Canada Tour, performing for and engaging with audiences at youth centres across Ontario in an effort to encourage young p eople to share their own stories and mental health struggles. He's also performed in the US, South Korea, Singapore, Japan and Sweden at showcases, festivals, clubs, and conferences, and shared the stage with prominent Canadian and International artists Shawn Mendes, Lauv, Chromeo,and others.

More Andrew here: https://www.youtube.com/c/AndrewCassaraMusic/featured

Playing online Friday!
Encore Ottawa: Andrew Cassara
Streaming Friday, March 12, 2021 at 8 PM
https://www.facebook.com/events/795730607968282
Window in my Head
The Cleanup Crew - s/t


Left Me So Cold
Bearbrook - s/t


NEW LOCAL MUSIC!

Bio:
When you think your well has dried up, the pen will find whatever ink it needs so long as there are lyrics and melodies to write. Eric St-Cyr is a focused, curious and interminable artist whose music is anti-genre while relying on blending familiar arrangements. When asked why he is creating music as a solo artist as oppose to the bands and projects he has worked with in the past, Eric says "Fans expect similar ideas to come from their favourite projects and groups. An artist ends up being shackled to a genre or sound with only a slight amount of room to shift the paradigm. However as solo artist you can be fearless, create any sounds without any expectation. At least, that's what my favourite solo acts always did." Eric's belief is that his first full length "Sleepless Nights" doesn't live in any one genre, mood, or even decade. He has been a performing musician since 2014 when he decided to leave the world of teaching behind and perform live over two hundred times each year. Eric St-Cyr has performed with Brown Paper Bag, Archy The Cockroach and twelve34 in the past to name a few. In 2015, St-Cyr began a booking service in his hometown of Ottawa, ON. A free of charge service, the hours he puts ensures artists like himself are able to continue to create music by funding it through paid performances.

More Eric here: https://www.youtube.com/channel/UCmLjmU6yVCW73vKpDaANSXA
Super Mario World: Title Theme
Ottawa Guitar Trio - s/t


NEW LOCAL MUSIC!

Bio:
Composed of Nathan Bredeson, Alex Bougie and François Lacelle, The Ottawa Guitar Trio has made it their mission to highlight the accessibility and reliability of classical music to modern audiences. The ensemble explores the classical guitar's unique dynamic and textural palette to bring to life a repertoire of dynamic movie soundtracks, nostalgic video game scores, timeless classical repertoire, as well as original music for guitar trio.

More OGT here: https://www.ottawaguitartrio.com/
Lovers And Friends cover remix
LONELYBOYXXO - s/t


Creep
LONELYBOYXXO - s/t


NEW LOCAL MUSIC!

Bio:
To be true to myself and to you.


More Lonely Boy here: https://soundcloud.com/xxolonelyboy
Shifter writeup here: https://shiftermagazine.com/music/lonely-boy-lovers-and-friends
I Can See You Loving Me
The All Canadian Soundclash - s/t


I Want It
The All Canadian Soundclash - s/t


==================================

NEW LOCAL MUSIC AND AN INTERVIEW with The All Canadian Soundclash!

Bio:
The All Canadian Soundclash is a musical recording project from Singer, Songwriter Andrew Michelin of Ottawa, Ontario Canada which spotlights the best in original indie folk and alternative rock n' roll through well crafted song writing and live performance. Michelin tries to take a less is more philosophy when it comes to creating his music which is steeped in melodic traditions that can be traced directly back to The Beatles. This helps make the songs accessible and radio friendly and Andrew Michelin understands both the importance of structure and the desirability of pop hooks and repeatedly he delivers both.

More info:
https://theallcanadiansoundclash.com/

=================================
Inner Demons
Slick Gato - s/t


Machine Nature
Slick Gato - s/t


NEW LOCAL MUSIC!

Bio:
I like oldschool techno

More Slick here: https://soundcloud.com/slick_gato
Gone and Run Away
Taming Sari - s/t


Loving Way
Taming Sari - s/t


NEW LOCAL MUSIC!

Bio:
A road of mishaps and intricate life experiences made the Taming Sari guys collide
and band together. With a new sound to the playground, they bring that classic rock
and blues feel back into modern day rock and roll. Toronto producer Ross Hayes
Citrullo helped them tap into the melodic and unique voice of Warren Meredith and
directed them towards what is now the Taming Sari sound.
​
They released their debut single titled Down With The Devil in May 2019 and second
single ''Wake Up Boy'' in July 2019 in order to build up the hype and promote the
release of their debut album Thirsty from the Drought in September of 2019.
Carson Roswell of Canadian Beats writes: ''It is easy to say that Taming Sari are doing
what they want to do: get their music to the world. Their style is a style that anyone
could listen to and dance or sing along.''

More Taming Sari here: https://www.tamingsariband.com/

Playing online Friday!
Encore Ottawa: Andrew Cassara
Streaming Friday, March 12, 2021 at 8:30 PM
https://www.facebook.com/events/4432326870117684
Young Wild & Free+One More Bag
Ciggie and the Darts - Liquor, Leather, Denim & Darts


Liquor, Leather, Denim & Darts
Ciggie and the Darts - Liquor, Leather, Denim & Darts


NEW LOCAL MUSIC!

Bio:
What began as an excuse for three friends to guzzle beers and chain smoke quickly transformed into something that even they had no control over. If this beast ever escapes capital city may god have mercy on the rest of the country.

More Ciggies here: https://ciggieandthedarts.bandcamp.com/releases
Donkey Kong Country: Gang Plank Galleon
Ottawa Guitar Trio - s/t