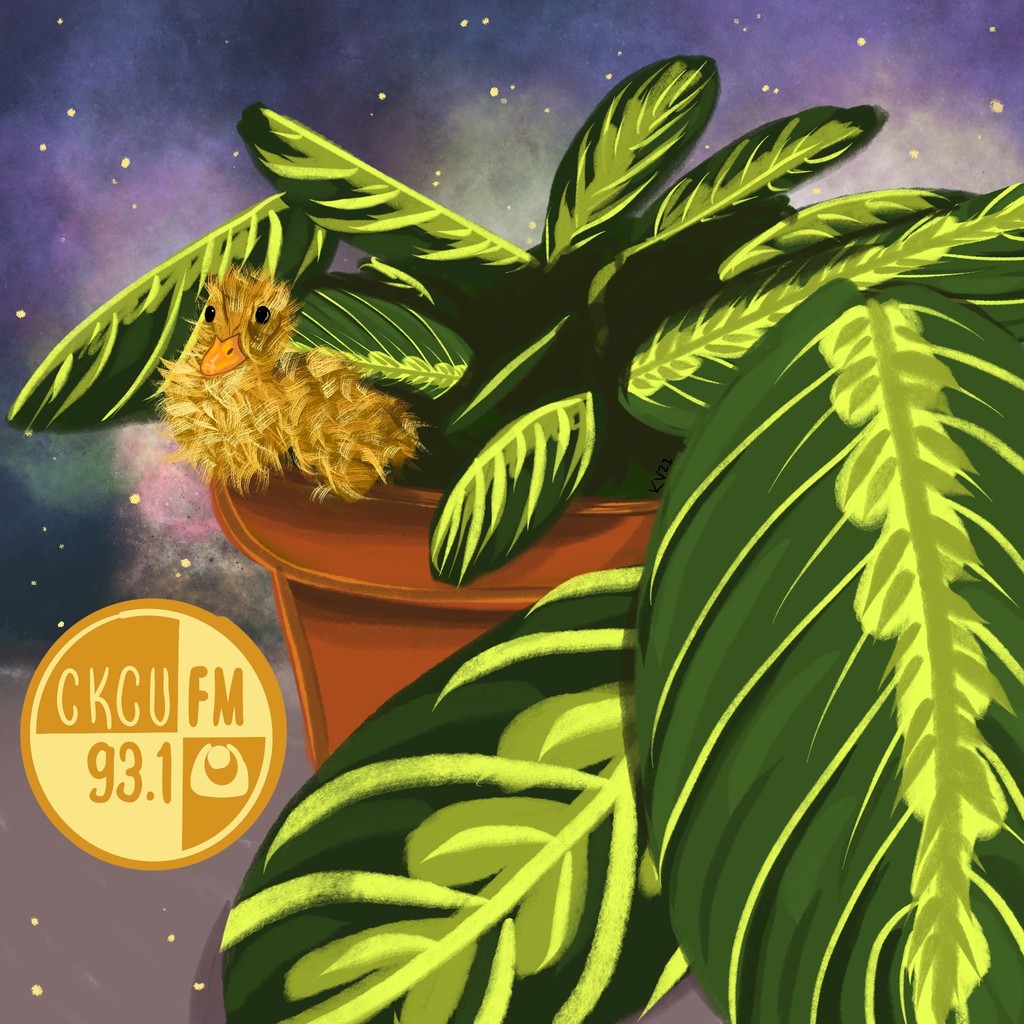 Monday Special Blend
Monday March 1st, 2021 with Jumpin' Joel Flash & Kim Valentine
It's Burlesque and virtual concerts and BOATLOADS of Ottawa Music on The Monday Special Blend!
An interview with Dance instructor Stormy Devine! We yik yakked all about how the pandemic changed the world of dance, and how local artists have adapted to a weird world without stages! You'll also hear music from MELO-T, Seiiizi, Mazyn, KAR33M, Jess Wedden, Reykjavictim, Jonny Porter, The WobblyTones, The Ottawa Guitar Trio, and Max Webster! Show Art by the incredible Kim Valentine!
Distressed
Max Webster - Mutiny up my Sleeve

Almost at Heaven
Jonny Porter - s/t


Weekend Accident
Jonny Porter - s/t

NEW CANUCK MUSIC!

Bio:
Jonny Porter is a Canadian multi-instrumentalist singer-songwriter whose style converges at the far edges of rock, blues and alt-country. Jonny cut his teeth as the drummer in the successful Reggae/Rock band Staylefish where he earned multiple awards at the London Music Awards , performed at Vans Warped Tour , and opened for the likes of Down With Webster , Subb , Stomp Records All Stars , and The English Beat.

Following his departure from Staylefish, Jonny recorded his debut full-length album Grave Bird released in 2017. While on tour supporting this release, Jonny shared the stage with Rik Emmett of Triumph , John Wozniak of Marcy's Playground , Todd Kerns of SLASH , Spenny (Kenny vs. Spenny), Five Alarm Funk , and Ko and performed at Canadian Music Week , and Burlington Sound of Music Festival.

Jonny released a follow up EP Look Out in 2020, the title track of which garnered over 32,000 streams on Spotify and deepened his creative partnership with longtime collaborator Steve Kirstein (The Glorious Sons, Boston Levi).

More Jonny here: http://www.jonnyportermusic.com/
Air Apparent
Reykjavictim - Nostalgia


Nostalgic for What
Reykjavictim - Nostalgia


NEW LOCAL MUSIC!

https://reykjavictim.bandcamp.com/album/nostalgia


Bio:
Created from a work-from-home prison in a unfinished basement beneath a thin hardwood floor with two children dropping noisy and heavy objects under the continuous threat of emotional outbursts from one of the 4 people in this house during the most oppressively hot July on record in Ottawa without air conditioning and completely isolated due to a global pandemic. Enjoy.

More Reykjavictim here: https://reykjavictim.bandcamp.com/
Showbox writeup here: https://www.ottawashowbox.com/2021/02/15/reykjavictim-nostalgic-for-what/
Doris and Don/ Widgy's Jig
Jess Wedden - s/t


I hear You
Jess Wedden - s/t

NEW LOCAL MUSIC!

Bio:
Whether it's a fiddle tune or folk song written from the heart, Jess Wedden has been capturing hearts at every performance with her energetic stage presence and effortless smile. Her trick fiddling, singing, step dancing, and finger-style guitar picking belies her young age and reflects her exceptional passion and drive. In the short time Jess has been in the industry, she has earned national recognition as a 2016 and 2018 Canadian Folk Music Award nominee and a 2018 Canadian Songwriting Competition semi-finalist. It's no surprise she received a standing ovation opening for Ashley MacIsaac at the Festival of Small Halls Ontario.

More Jess here: https://www.jesswedden.ca/
SOJAMAN
KAR33M - s/t


Everyone
KAR33M - s/t

NEW LOCAL MUSIC!*

Bio:
KAR33M is an award winning R&B fusion artist, singer/songwriter and composer. His music is inspired by Hip Hop, Afrobeats, Folk & Classical Music. He aspires to intersect music & entrepreneurship with the launch of his company, called Woke Studios - a full-service artistic residency for young, aspiring musicians.

More KAR33M here: https://open.spotify.com/artist/7320Yw3QnbbDBjOK09tRkP?si=CIZuWLs9Su6g9FOlkfZJqw
Donkey Kong Country: Gang-Plank Galleon
Ottawa Guitar Trio - s/t


NEW LOCAL MUSIC!

Bio:
Composed of Nathan Bredeson, Alex Bougie and François Lacelle, The Ottawa Guitar Trio has made it their mission to highlight the accessibility and reliability of classical music to modern audiences. The ensemble explores the classical guitar's unique dynamic and textural palette to bring to life a repertoire of dynamic movie soundtracks, nostalgic video game scores, timeless classical repertoire, as well as original music for guitar trio.

More OGT here: https://www.ottawaguitartrio.com/
Mafesh Monafes
Mazyn - s/t


Tokyo Nights
Mazyn - s/t


NEW LOCAL MUSIC!

Bio:
Mazyn is an emerging hip hop artist from Ottawa, Canada. Mazyn started writing raps in his dorm room as an Egyptian international student as a form of coping with homesickness, anxiety, and college stress - which eventually turned into songs he began to share with the world under his previous artist name "Capé". In the span of one year of releasing music, he earned a nomination for "Hip Hop Artist of the Year" award in Ottawa by Faces Magazine in 2019. He also became a part of Shifter Magazine's Top 10 Ottawa rappers and Capcityhiphop's Top 50 rappers in 2019.

However, it seems like making music in his second language (English) wasn't enough for the young artist. With his first arabic release in "Mafesh Monafes", Mazyn is paving his own lane and making it clear from the get-go that there is no competition in his way. He's not just putting a city on the map, but a whole region and more.

More Mazyn here: https://open.spotify.com/artist/1MJhIfVlwyrtzcrC9x2IaA?si=osYYmtuaRM-As57vAWVi-A


==================================

An interview with Dance instructor Stormy Devine! We yik yakked all about how the pandemic changed the world of dance, and how local artists have adapted to a weird world without stages!


Instagram:
Stormy Devine: https://www.instagram.com/stormy.divine/
Naughty Novas: https://www.instagram.com/naughtynovas/
Rouge Studio of Dance: https://www.instagram.com/rougestudioofdance/

More info:
https://www.rougestudioofdance.com/

=================================
Aquarius
Seiiizi - s/t


Scorpio
Seiiizi - s/t


NEW LOCAL MUSIC!

Bio:
Born and raised in Ottawa, Ontario, Seiiizi is an Afro-Carribean Emcee DJ and Producer artistically influenced by her fathers DJaying of Reggae/Soca/Zouk and Dancehall. Following her first SoundCloud releases in 2015 Seiiizi Has Performed As a Rapper and DJ at various Festivals in the capital region. She aims to create a distinct musical selection by fusing sonic elements of Soca/House, Rnb, Afrobeats and Hip-hop.

More Seiiizi here: https://seiiizi.bandcamp.com/
Secret Concerts with Encore Ottawa: https://apt613.ca/secret-concerts-fill-shenkman-hall-with-ottmusic-again-virtual-series-launches-feb-26/
Coming Home
The WobblyTones - Coming Home


Sometimes
The WobblyTones - Coming Home


NEW LOCAL MUSIC!

Bio:
The WobblyTones band grew up listening to Classic Rock, R&B, Country Rock and Soul music. Our songs are influenced by these genres and infused with our own brand of music stylings. We've been together for six years creating and recording music and we've spent decades as great friends.

*With the release of 2 albums over the past 2 years, Thursday Night Sessions and Capital Jam, we've covered a wide variety of moods and messages. We're now focused on exploring distribution channels for our music. We think many of the titles we've created are well suited for use in Film, Television and Radio.

More WobblyTones here: https://www.wobblytones.com/
Melodies
MELO-T - Melodies


Oceans Away
MELO-T - Melodies


NEW LOCAL MUSIC!

Bio:
Music By Melo is the music project and label by MELO-T. MELO-T is a Music Producer who specializes in producing and mixing Afro Fusion, a mix of all genres with spice of Afro.

More MELO here: https://www.musicbymelo.com/
Apt613 writeup here: https://apt613.ca/video-of-the-week-melodies-by-melo-t/
Final Fantasy 9 - Esto Gaza
Ottawa Guitar Trio - s/t