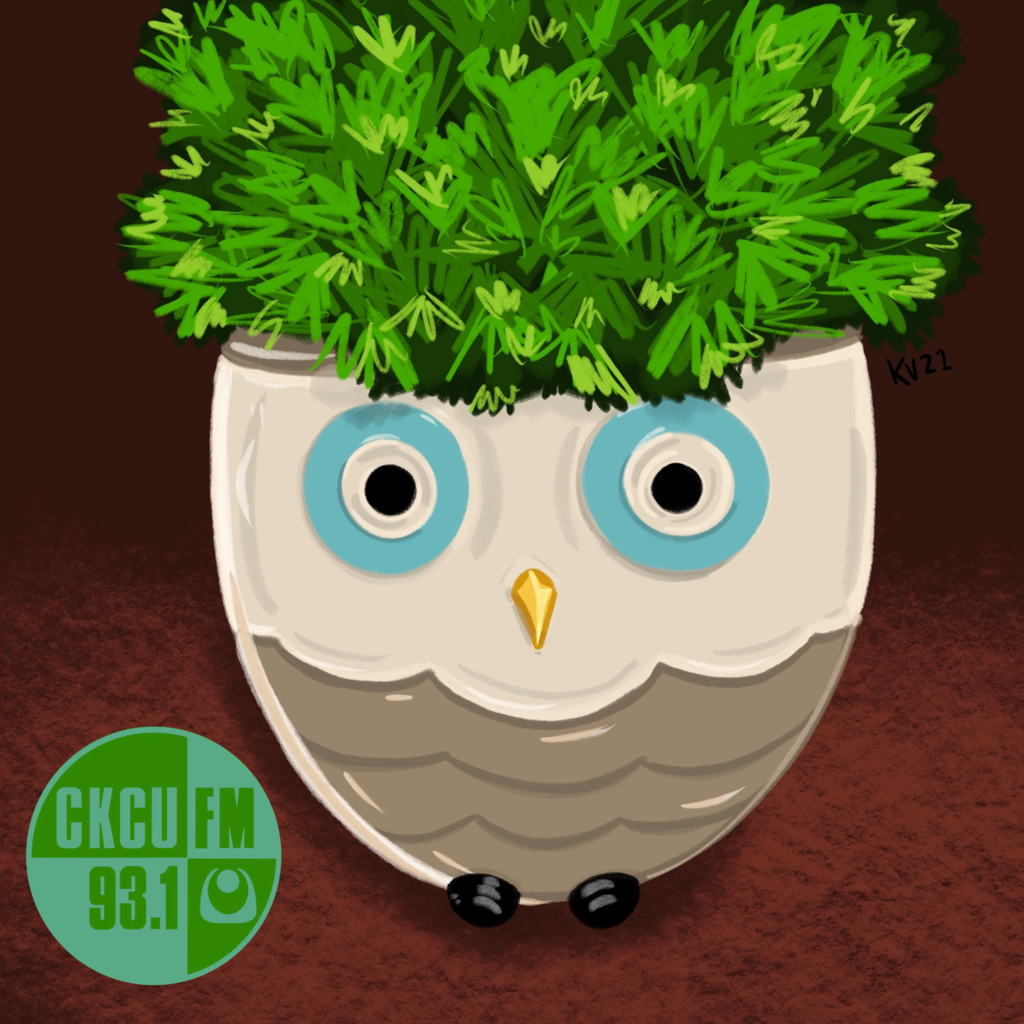 Monday Special Blend
Monday February 22nd, 2021 with Jumpin' Joel Flash & Kim Valentine
It's Brain Health, Webinars, and a lot of Ottawa Music on The Monday Special Blend!
An interview with local Brain-lover Carley Lyn Richards: counselling psych student, research assistant, and social creator! Carley has over 160,000 followers on tiktok, where she shares thoughts, research, ideas, and support on adult ADHD and the Brain! We talked about two free webinars happening this week on issues affecting BIPOC artists and the arts community as a whole. Check the links below for events from Folk Music Ontario and The Ottawa Music Industry Coalition! You'll also hear tunes from Mad Gamma, City Fidelia, Cécile Doo-Kingué, Ottawa Guitar Trio, Yao, House Hippo, Nova Spire, Queenyy, and Max Webster! show art by Kim Valentine!
Sun Voices
Max Webster - A Million Vacations

Different Sides
Mad Gamma - s/t


Woodlands
Mad Gamma - s/t

NEW LOCAL MUSIC!

Bio:
We are Mad Gamma, an Ottawa-based folk-rock band composed of members Matt Atchison (drums, bass, vocals), Emma Bulchak-Healy (vocals, piano, synth), and Sam Fisher (guitar, vocals). Drawing inspiration from artists including Hawksley Workman, Pink Floyd and Joni Mitchell, our music blends dynamic three-part harmonies and anthemic rock with progressive, folk, and jazz influences. 
 We write about our lived experiences with conflict, mental health, recovery and personal growth. Our songs seek to find beauty in the unexpected, meaning in moments of darkness, and strength in our struggles.

More Mad Gamma here: https://open.spotify.com/artist/4vKji7yw4kAv85zUEcHRHT?si=Q9xV4NrdTWKya0DoHqfXGQ
Drugs and Loaded Weapons
City Fidelia - s/t


If you Only Knew
City Fidelia - s/t

NEW LOCAL MUSIC!

Bio:
Born an Ottawa native, City Fidelia is a soulful street poet, rapper, singer and songwriter. Committed to being vulnerable and truthful in his music, City Fidelia aims to inspire others to overcome difficult situations and pursue their dreams freely.
Having performed at sold-out shows in North America, Asia, and Europe, City Fidelia often considers himself a global citizen. He has previously collaborated with artists like Malik Yusef of G.O.O.D Music, Timbaland, Showtek, and Eva Shaw, and been selected as the opening artist for musicians such as French Montana, A$AP Rocky, Mac Miller, and Action Bronson. City Fidelia has also been invited to perform at festivals such as Bluesfest, Manifesto, Under Pressure, Megaphono, and E.L.E fest.
City Fidelia spearheads Ensemble, a lifestyle movement of which the core belief is to unite individuals through forms of art: experiences, music, and fashion. City Fidelia has been featured in Noisey, Complex, Hip Hop Canada, Hyconiq, and Backpackers.

More city here: http://www.cityfidelia.com/
Shifter Article here: https://shiftermagazine.com/music/city-fidelia-drugs-and-loaded-weapons

=====================================================
FREE WEBINARS THIS WEEK

2 upcoming events on issues facing BIPOC artists and arts communities. Check the links below to secure your place from event from Folk Music Ontario and The Ottawa Music Industry Coalition!

Festivals of the Future: Inclusive Programming for Black Artists
Wednesday, February 24, 2021 – 10:00am
w/ Cécile Doo-Kingué, City Fidelia, Ian Andre Espinet, Kwende Kefentse, Yao
More info: http://www.folkmusicontario.ca/folk-music-ontario-conference/2020-online-events/#February242021

IMB #39 - Unmuting Arts Communities
Thursday, February 25th, 2021 - 7:00pm
w/ Yamikani Msosa, Amy Ede, Maya McDonald, Kevin Bourne
More Info: https://www.eventbrite.ca/e/imb-39-unmuting-arts-communities-tickets-138140208081

=====================================================
Bloodstained Vodka
Cécile Doo-Kingué - Anybody Listening Part 2: Dialogues

Anybody Listening
Cécile Doo-Kingué - Anybody Listening Part 2: Dialogues

CANUCK MUSIC!

Bio:
Considered one of Canada's finest guitarists,Cécile Doo-Kingué blends blues,soul & afro-folk to create a unique sound.She has worked or shared the stage with Montreal Jubilation Choir, Youssou N'Dour,Corneille,Tricia Foster,amongst many. 2010,Cecile released "Freedom Calling" to critical acclaim.The album earns her a commission from CBC."Gris" (2012) earned Cécile the 2013 SPACQ Edith Butler Award.

More Cécile here: https://www.cdkmusik.com/
A Link to the Past: Hyrule Castle Music
Ottawa Guitar Trio - s/t


Ottawa Guitar Trio

Bio:
Composed of Nathan Bredeson, Alex Bougie and François Lacelle, The Ottawa Guitar Trio has made it their mission to highlight the accessibility and reliability of classical music to modern audiences. The ensemble explores the classical guitar's unique dynamic and textural palette to bring to life a repertoire of dynamic movie soundtracks, nostalgic video game scores, timeless classical repertoire, as well as original music for guitar trio.

More OGT here: https://www.ottawaguitartrio.com/
Nomade
Yao - Lapsus

Miroir
Yao - s/t

Yao

LOCAL MUSIC!

Bio:
Oscillating between Slam poetry & Soul, influenced by Groove, Funk and Pop notes, YAO captivates audiences with his deep baritone voice, his gentle poetry, and his trailblazing artistic approach.

Already compared to some of the greatest, somewhere between the powerful delivery of French rapper Oxmo Puccino, mixed with Leonard Cohen's intimate lyricism; he carries the public away.

What truly sets YAO apart is his eclectic pop sound, a fusion of interwoven musical influences and his own lyrical escapades. He makes you dance, smile and forget, for a moment, the occurrences of everyday life.

After several awards in Canada and many shows abroad (France, Madagascar, Algeria, Tunisia, Morocco ...), YAO is now eager to go to meet your audience!

More Yao here: https://www.yaomusique.com/
Captain's Speech
House Hippo - Puddles

Knight
House Hippo - Puddles

LOCAL MUSIC!

Bio:
Born and raised in the 90s and proud to believe in all things said on TV, House Hippo is Ottawa's #1 Folk Duo named after a PSA. Carley Richards and Ian McMullen have been making music together for a little over 2 years, and are excited to share their harmonies with anyone who still believes in the North American House Hippo.

More Hippos here: https://househippoottawa.bandcamp.com/album/puddles



===============================================================
INTERVIEW - ADHD Adult: Brain Science with Carley Lyn Richards!
TikTok: https://www.tiktok.com/@adhadult
Instagram: https://www.instagram.com/carley.lyn/
More Carley: https://beacons.page/adhadult

An interview with local Brain-lover Carley Lyn Richards: counselling psych student, research assistant, and social creator! Carley has over 160,000 followers on tiktok, where she shares thoughts, research, ideas, and support on adult ADHD and the Brain! We hopped on the Zoom to discuss creating for mental health, building community in isolation, and where she sees the conversation going in the future!

===============================================================
Désigné
Nova Spire - Désigné


Dragged In
Nova Spire - Désigné


NEW LOCAL MUSIC!

Bio:
Prolific Music Producer/Artist based in Ottawa, Canada. Expanding creativity, imagination and consciousness. I create a diverse array of different electronic music projects. I score and compose music for film and am always excited to take on new projects.


Nova Spire is the major umbrella under which I create music , on occasion I release under different aliases.

More Nova here: https://novaspire.bandcamp.com/
Distance
Queenyy - s/t


Replace Him
Queenyy - s/t


NEW LOCAL MUSIC!

Bio:
Queenyy is a Canadian recording/movement artist and songwriter born and raised in Ottawa, Canada.

Her boisterous and unapologetic personality seeps into her songs, offering listeners genuine lyrics and lived experiences to grasp hold of. Queenyy has a unique raspy voice and her songs have a dynamic and bona fide sound that captures the spirit of heavy groove R&B hitters—such as TLC, Timbaland and Aaliyah to modern day hip-hop—all while keeping up with scintillating modern era rhythms and production elements.

More Queenyy here: https://www.eventbrite.ca/e/imb-39-unmuting-arts-communities-tickets-138140208081
Banjo Kazooie: Freezeezy Peak
Ottawa Guitar Trio - s/t