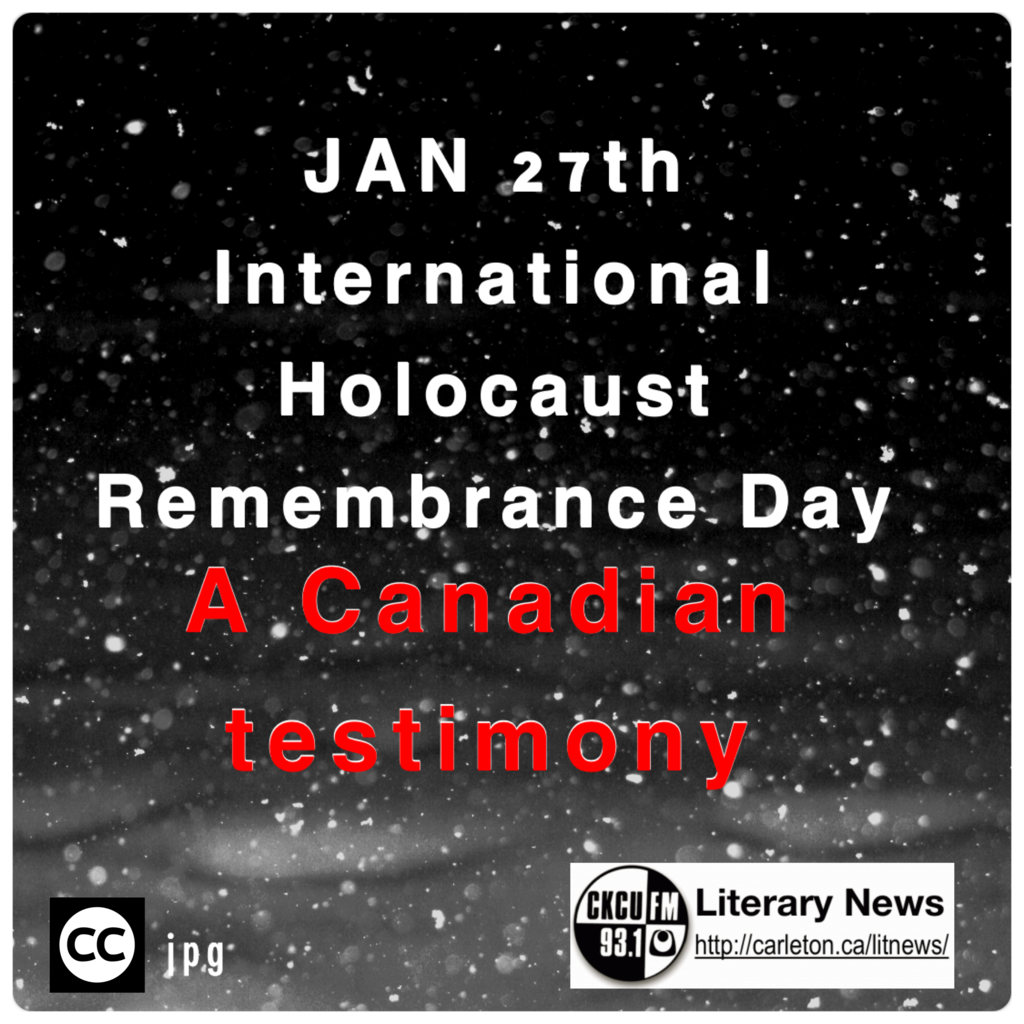 CKCU Literary News
Wednesday January 27th, 2021 with Hans G. Ruprecht
International Holocaust Remembrance Day: A Canadian Testimony.
This broadcast introduces Ms. Judy Young Drache, born 1943 in Budapest (Hungary), now living in Ottawa (Canada). She considers herself a "hidden child" Holocaust survivor, in particular of anti-Semitic policies, persecutions and crimes against the Jewish minority in Budapest following the invasion of Hungary, in March 1944 by German forces during World War II. The invasion included the arrival of a 'Sonderkommando' led by Adolf Eichmann who master-minded, arranged and put completely into effect the transportation of 550,000 Hungarian Jews in 'boxcars' on 147 trains (including Jews from other occupied Eastern European countries) to the Nazi death camps of Auschwitz-Birkenau. This Crime Against Humanity is a key component of the so-called Final Solution to the Jewish Question, as conceived by the Nazi leadership. Judy Young Drache's grandparents, parents and relatives were among the deported. None of them survived the Holocaust. With her testimony she details her search for the truth, in particular concerning the circumstances of her father's end of life. Did he die in the Buchenwald concentration labor camp; or was he murdered elsewhere? As Judy Young Drache, who has studied German literature, poignantly points out the Buchenwald concentration camp and now its Memorial is located only 10 KM away from the city of "Classical Weimar". Where Johann Wolfgang von Goethe and Friedrich Schiller wrote their major works of literature, where Franz List, during his later years, composed many of his orchestral masterpieces, like Richard Wagner who composed there his 'Lohengrin'. The list could go on... Nietzsche, Richard Strauss, the design and architecture school Bauhaus; and one thinks of course of the 'Weimar Republic'. For Judy Young Drache it's certainly saddening as well that her father, who was a learned man and a scholar in Rabbinical studies holding a doctoral degree, spent the last months of his life in the Buchenwald labor and death camp, that is located in the vicinity of this unique centre of German culture. ______ The broadcast results from a cooperation between CKCU-FM 93.1 and the Centre for Holocaust Education and Scholarship ( CHES Carleton University
https://carleton.ca/ches/
) under the directorship of Mina Cohen. CHES is an integral part of the Max and Tessie Zelikovitz Centre for Jewish Studies of Carleton U
https://carleton.ca/jewishstudies/
The first major project which CHES undertook in the spring and summer of 2016 was dedicated to interviewing and professionally recording film testimonies of ten Holocaust survivors who live in Ottawa. Another episode has been added since.   Realizing that the weight of teaching the Holocaust poses challenges for educators and students alike, helped to focus the rationale, the goal and the subsequent development of this ambitious project. Namely to document and preserve the testimonies of Ottawa Holocaust survivors as primary sources of oral history mediated through film and with broad online access. The work has been completed, and the testimonies are now available for easy downloading at
https://carleton.ca/ches/ottawa-holocaust-survivors-testimonials/full-length/
The CHES research team is hoping that their sustained and successfully completed efforts will allow future generations of students, researchers, teachers, and others to hear and see the people who experienced and witnessed the genocidal policies and crimes of the Nazis and their collaborators. Following a lengthy process of interviews and recordings, the testimonials were edited into ten 25 – 30 minute films designed for use in a classroom setting. Each testimony is also available in a 2-3 minute abridged version.   Since they were produced, the films have been widely used, especially by teachers, researchers, and in university settings in Ottawa and beyond.
There are no tracks in this playlist.