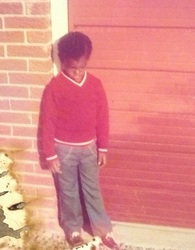 Vintage Love
Saturday August 30th, 2014 with O'shea Adagio
Three Dreaded Words
Welcome to the final show for the month of August 2014. What a month.. what a summer!! This show started... pretty much from the requests that spanned from late in last weeks show through the week up to and through the show time. Lots of requests which I love and great songs and artists requested too. From Bunny Wailer to Ghost and from Judy Boucher to Ras Lee. Including a mini-set of MJ tunes resulting from a request that came in over this past week. Thank you for tuning in to Vintage Love tonight. I hope you enjoy these 2 hours that we get to spend together listening to great music... I sure do! Thank you for all the calls, the Interactive Menu messages and the emails. Hearing from you always makes it more fun. Have a safe long weekend and boy... back to school time already - where does the time go? They say a picture is worth a thousand words.. well this is how I felt about those 3 dreaded words when I was little and starting school. Safe journies to everyone on their way to and back on the highways from NYC. The show is available On Demand for you when you get back. :-) Song Of The Week: Cynthia Schloss with Beres Hammond - Growing Up Until next week, take care. O'shea Adagio Vintage Love International CKCU 93.1FM
CKCUFM.COM
info@vintagelove.net F-book: ckcuvintagelove
360 Degrees (@ 09:35)
Tony Greene - -
As a child I so disliked this time of year (except for football starting again). :-) Anyway, going out to everyone heading back to school next week, this is Bunny Wailer with "Back To School" dedicated to you. Have a great and successful year.
Back To School (@ 15:00)
Bunny Wailer - -
DREAM (@ 18:20)
Gramps Morgan - -
During last weeks show a gentleman called me and requested some Judy Boucher. There were only a few minutes left in the show at that point so I could not fit it in but I promised to add her to the next show. So here it is... and yes sir, Judy Boucher has been played on the show many many times. You can go back and check the playlists to see at CKCUFM.COM
Anyway, this is Judy Boucher with "Just For You".
Just For You (@ 25:30)
Judy Boucher - -
You Keep Me Hanging On (@ 29:27)
Junior Soul - -
Growing Up (@ 34:34)
Cynthia Schloss with Beres Hammond - -
Come On Girl (@ 39:45)
Jackie Edwards - -
A request came in for some Al Greene... or a Reggae remake. So without further adieu, this is Ghost with his version of "Let's Stay Together" on the Mighty 93.1
Let's Stay Together (@ 44:44)
Ghost - -
Morning Of My Life (@ 49:10)
John Holt - -
And old classic here on Vintage Love tonight, recently covered by a rising star, Mr. Christopher Martin. This song goes out to Sandra listening to VL online
If I Were A Carpenter (@ 52:15)
Christopher Martin - -
I played this song last week and a request to play it again from then so... Mikey Spice for you once again with "Power Of Love". This was last weeks song of the week on Vintage Love.
Power Of Love (@ 56:00)
Mikey Spice - -
So In Love (@ 60:30)
Bitty McLean - -
Another artist request that originated from last weeks show, "Brunch In Bed". A caller wanted to hear some JC Lodge. This is her rendition of "Love Me Tender" by request.
Love Me Tender (@ 65:29)
JC Lodge - -
Imagination (@ 69:36)
Eddie Lovette - -
From the Interactive Menu on last weeks show. A request came in for some Michael Jackson as we, this summer, passed the 5 year anniversary of his sad and sudden death. The request was for "Will You Be There" but I decided to do a short set of tunes by Michael ranging from the child star Michael to a song that almost made it onto the "Thriller" album but was beat out by "Human Nature" (even though this is a great song to - speaking of "Carousel"). So 3 songs from 3 different era's in Michael's life.
Will You Be There (@ 75:30)
Michael Jackson - -
Carousel (@ 83:13)
Michael Jackson - -
With A Child's Heart (@ 85:00)
Michael Jackson - -
Back into Reggae for tonight but keeping it Michael for the moment. This is a cover of "The Girl Is Mine" by Michael Jackson and Paul McCartney. This reggae version by Lukie D. and Tony Curtis. As a side note, Morgan Heritage does a great version of this song as well with Peetah Morgan and Gramps Morgan on lead vocals. Anyway, this is Lukie and Tony for you here on CKCU.
The Girl Is Mine (@ 88:35)
Lukie D. & Tony Curtis - -
Always great requests that come in from a long time listener to the show. Jeremy and nephew wanted to hear some Bob Marley & The Wailers, a song called "Buffalo Soldier" (dreadlock Rasta) :-)
Buffalo Soldier (@ 97:17)
Bob Marley & The Wailers - -
Blowing In The Wind (@ 98:33)
Ras Lee - -

Wild World (@ 103:35)
Maxi Priest - -

This song by Maxi going out to Anna and kids who love this second of a double spin of Maxi Priest.
Easy To Love (@ 107:05)
Maxi Priest - -
Some Beres Hammond going out to the birthday girl Karen, listening in from New York City (where everyone seems to be headed this weekend). Happy Birthday cuz.
Groovy Little Thing (@ 110:55)
Beres Hammond - -
Rockaway (@ 115:20)
Beres Hammond - -
This next track is a request (actually I could not find the song they requested) but I thought this was a good replacement and still a Beres tune. Mom and Daddy wanted to wish their daugher Rochelle a great 2nd year in university. Sending nothing but good wishes for a successful year for you Rochelle. I also hope you have a great 2014/15 academic year. With all the love your parents have for you, I thought a good replacement track would be "There For You" to sign us out tonight. It sounds like you have a strong support system behind, in front and all around you Rochelle. So this is Hugh Beresford Hammond with "There For You" as we say goodbye and good night for this week. I hope you will join me again for another episode of Vintage Love next Saturday night at 10pmEST right here, exclusively on CKCU The Mighty 93.1FM
Goodnight everybody! :-)
There For You (@ 119:00)
Beres Hammond - -