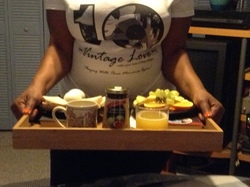 Vintage Love
Saturday August 23rd, 2014 with O'shea Adagio
Brunch In Bed
The "Cool Out Zone" tonight for you on Vintage Love. We went all over the place tonight: old to new, Reggae to Calypso to Soul and R&B. It was a lot of fun playing music for you tonight and I thank you for all the calls and messages during the show. Big happy birthday going out to Delroy whose sweetie let me know to play some Boris Gardiner for him. Thank you for tuning into CKCU and to Vintage Love tonight. I hope you will come back again and enjoy some music with me on another Saturday night and if you enjoy the show I hope you will tell a friend so we can increase the good vibes around the world... we sure need it! The Song Of The Week: Mikey Spice - The Power Of Love @ 94:40 of the show. Much love VL Nation, have a safe week until next time. :-) O'shea Adagio Vintage Love International "Playing With Those Memories Again" CKCU 93.1 FM Facebook: ckcuvintagelove info@vintagelove.net PS. I hope to have a big breakfast in the morning. hahaha :-)
Tilly (@ 07:55)
Jay Boys - -
No Fuss No Fight (@ 12:48)
Barrington Levy - -
A Step Closer (@ 18:25)
Bitty McLean - -
Tell It Like It Is (@ 22:49)
Stevie Face - -
Always On My Mind (@ 27:04)
Eddie Lovette - -
Tonight's The Night (@ 30:20)
Hugh Porter - -
A special lady... who wished to remain anonymous.. requested a song for her significant other, a fella by the name of Delroy who is celebrating his birthday. She (in secret, tucked away in a room) called to request the following song. Thank you for your call Ms. Anonymous and I hope Delroy has a wonderful birthday with you and all his loved ones. Congrats on another year my friend. Happy Birthday!! :-)
I Want To Wake Up With You (@ 36:55)
Boris Gardiner - -
Easy (Sunday Morning) (@ 41:20)
Jimmy Lindsay - -
Sun & Rain (@ 46:18)
Lazo - -

Love Don't Love Nobody (@ 50:55)
Ken Boothe - -
African Breakfast (@ 55:25)
Bongo Herman - -
Breakfast In Bed (@ 58:23)
Lorna Bennett - -
(I Can't Help You) I'm Falling Too (@ 61:40)
Skeeter Davis - -
Help Me Make It Through The Night (@ 64;17)
Joyce Bond - -
Thought I would throw in some Calypso just to spice up the night a little bit. Hope you enjoy these classic tunes. :-)
Over Again (@ 66:55)
Stranger & Gladdy - -
Kitch, You So Sweet (@ 72:45)
Lord Kitchener - -
A Dash Of The Sunshine (@ 76:53)
Lord Tanamo - -
Love Me Still (@ 82:00)
Chaka Khan - -
A request for some Marvin which brought the calls in.. yes a classic tune from this man. Thank you for your request.
I Want You (@ 85:20)
Marvin Gaye - -
Right Here Waiting (@ 90:00)
Sanchez - -
A big HUGE tune from the Pied Piper of Lovers rock Mr. Mikey Spice. This version is.. what can I say.. amazing. I beat Bitty Lover (from the Interactive Menu) to the punch of rewinding this tune.. a must! Also a strong candidate for the "Song Of The Week"
The Power Of Love (@ 94:40)
Mikey Spice - -
To the family chillin on this Sat. night and enjoying Vintage Love together.. you requested "Stir It Up" and so for you this is Bob Marley & The Wailers with a rousing anthem that stands the test of time. Thank you for your call and your request.
Stir It Up (@ 99:30)
Bob Marley & The Wailers - -
Another request! From Liza who wanted to hear a sweet tune from Kellisa called "Best Love". Thank you for tuning in Liza and I hope you enjoy your song and the whole show. :-)
Best Love (@ 105:35)
Kellisa - -
Like Never Before (@ 108:55)
Shaggy Feat. Cocoa Tea & Joe - -
Tune In (@ 112:25)
Alaine - -
Reggae Music Again (@ 114:35)
Busy Signal - -
Kisses Softly (@116:15)
Timeka Marshall - -
Each Year (@ 119:36)
Mary J. Blige Feat. Jah Cure - -