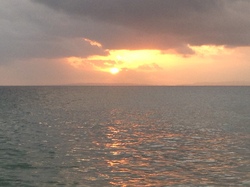 Vintage Love
Saturday August 16th, 2014 with O'shea Adagio
The Parting Clouds
Did not think I would be here this week but here I am. It was a hard week and so I am especially glad to be here with you tonight. A time when we can just play music and enjoy peaceful vibes and not worry about the troubles for a little while. Thank you for tuning in and i hope you enjoyed the show this week. I was exhausted doing this show but... made it through and then straight to bed. Before I go though, I would like to say thank you to all of you who expressed your condolences, sympathy and prayers. It meant a lot to hear from my VL Family and whether by email, Facebook or calls coming into the station.... I heard you and I thank each and everyone of you who took the time to send messages to let me know... let me know that you cared. I had never lost a parent before so a new experience for me which I didnt think (prior to my Dad's passing) hearing condolences, prayers and thoughts etc. would make a difference but in the end they really did make this a more bearable situation with all of the support that you my VL Family, my immediate family and all of my friends and loved ones... showed. So thank you... this is why I dedicated the last song tonight by Janet Kay called "You Bring The Sun Out" to you... from the bottom of my heart.. thank you for all of your support during this time. You really did make this a lighter burden to carry. Have a safe week and I hope you will join me next Saturday night for Vintage Love and more good vibes and good music, exclusively on CKCU The Mighty 93.1FM. Yours Truly, :-) O'shea Adagio Vintage Love International CKCU 93.1FM
CKCUFM.COM
info@vintagelove.net Facebook: ckcuvintagelove
The Best Thing That Ever Happened To Me (@ 11:40)
Sax & Ivory - -
Rise Again (@ 17:47)
Shaggy, Sean Paul, Tessanne Chin, Etana, Alison Hinds, Sean Kingston & Destra - -
Unconditional Love (@ 24:10)
Jah Cure feat. Phylissia - -
I'd Die Without You (@ 30:00)
PM Dawn - -
If I Could Only (@ 34:00)
Courtney John - -

Rub A Dub Style (@ 37:15)
Peter Hunnigale - -
Stormy Night (@ 42:00)
Kofi - -
Oh Honey (@ 45:40)
Peter Hunnigale - -
I Am I Said (@ 49:52)
Mikey Spice - -
Coming Home (@ 54:05)
Stevie Face - -
One Day In Your Life (@ 58:10)
Thriller U - -
Come Back To Bed (@ 62:36)
Gramps Morgan - -
So Many Ways (@ 69:17)
Dennis Malcolm - -
Any Day Now (@ 75:20)
Dennis Brown - -
Fall In Love (@ 79:32)
Belinda - -

From the request line, 613-520-CKCU a call for some Marcia Griffiths featuring Da'Ville. A Well-loved song for Jeremy.
All My Life (@ 83:12)
Marcia Griffiths Feat. Da'Ville - -
Another request from the Interactive Menue for sjw who wanted to hear a Cynthia Schloss tune. So here is the Voice of Angel, the late great Cynthia with one of her many popular songs, "Am I That Easy To Forget".
Am I That Easy To Forget (@ 88:00)
Cynthia Schloss - -
The Coldest Days Of My Life (@ 93:00)
The Chi-Lites - -
Don't You Stop Loving Me (@ 101:55)
Sonia Collymore - -

I Wont Stop Loving You (@ 105:40)
Pam Hall - -
Tell Me Now (@ 109:55)
Marcia Griffiths - -
Come To Me (@ 113:25)
Bitty McLean - -
This next song is dedicated to my Vintage Love Family. To you I say thanks for all of the messages, prayers, flowers and the offering of whatever might be needed to help through this trying time of my Pops passing away. It really did make a difference... So this song goes out to you with sooo much thanks I cannot begin to explain. During these sad and dark days for me and my family... you really did help to bring the sun out again. Thank you!!! This next song is dedicated to you... my VL Family.
You Bring The Sun Out (@ 118:25)
Janet Kay - -