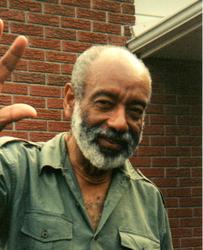 Vintage Love
Saturday August 9th, 2014 with O'shea Adagio
The Year Of Goodbyes
Vintage Love tonight....a show of joy and pain for me personally. Celebrating the music and the island I love; Jamaica on this JAMDAY here in the Nations Capital... and celebrating my Dad, the man whom I love, who passed away on Thursday, August 7th, 2014. So I thought to split the show with music that makes us dance and sing from JA and music that expresses love, missing someone and remembrance. Jamaica and the beautiful island of my parents, Barbados, celebrated tonight on the Vintage Love show. This show is dedicated to my family as well as to all of you who may also be missing and remembering someone who is near and dear... but now is gone. Thank you Dad for having, protecting, teaching and for loving me. I will miss you until the end of my own days... until we meet again. O'shea Adagio Vintage Love International CKCU 93.1 FM Facebook: ckcuvintagelove info@vintagelove.net PS. Thank you to all of you... my extended Vintage Love Family, for all of your calls, emails, messages, flowers and offerings of food or whatever I and my family might need. I cannot express to you how much this lifts my spirits. It is an awesome thing when love rules the day both in happy and in sad times. Thank you, thank you and thank you some more for sending your love my way. I love you.... my Vintage Love International Family... I do! I'll Be back soon. Some weeks ago, for the Fathers Day show back in June (June 14, 2014 -entitled, "Squee") I wrote a poem to my Dad:
http://cod.ckcufm.com/programs/136/17435.htm
Information on the last goodbye is available here:
http://www.rskane.ca/book-of-memories/1926571/Squires-Leicester/service-details.php
Dance With My Father (@ 06:53)
Dwight Pinkney - -
Happy Jamday to you. "Out of Many....."
The National Anthem Live (Jamaica's National Anthem) (@ 13:45)
Richie Stephens - -
Evening Time (@ 16:35)
Jimmy Tucker - -
No Woman No Cry (@ 19;00)
Bob Marley & The Wailers - -
Moving Away (@ 28:30)
Ken Boothe - -
Breaking Up (@ 31:50)
Alton Ellis - -
Red Red Wine (@ 35:22)
Tony Tribe - -
I've Got To Go Back Home (@ 39:47))
Bob Andy - -
My Boy Lollipop (@ 43:05)
Millie - -
Simmer Down (@ 45:08)
The Wailers - -
Angel Of The Morning (@ 48:15)
Joya Landis - -
Dreamland (@ 53:19)
Marcia Griffiths - -
Queen Majesty (@ 58:00)
The Techniques - -
Make It With You (@ 61:14)
Bitty McLean - -
Cottage In Negril (@ 65:45)
Tyrone Taylor - -
A request for a Bruno Mars cover going out to Monica. Thank you for your request Monica. I hope you enjoy your song.
When I Was Your Man (@ 68:41)
RC - -
These songs are for those of us missing someone who may have passed like my Pops did last week. So some songs that my Dad loved and songs also expressing appreciation, love and loss... For everyone missing someone and especially my family and those friends and others who loved my Dad, the remainder of this show is for you, as I am sure we all have someone whom we miss. Thanks Dad... and I'll Be Seeing You
I'll Be Seeing You (@ 72:43)
Etta James - -
You're My Hero (R&B) (@ 79:17)
Junior Soul - -
Barbados National Anthem (@ 86:00)
The Barbados Police Band - -
Beautiful Barbados (@ 88:10)
The Merrymen - -
Unforgettable (@ 91:17)
Dennis Brown - -
The Living Years (@ 94:45)
Stevie Face - -
Lord I Lift Your Name On High (@ 99:00)
Carlene Davis ft. Junior Tucker - -
I Wanna Wake Up With You (@ 103:55)
Boris Gardiner - -
The Last Duet (Live) (@ 108:35)
Juanita And Lester - -

Pride And Joy (@ 110:20)
Beres Hammond - -
It's So Hard To Say Goodbye (@ 114:47)
Jamelody - -
Because You Loved Me (@ 118:55)
Pam Hall - -