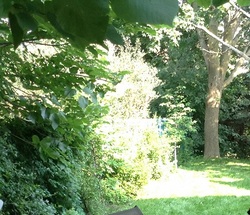 Vintage Love
Saturday September 6th, 2014 with O'shea Adagio
Singing The Oceans Song
Tonight Vintage Love pays a small tribute to Hopeton Lewis who passed away on Thursday from undisclosed illness. It is with much respect and love that we start off the show with a tribute to this man who did so much for music and for the island of Jamaica. By overwhelming demand, the Song Of The Week is: Chaka Demus and Pliers - "Tease Me" @ 72:33 of the show. And also already added to next weeks playlist by request. :-) Happy birthday to Joy... congratulations to Tropical Heat Restaurant on "movin on up" to a better location. Thank you for tuning in this week, as always I do hope that Vintage Love was one of the many highlights of your weekend. :-) O'shea Adagio Vintage Love International ckcuvintagelove info@vintagelove.net
Many Rivers (@ 06:25)
Dwight Pinkney - -
There's No Love (@ 13:00)
Luciano - -
Starting out tonight with a tribute to Hopeton Lewis who passed away on Thursdaay at the age of 66. This Kingston born singer gave us many great hits such as "Take It Easy", "Groovin' Out On Life" as well as this next track a song called "Sound And Pressure".
Sound And Pressure (@ 20:30)
Hopeton Lewis - -
Groovin' Out On Life (@ 23:45)
Hopeton Lewis - -
As we continue with this tribute, this is one of my favorite songs by this legend, a song called "Take It Easy"... what we try to do every Saturday night here on Vintage Love.
Take It Easy (@ 27:00)
Hopeton Lewis - -
Help Me Make It Through The Night (@ 29:50)
Hopeton Lewis - -
As has come custom on VL when we say goodbye to an artist who has passed on, we play "This Song Will Last Forever", which we will make it so on Vintage Love, keeping the memory of these trail-blazers alive. Hopeton, these songs and the many others that you recorded for us... they will last forever as you will in our hearts. So I (and we all) say Thank you for the music! I think Abba says it very well:
"So I say thank you for the music, the songs I'm Singing
Thanks for all the joy they're bringing
Who can live without it, I ask in all honesty?
What would life be?
Without a song or a dance what are we?"

So we say thank you Hopeton.. thank you for all these tunes you left for we.
This Song Will Last Forever (@ 33:20)
Funky Brown - -
John Crazy (@ 40:15)
Beres Hammond - -
The Song Of The Week from last weeks show, this is the late great Cynthia Schloss with Beres Hammond here on 93.1 FM.
Growing Up (@ 44:40)
Cynthia Schloss And Beres Hammond - -
I'm Still In Love With You (@ 48:07)
Marcia Aitken - -
Uptown Top Ranking (@ 51:10)
Althea & Donna - -
You Don't Love Me (No, No, No) (@ 54:53)
Dawn Penn - -
The Bossman from Tropical Heat Restaurant called and requested somne Gregory or Sanchez and tonight thought we would go with some Gregory for you. Remember, the restaurant is in the process of changing locations and will be up and running to satisfy that desire for a roti, curry goat, rice and peas or your other favorite Caribbean dishes.
Night Nurse (@ 58:35)
Gregory Isaacs - -
You Are Everything (@ 62:43)
Wayne Wade - -
Don't Rock My Boat (@ 65:55)
Bob Marley & The Wailers - -
It Keeps Rainin' (Tears From My Eyes) (@ 68:45)
Bitty McLean - -
This weeks undisputed Song Of The Week. This Chaka Demus And Pliers with an old classic called, "Tease Me", here on Vintage Love.
Tease Me (@ 72:33)
Chaka Demus And Pliers - -
The Second Time Around (@ 77:15)
Luther Vandross - -
If Leaving Me Is Easy (@ 83:34)
Phil Collins - -
Introducing a new segment here on the Vintage Love show. The 411, which will provide information on upcoming events here in the Nations Capital.
Maramax (@ 89:27)
Bost - -
Never Never Never (@ 95:50)
Glen Ricketts - -

Anna requested a song and apparently you love this song so... this is a classic and a great cover version here by Mr. Spice. The "Power Of Love" on CKCU.
Power Of Love (@ 100:45)
Mikey Spice - -
Big Daddy wanted some Beres for Lady T. So Lady T., I hope you were listening but if not, you can hear your song again ON DEMANDat ckcufm.com From Big Daddy to Lady T, this is Beres with "Queen & Lady".
Queen & Lady (@ 105:20)
Beres Hammond - -
Zooksters Mom wanted to hear Peetah Morgan and fam ottherwise known as Morgan Heritage with the much requested "She's Still Loving Me", here on The Mighty 9 3 1.
She's Still Loving Me (@ 108:37)
Morgan Heritage - -
Welcome To My World (@ 112:47)
Terry Linen - -
Here And Now (@ 118:13)
Busy Signal - -