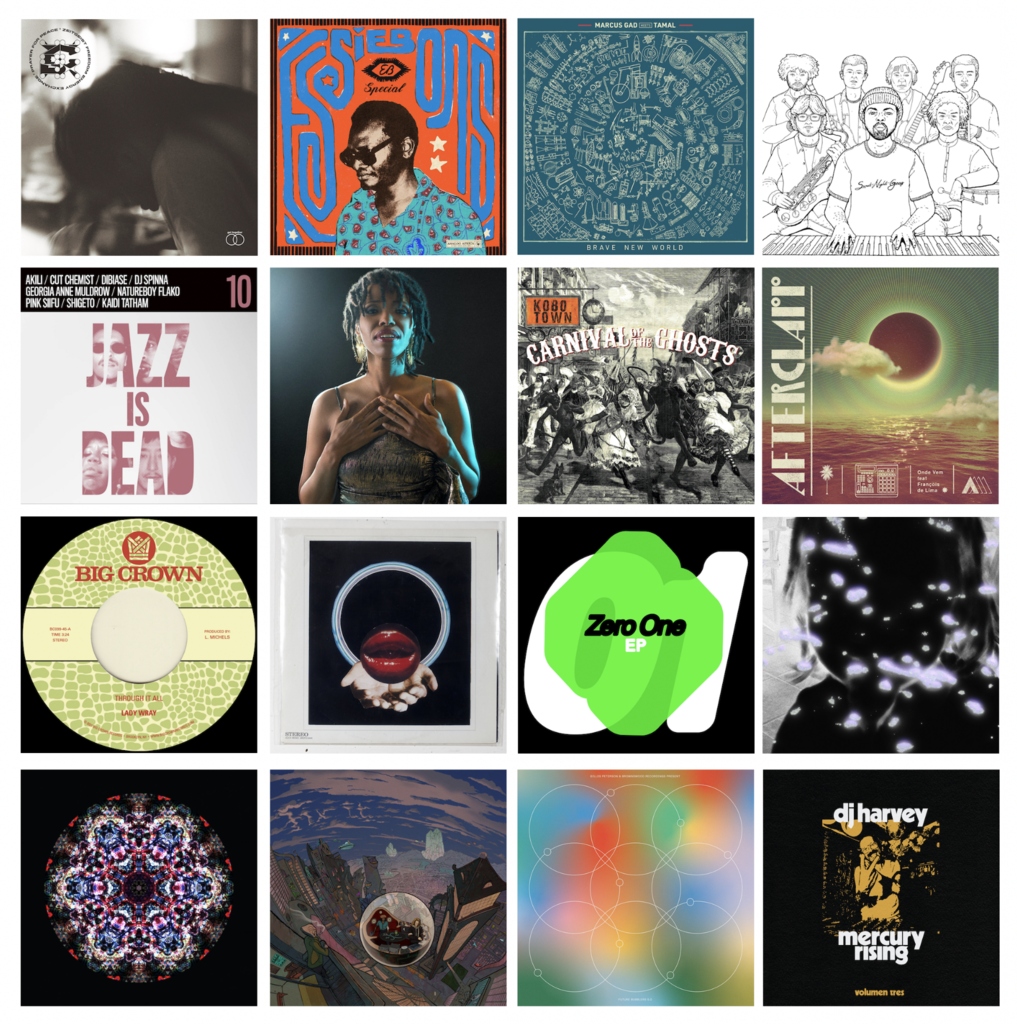 Friday Drive
Friday December 17th, 2021 with Trevor Walker
[Run Choonz]
Happy Friday "Drivers"! First I'd like to encourage anyone who enjoys this or any other show on ckcu to hit us hit us up! We're still trying to achieve this year's goal and have extended the campaign until December 31st. Still hoping to hit my lofty goal of 100 people and $5000. Every day it gets closer! The drive total is steadily climbing and we're sitting at just under $155,000 as I'm putting this episode together. Big big big ups and thank you to the now 51 of you at last count & counting, hopefully, who reached out bringing our total to $2667! 1. Jefferson Park  2. Dave Paquette  3. Regis Loreau You can catch Regis on Thursdays 19h-20h30 EST for "Bizarre Bazaar"
https://cod.ckcufm.com/programs/463/info.html
4. Jim Reilly alumni extraordinaire Thanks Jim! 5. Kay & Pablito your donation is greatly appreciated  6. Sonia Vani great seeing you at the NAC! 7. Glenn, Maya, Sophia & Carter thanks fam! 8. Shawn Maloney from
streamwater.ca
  @streamwatercanada locally sourced spring water without plastic packaging thank you 9. Candace Nelson who puts  "Candyshop" together every Friday 16h-17h
https://cod.ckcufm.com/programs/481/info.html
10. Micheal Brogan thank you 11. Scruffy_Sac SoundZystem tuning in online from Finland! 12. Jas Nasty on rotation on Heavy Friends Saturday 20h-22h
https://cod.ckcufm.com/programs/410/info.html
13. David Dalle hosts yet another fantastic program Thursdays 14h-16h Journeying to every continent and exploring different traditions in the recordings he features every week!
https://cod.ckcufm.com/programs/105/info.html
14. Robert P in Gatineau thank you your comments are always appreciated  15. Robin Hutcheson  16. Daniel Verreault  17. Paulo Filipe  18. Mark Searl 19. Heavy Ben who does some killer programming on rotation on "Heavy Friends" 20h-22h Saturdays, "Chance Meeting" biweekly 15h-16h & on rotation doing "In A Mellow Tone" on occasion Wednesdays 21h-23h
https://cod.ckcufm.com/programs/94/info.html
https://cod.ckcufm.com/programs/581/info.html
https://cod.ckcufm.com/programs/410/info.html
20. Stefan Bergeron  21. Kevin &  22. Nicky 23. John Tackaberry thank you for donating twice! John has been bringing us "Black And Blues" every Sunday since the very early days of CKCU!21h-23h It's an honour to receive your donation
https://cod.ckcufm.com/programs/38/info.html
24. Terry Martin  25. Elisa Urrutia 26. Robin Dunbar, Annella & Kincaid  27. Daryl Campbell thank you Be sure to check out his shop "Chrontact Cannabis" corner of Carling and Woodroffe | 1-2280 Carling Avenue
https://chrontact.ca
28. Jeff & Cassandra 29. Mick Alalew 30. Gwynneth Hughes 31. Andrea Barker 32. Chris International who you can catch right here on CKCU Mondays 15h-16h doing "Turn Up The Radio"
https://cod.ckcufm.com/programs/48/info.html
33. Scott LeClair 34. Beatrix Picard 35. Donovan Byrd 36. Ann Rickenbacker 37. Elorious Cain who you should definitely try and catch on "The Groove" 13h-15h every Saturday 
https://cod.ckcufm.com/programs/131/info.html
38. Natacha Labelle 39. Serge & Andrea! 40. Thomas Purser  41. Stephen Martin 42. Gordon Walker thanks Dad 43. Matt Day 44. Jason Jaknunas 45. Matthew Ciavaglia 46. Zoe Mallett 47. Molly Stollmeyer 48. Richard White 49. Pierre-Louis Pinel 50. Pascal Marais 51. Mark Meurin Thank you all so much!!! If you're hearing this and you'd like to donate don't be shy! Although the drive is over the station is still trying to reach our goal and accepting donations. Today's show is going to be an exploration into all the neglected music that's been accumulating you should all get a sampling of. When putting the show together there was no clear direction but in retrospect this week's journey turned into a moody groover of a ride with a little speeding but mostly a deeper contemplative jazzy somewhat soulful and spacey groover. Digging into more of my more recent additions to the library, with offerings from "Jazz Is Dead, Analog Africa, Zeitgeist Freedom Energy Exchange, new Kobo Town to name a few. Thank you for taking the time to read to this point and I hope you enjoy the show! Extra curriculars: Friday: Alex Edwards aka DJ Magnificent is back for "Get Free Friday"  Dec 17 @QSF | 170 Queen St. 18h30 EST Friday & Saturdays you can catch DJ Zattar @Parlour X Dish 1319 Wellington St. W. | 18h - 23H30 Saturday: Record Centre live Dj set/stream 1099 Wellington St. W 12h-16h EST Axé Worlfest presents: KOBO TOWN!!!! with DJ Trevor Walker @Queen St. Fare | 170 Queen St. $16.93 TICKETS:https://www.eventbrite.ca/e/kobo-town-tickets-219335587647 Doors at 8:30pm Show at 9:30pm Tkts available now on Eventbrite! Kobo Town continues to redefine calypso music and pushes the boundaries of the Caribbean sound with its fourth album, CARNIVAL OF THE GHOSTS. Behind the running social commentary and satirical mood, this is a collection of songs about the human condition – about our quirks and foibles, our anxieties and hopes, and the haunting sense of impermanence that imbues our every moment with its urgency and priceless worth. Founded and fronted by émigré Trinidadian songwriter Drew Gonsalves, Kobo Town's music has been variously described as "an intoxicating blend of lilting calypsonian wit, dancehall reggae and trombone-heavy brass" (Guardian) and a "unique, transnational composite of rhythm, poetry and activist journalism."(Exclaim!) From their home in Toronto, the JUNO-nominated group has brought their distinct calypso-inspired sound to audiences across the world, from Port-of-Spain to Paris and from Montreal to Malaysia. At once brooding and joyous, intensely poetic and highly danceable, Gonsalves' songs betray deep roots in Caribbean folk music, while the band delivers them with an indomitable energy that has earned them a considerable following far beyond the niche of world music enthusiasts and calypso fans. Event funded by HERITAGE CANADA Framework is doing their weekly "Waiting Room"  event at: City At Night  222 Slater | 8pm - 1am $10 The City At Night & White Rabbit team have created a new indoor event format that allows us to safely gather and experience our love of music, with respect to following the current public health and safety guidelines. Reserve your table to join us and Ottawa's best dance music curators inside the Waiting Room (at City At Night), every Saturday from 8pm to 1am. As per Provincial mandates, proof of vaccination is required. Table reservation is recommended. Walk-ins are available on a first-come, first-served basis. Featuring on the decks Dec 18: Hashek & Rick Laplante & Vibe Alive
www.cityatnight.ca
Sunday: *CANCELLED Ottawa House Dance Community - Capital Sessions House Dance Practices present: Deep World - Holiday Edition! @The Flava Factory 1076B Wellington St W 14h-16h EST Come join us for some holiday cheer, music and dance! DJs Jfun and Melo-T will be dropping the finest grooves from Amapiano to Afrobeats and deep soulful positive dance music from the 4 corners of the globe! Bring your dancing shoes and a bottle of water and let's get down! Dancers will be on hand to teach some beginner moves! It's pay what you can, $10 suggested donation, cash only. Vaccine proof required, masks required unless dancing. Event link:
https://fb.me/e/1oU2ecsMU
*CANCELLED If you feel you're not getting enough from the Friday Drive you can always check out the archive links going back at least three years. And if that's still not enough you can always join me most Thursdays & Saturdays usually  around 20h EST on my twitch  and working on a Tuesday stream possibly during the day. Check my channel:
twitch.tv/lifeboogie
All the links can be found on the Friday Drive's interactive page.
Keep On Lovin'
Zeitgeist Freedom Energy Exchange - Prayer For Peace Album - Get Together

Medley (Broken Heart, aunty Yaa, Imo Yaba (Nzemai))
Nyame Bekyere - Medley (Broken Heart, aunty Yaa, Imo Yaba (Nzemai)) v/a Album - Analog Africa

Brave New World
Marcus Gad Meets Tamal - Brave New World Album - High Records

The Sun
The Secret Night Gang - Single - Brownswood

Windfall (Naturboy Flako Remix)
Doug Carn - Jazz Is Dead Remixes v/a Album - Jazz Is Dead

Holding You
Kellylee Evans - Greenlight EP - Unknown


Shades Of Living
Kobo Town - Carnival Of Ghosts Album - Stonetree Records


Prayer For Peace
Zeitgeist Freedom Energy Exchange - Prayer For Peace Album - Get Together

Onde Vem
Afterclapp feat. Francois de Lima - Single - Afterclapp

Under The Sun
Lady Wray - Single - Big Crown

Until The Day
The Blaxpoited Orchestra - 12 Compost Disco Years Vol. 1 v/a Album - Compost

end of first broadcast hour
Skatta
DJ Sofa - Zero One EP - Straight Up Breakbeat

It's Rhythm
Lithe & Nora Drum - Split EP - Unknown

East Coast Trash Bag
Trakker - Single - Unknown

Too Blind To See It
Clyde - Hyper Reality Album - Atjazz

Fix It
Joe Arnon-Jones & Goya Gumbani - Single - Aquarii Records

Nancy Wilson (Shigeto Remix feat. Ahya Simone & Dez Andres)
Brian Jackson - Jazz Is Dead Remixes v/a Album - Jazz Is Dead

That's Alright
Clyde - Hyper Reality Album - Atjazz

Quiet Storm (Akili Remix)
Azymuth - Jazz Is Dead Remixes v/a Album - Jazz Is Dead

Soulsea (Cut Chemist Remix)
Gary Bartz - Jazz Is Dead Remixes v/a Album - Jazz Is Dead

Hoon
Mark Cake - Future Bubblers 5.0 v/a Album - Brownswood

Love And Happiness (Quartz The Ddub All Over)
Backbeat Convention - Mercury Rising Volumen Tres v/a Album - Pikes Records