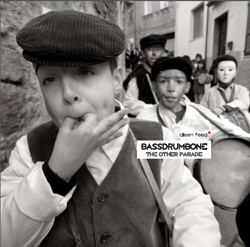 Rabble Without A Cause
Wednesday March 30th, 2016 with Bernard Stepien
Ray Anderson, Mark Hellias and Gerry Hemingway 39 years old BASSDRUMBONE project
In the Jazz world a band consisting of the same musician rarely lasts long. The inevitable turnover of musician for all kinds of reasons is the rule. The BASSDRUMBONE project consists of the same three musicians since 1974: Mark Helias on bass, Gerry Hemingway on drums and Ray Anderson on trombone. Jazz critic Chuck Berg said "three inspired savants, the trio turns the inside out and the outside in". The recipe for this longevity maybe lies in the total sharing of responsibilities. Each member of the band contributes an equal number of compositions and they take turns on who is the prime instrument on each piece. Thus, no star system can be found here and of course forget the concept of rhythm section supporting the sole soloist. Actually, Gerry Hemingway is not interest in keeping time but instead underlines whatever goes on in the band and vice versa. Tonight we will sample their 2009 recording The Other Parade on the clean feed label.
show tuck
Ray Anderson - the other parade - clean feed
king louisian
Ray Anderson - the other parade - clean feed
the masque
Ray Anderson - the other parade - clean feed
lips and grits
Ray Anderson - the other parade - clean feed
the other parade
Ray Anderson - the other parade - clean feed
soft shoe mingle
Ray Anderson - the other parade - clean feed
rhythm generation
Ray Anderson - the other parade - clean feed