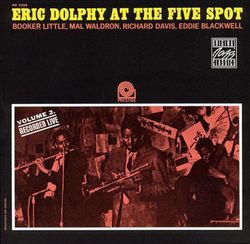 Rabble Without A Cause
Wednesday February 3rd, 2016 with Bernard Stepien
Eric Dolphy the ambush avant-garde
Saxophonist, clarinetist and flutist Eric Dolphy started his career with the most straight ahead band of Chico Hamilton. But all that may have been a cover up because on the side, Dolphy also played works by Edgar Varèse. It was his association with Charles Mingus and also John Coltrane's group in 1961 that gave him a prominent status, especially in Europe where he even prematurely died in 1964. One major contribution was the use of bass-clarinet. His record, Out to Lunch on Blue Note, a prominent straight-ahead label was praised as the best record this label has ever produced. Finally, his association with Free Jazz star Ornette Coleman revealed it all: Free Playing as an ambush in the Be Bop woods… But all that did not reward him as he said himself: "If you try to do something different in this country, people put you down for it". Well, Miles Davis said of him once that he plays like if someone stepped on his foot… Tonight we will listen to his post Mingus live recording at the Five Spot in New York City in 1961 that included yet another prematurely disappearing musician, trumpeter Booker Little.
agression
Eric Dolphy - Eric Dolphy at the five spot - prestige
like someone in love
Eric Dolphy - Eric Dolphy at the five spot - prestige
season of changes
Brian Blade - season of changes - verve