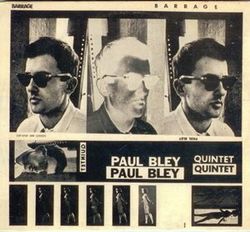 Rabble Without A Cause
Wednesday January 27th, 2016 with Bernard Stepien
Pianist Paul Bley, the stealth avant-garde
For the beta Jazz Aficionado, Canadian pianist Paul Bley would be the ultimate enigma. He plays straight ahead, having filled the chair left empty by pianist Oscar Peterson when he left for the US, but present at the 1964 Free Jazz uprising next to Archie Shepp, Bill Dixon and Cecil Taylor. Actually all of this started with inviting Charlie Parker to Montreal, the avant-garde of the '40s and working with another revolutionary, Jimmy Giuffre. He moved to California where he had a steady club gig in L.A. only to invite Ornette Coleman to sit in which of course ruffled a few West Coast Jazz feathers… Like Mingus who was on his first records, Bley started his own record label Improvising Artists Incorporated to both feature his music and also many others including Sun Ra. Tonight we will survey three vinyl records from the '60s and the '70s on which at least on two of them we can hear some prominent members of the Sun Ra Arkestra, Marshall Allen and John Gilmore and finally one focus on his solo work where the interaction with ex-wife Carla Bley is well emphasized.
ictus
Paul Bley - turning point - IAI

ida lupino
Paul Bley - turning point - IAI

ictus
Paul Bley - barrage - ESP-disk

barrage
Paul Bley - barrage - ESP-disk

lovers
Paul Bley - alone, again - IAI

explanations
Paul Bley - alone, again - IAI