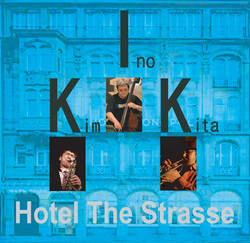 Rabble Without A Cause
Wednesday February 18th, 2015 with Bernard Stepien
Japanese trumpeter Yoichiro Kita
Imagine the concept of good old fashioned Free Jazz from the '60s but religiously performed today! We are not talking post-Free here. But after over 45 years, this Free Jazz of the '60s went through a few natural transformations. Tokyo trumpeter Yoichiro Kita as a member of the 20 to 30 members Shibusashirazu Orchestra learned the tricks that include a little fusion with Rock Music which of course has the benefit to widen audiences. However, the most important is this music must be carried through time into some form of classicism. Tonight we will survey their 2014 release Hotel The Strasse in a trio format with Free Jazz veterans, New York or Berlin immersed saxophonist Soon KIM and bassist Nobuyoshi Ino. Kita is a virtuoso trumpeter and piccolo trumpet while Kim stretches the lyricism of Ornette Coleman and Ino, who played the Moers festival in 1970 ensures Free Jazz orthodoxy.
undesirable guest
Yoichiro Kita - the hotel strasse - independent
walk in
Yoichiro Kita - the hotel strasse - independent
amenity
Yoichiro Kita - the hotel strasse - independent
ondol
Yoichiro Kita - the hotel strasse - independent
skipper
Yoichiro Kita - the hotel strasse - independent
rack date
Yoichiro Kita - the hotel strasse - independent
overbooking
Yoichiro Kita - the hotel strasse - independent
occupancy
Yoichiro Kita - the hotel strasse - independent
albergo
Yoichiro Kita - the hotel strasse - independent