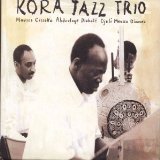 Rabble Without A Cause
Wednesday March 5th, 2014 with Bernard Stepien
AfricanRoots: Senegal's Kora Jazz Trio and Cuba's Germàn Velazco Duetto
It is a well-known fact that Jazz all started in Africa but via some detours. Less known is that Jazz has also travelled back to Africa and sometimes back and forth since then with all the inevitable cross-breeding. The West African Kora is a quasi-mythical string instrument. Its sound provides instant exotic texture and its structure that produces music even when just tuning it is instantly recognizable. Kora player Djeli Moussa Diaware from Ghana is the Art Tatum equivalent on the Kora with his virtuoso technique both for fast licks and chords. He leaded the Kora Jazz Trio from 2002 to 2010 with his fellows Senegalese Abdoulaye Diabaté on piano and Moussa Cissoko on percussions. They left a solid trail on world well-known Jazz festivals including the legendary Montreux Jazz Festival. The Cuban Velazco Duetto also illustrates the small group in the favored Griot format of African players where lot's gets achieved with little especially small percussion instruments driven rhythms. Cuban music originally was African music quasi untouched like the Batà drums. But since Dizzy Gillespie was attracted by this music (thanks to Chano Pozzo), things became more complicated. Here we almost are faced with a chicken and the egg dilemma, all to our great joy. One thing is for sure, they don't need explanations about improvisation like European classical musicians. For them, improvisation is built-in. They are the ones who started it in the first place.
N'Dyaba
Kora Jazz Trio - Kora rioJazz t - independent
yambu pa'Miramar
Velazco/Reyes - duetto - BIS
now's the time
Kora Jazz Trio - Kora rioJazz t - independent
fuga de la tumba
Velazco/Reyes - duetto - BIS
senef
Kora Jazz Trio - Kora rioJazz t - independent
para mily
Velazco/Reyes - duetto - BIS
N'dimi
Kora Jazz Trio - Kora rioJazz t - independent
samba amalia
Velazco/Reyes - duetto - BIS