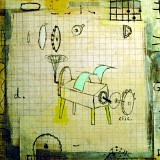 Rabble Without A Cause
Wednesday February 26th, 2014 with Bernard Stepien
Montreal avant-garde: guitarist Bernard Falaise
The Montreal scene is a hot spot for avant-garde Jazz that rivals some places like Amsterdam for example. Most of its members travel far away but few make it to Ottawa. Among them, guitarist Bernard Falaise is well known for playing all sorts of music, preferably diametrically opposed styles of the musical spectrum. He writes for the renowned Quebec all tango Quartango group, thrives into various rock or jazz rock oriented groups, writes for theatre, motion pictures but mostly is a member of the various configurations that revolve around Montreal saxophonist Jean Derome. Initially a guitarist, Falaise quickly explored electronics and produces remarkable effects with them that ironically give an acoustic quality to his electronics. Tonight, we will sample his second CD, Clic that he recorded in good company, including clarinetist Lori Freedman.
watt
Bernard Falaise - Clic - ambiance magnétique

thon
Bernard Falaise - Clic - ambiance magnétique

mule
Bernard Falaise - Clic - ambiance magnétique

yéti
Bernard Falaise - Clic - ambiance magnétique

fête
Bernard Falaise - Clic - ambiance magnétique

Clic
Bernard Falaise - Clic - ambiance magnétique

moka
Bernard Falaise - Clic - ambiance magnétique

neuf
Bernard Falaise - Clic - ambiance magnétique

lime
Bernard Falaise - Clic - ambiance magnétique