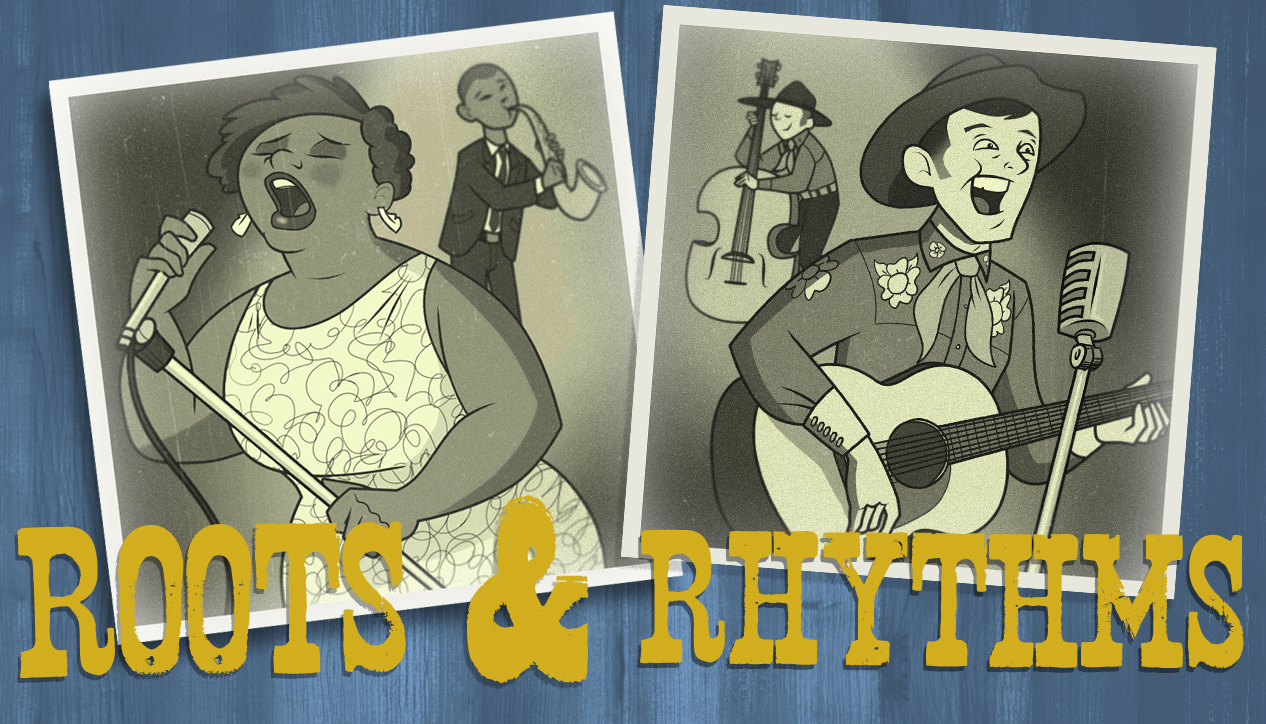 Roots and Rhythms
Wednesday May 16th, 2018 with Recidivist Renny
INCARCERATION NATION: Blues, Rock & Roll, Rhythm & Blues and Rockabilly about crime & it's consequences, sung by the Bobby Fuller Four, Big Maceo, Andre Williams, Johnny Otis, Wanda Jackson, Sonny Burgess, Slim Harpo and more.
The stages of crime: the offence, the capture, the trial, the judgement, the jail. Dedicated to Officer Sullivan.
Ballad Of A Juvenile Delinquent
LeROI BROTHERS - Check This Action! - '83 Jungle Records/'94 Rounder Records
Juvenile Delinquent
EVAN JOHNS & HIS H-BOMBS - Rockit Fuel Only - '91 Rykodisc
Teen Age Riot
PORTUGUESE JOE with THE TENNESSEE ROCKABILLYS - Lookey Dookey/Talkin' Trash - '57 Surf Records/'00 Crypt Records
Crime Doesn't Pay
THE CORONETS - Rare Grooves Vol. 5 - '55 Groove Records/Official Records
But Officer!
CLIFF "KING" SOLOMON with ERNSTINE ANDERSON & GIGI GRYCE - The OKeh Rhythm & Blues Story 1949-1957 - '53 OKeh Records/'93 Sony Music Entertainment Inc.
Jail Bait
ANDRE WILLIAMS (MR. RHYTHM) with THE CHARLIE MORRIS ORCHESTRA - Movin' On With....Andre Williams: Greasy & Explicit Soul Movers 1956-1970 - '56 Fortune Records/'05 Vampi Soul
Good Morning, Judge
WYNONIE HARRIS - The King R&B Box Set - '50 King Records/'10 Gusto Records
Court Room Blues
JOHNNY OTIS & HIS ORCHESTRA - That's Your Last Boogie! The Best Of Johnny Otis 1945-1960 - '49 Excelsior Records/'12 Fantastic Voyage
County Jail Blues
BIG MACEO - Bus Rider Blues - '41 Bluebird Records/'98 Columbia River Entertainment Group
21 Days In Jail
MAGIC SAM - West Side Soul - Charly Blues Masterworks Vol. 29 - '58 Cobra Records/'92 Charly Records
The Prisoner's Song a.k.a. Wings Of An Angel
SONNY BURGESS - Essential Rockabillies Vol. 3 - '56 alternate take, unissued, Sun Records/'96 Charly Records
In The Jailhouse
THE GREVIOUS ANGELS - Straight Outta Boone County - '97 Bloodshot Records
I Fought The Law
THE BOBBY FULLER FOUR - Toga Rock - '65 Mustang Records/'87 DCC Compact Classics
Jailhouse Rock
ELVIS PRESLEY - Rocker - '57 RCA Records/'84 RCA Records
Riot In Cell Block #9
WANDA JACKSON - Rockin' In The Country: The Best Of Wanda Jackson - '61 Capitol Records/'90 Rhino Records
Riot At Huntsville
BIG GUITARS FROM TEXAS - Trash, Twang & Thunder/That's Cool, That's Trash - '85 Jungle Records/'86 Amazing Records/'87 Rykodisc
Petty Crime
THREE BLUE TEARDROPS - Poised In Hate - '95 Teen Rebel Records
Folsom Prison Blues
SLIM HARPO - The Excello Singles Anthology - '69 Excello Records/'03 Hip-O Records/Universal Music Enterprises