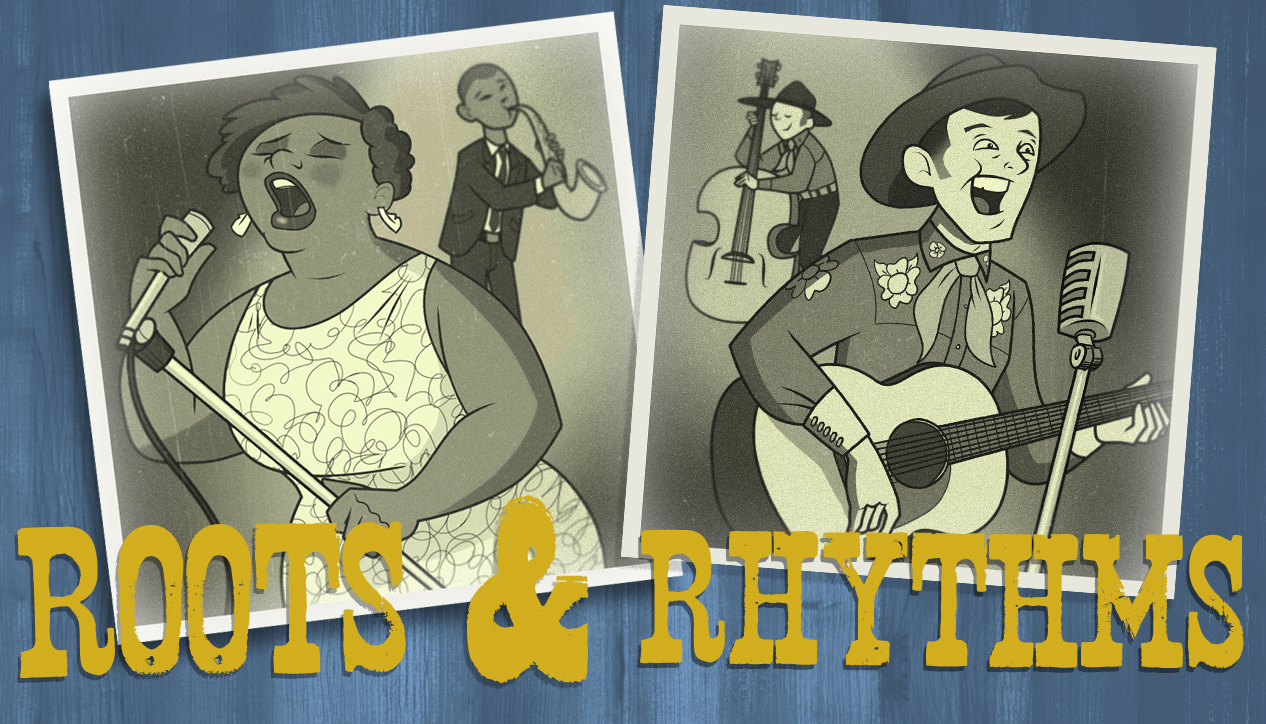 Roots & Rhythms is a roots music program that swings, jumps, or rocks.
Hosted by: Renny G
Airs: Every Sunday from 8:00 PM to 9:00 PM

Coming up at 8:00 PM on January 20th, 2019:
BOB WILLS & HIS TEXAS PLAYBOYS - Western Swing was a wonderful American hybrid, it was country jazz for farmers, ranchers & cowboys. Bob Wills was there from the start, as a member of the Lightcrust Doughboys, to being the bandleader of the most popular Western Swing band of all time.
| Date | Host | Highlight | On Demand |
| --- | --- | --- | --- |
| Jan. 13, 2019 | Rollicking Renny | CHEESE & CRACKERS WITH ROSCO GORDON. A Memphis singer & pianist who released a series of singles on Sun, Flip, Chess, Duke & the RPM record labels in the 1950's. Tune in and dig "Rosco's Rhythm". | available |
| Jan. 6, 2019 | Reverent Renny | JERRY LEE LEWIS - ALL KILLER! NO FILLER! The last of the Sun Record's rockers who's still standing (& his pumping piano). Blues, boogie woogie, country, rockabilly, soul & rock & roll and that's just his left hand! | available |
| Dec. 30, 2018 | Ready Renny | Yesterday, December 29, marked the 90th anniversary of the first Boogie Woogie recording - Clarence "Pine Top" Smith's "Pine Top's Boogie Woogie" on Vocalion Records. Tonight, a small sampling of some amazing boogie woogie. | available |
| Dec. 23, 2018 | Reindeer Renny | YULETIDE RIDE - Great Xmas music by The Razorbacks, John Prine, Mabel Scott, Big John Greer, Jessie Mae Hemphill (the She Wolf) & more. Holiday rockabilly, folk, blues & R&B. | available |
| Dec. 16, 2018 | Roots Renny | MYSTIC TITANS OF JUJU - Two old men, three brilliant albums, one hour of great roots music. | available |
| Dec. 9, 2018 | Rhythmic Renny | LITTLE, BIG & BLUESY! From Little Joe & the Thrillers to Big Joe Turner, Big Bo Thomas & His Arrows to Little Bo & Orchestra, Big Walter & Little Walter. Size doesn't matter with the finest in Rhythm & Blues. | available |
Roots & Rhythms started out in 1997 as a roots music program (older blues, country, r&b and rock(abilly), with some contemporary bands thrown in as well. Most programs were devoted to a specific artist, label, city or genre. Since then, the core concept has remained the same, but has been broadened to include more mix-type programs blending eclectic choices across genre and time periods. Throughout, the emphasis has been on music that swings, jumps, or rocks.
You can contact Renny at renny@ckcufm.com
- Graphic by the infamous illustrator and animator Ian Jeans http://ianjeans.blogspot.ca/


Subscribe to Roots and Rhythms