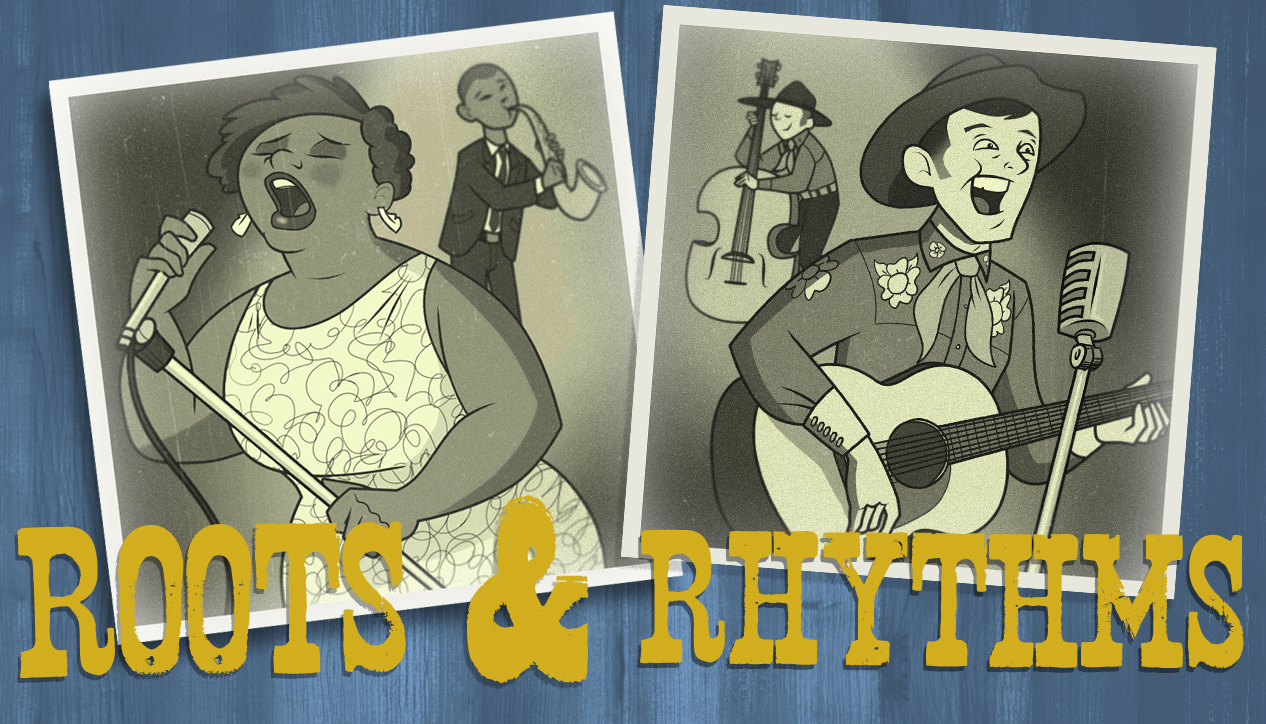 Roots & Rhythms is a roots music program that swings, jumps, or rocks.
Hosted by: Renny G
Airs: Every Sunday from 8:00 PM to 9:00 PM

Coming up at 8:00 PM on March 24th, 2019:
R.I.P. ANDRE "MR. RHYTHM" WILLIAMS - The godfather of greasy R&B has passed away. Williams sang, wrote and produced some very funky grooves indeed, including the Five Du-Tones' "Shake A Taifeather" & Alvin Cash & The Crawlers' "Twine Time". Tonight, a tribute.
| Date | Host | Highlight | On Demand |
| --- | --- | --- | --- |
| Mar. 17, 2019 | Raucous Renny | UNDERCOVER MUTHA! Blistering cover versions of rockabilly, blues, R&B, rock & roll and more, all played by one of the greatest unknown guitar gods, SIMON CHARDIET (as leader of the Bar Sinister's and as a member of the Mooks). | available |
| Mar. 10, 2019 | Renny | SARA ON SKINS! Drummer Sara Romweber has died from a brain tumour at the age of 55. She played in Let's Active, Snatches of Pink & The Dex Romweber Duo. Tonight a sampling of her amazing drumming talents in her brother's duo. | available |
| Mar. 3, 2019 | Ian Jeans | ALLEN TOUSSAINT - A Mardi Gras celebration of the music of Allen Toussaint, musician, songwriter, arranger, record producer and all round musical genius from New Orleans. | available |
| Feb. 24, 2019 | Retro Renny | ONLY THE LONEY: The rockin' music of Roy A. Loney: from the early Flamin' Groovies' recordings, to his work as leader of the Phantom Movers & his solo career. Tune in to rock out. | available |
| Feb. 17, 2019 | Retro Renny | IN THE GROOVE: Groove Records was RCA's Rhythm & Blues label in the 1950's. Featured artists include Big John Greer, Otis Blackwell, Arthur "Big Boy" Crudup, Champion Jack Dupree & more. | available |
| Feb. 10, 2019 | Allan B. Wigney | Get religion! | available |
Roots & Rhythms started out in 1997 as a roots music program (older blues, country, r&b and rock(abilly), with some contemporary bands thrown in as well. Most programs were devoted to a specific artist, label, city or genre. Since then, the core concept has remained the same, but has been broadened to include more mix-type programs blending eclectic choices across genre and time periods. Throughout, the emphasis has been on music that swings, jumps, or rocks.
You can contact Renny at renny@ckcufm.com
- Graphic by the infamous illustrator and animator Ian Jeans http://ianjeans.blogspot.ca/


Subscribe to Roots and Rhythms