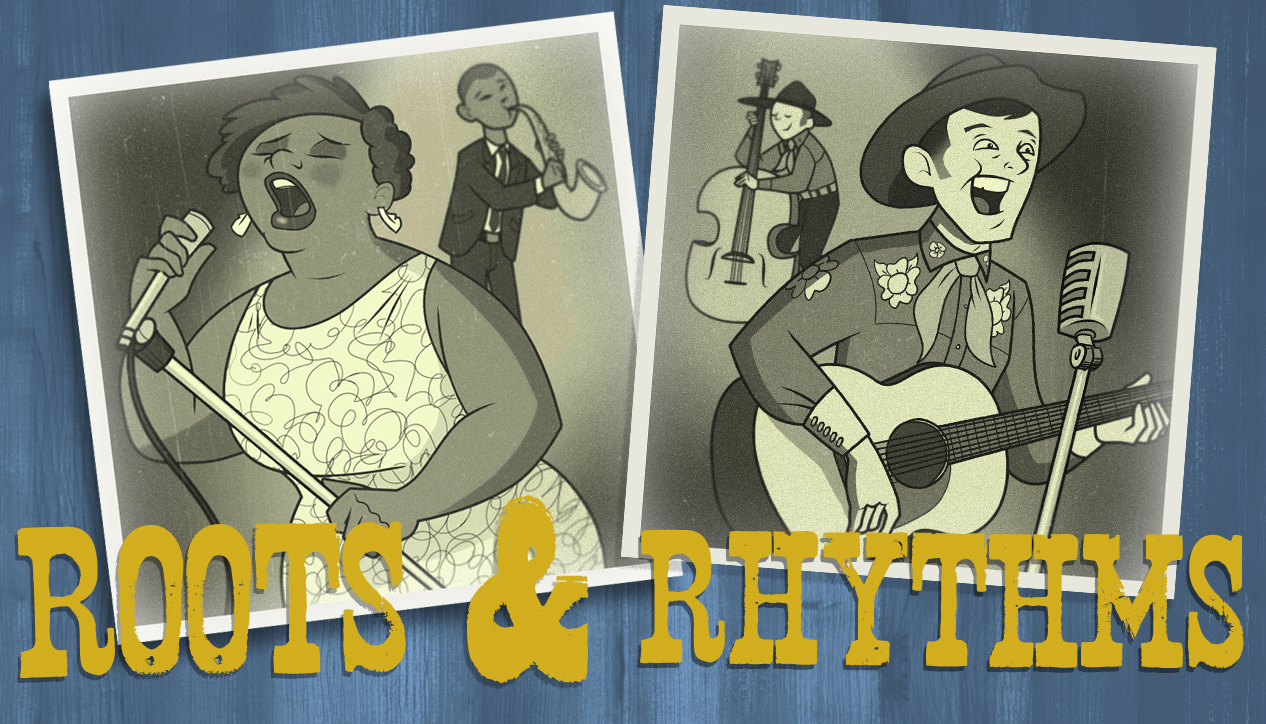 Roots and Rhythms
Wednesday May 9th, 2018 with Retro Renny
HEART TROUBLE: Songs about aortic trauma, including "Bad Case Of A Broken Heart", "Pain In My Heart", "Heart Attack", "Humpty Dumpty Heart" and more old country, blues, rockabilly, soul, gospel and rhythm & blues.
Dedicated to a friend who is recovering from a heart attack. This is for you Sheila. Get better soon.
I Got Just One Heart
THE BLANKENSHIP BROTHERS - Country Hicks Vol. 3 - 4 - unknown year & label/'97 Barklog Records
Humpty Dumpty Heart
HANK THOMPSON - The Western Swing: Doughboys, Playboys and Cowboys Vol. 4 - Oakie Boogie - '47 Capitol Records/'99 Proper Records
You're Cheatin' Heart
HANK WILLIAMS - The Original Singles Collection...Plus - '53 MGM Records/'90 Polydor
Heartsick and Blue
REM WALL - Get With The Beat: The Mar-Vel' Masters - '60 Mar-Vel' Records/'89 Rykodisc
A Bad Case Of A Broken Heart
RONNIE DAWSON - Monkey Beat! - '94 No Hit Records
Heart Attack
THE DELTAS - The Nervous Psychobilly Singles Collection - '95 Anagram Records
Heartaches Ahead
THE CARPENTER BROTHERS - Rockabilly Gold Vol. 10 - '62 Ridgecrest Records/unknown year of reissue, Lucky Records
Take The Pain From My Heart
ARBEE STIDHAM - There's Always Tomorrow - '73 Folkways Records/'07 Smithsonian Folkways Records
My Heart Beats Like A Hammer
FLEETWOOD MAC - FLEETWOOD MAC - '68 Blue Horizon Records/'96 Sony Music Entertainment Inc.
Heartattack and Vine
JOHN HAMMOND JR. - Wicked Grin - '01 Virgin Records
Broken Heart Of Mine
THE FIVE BLIND BOYS OF ALABAMA - Oh Lord Stand By Me/Marching Up To Zion - '70/'91 Specialty Records
Heartbreak (It's Hurtin' Me)
LITTLE WILLIE JOHN - Sleep - The Singles - A's & B's - 1955 -1961 - '60 King Records/'13 Jasmine Records
Heart Trouble
BILLY LEWIS - Bobby's Harlem Rock Vol. 1: New York Wild Guiitars - '60 Fire Records/ unknown year of reissue, P-Vine Records
It Hurts Me To My Heart
RUDY RAY MOORE - Hully Gully Fever - unknown year & label/'00 Norton Records
Pain In My Heart
OTIS REDDING - Pain In My Heart - '63 Volt Records/'10 Atco Records/Rhino Records
A Smile Can't Hide (A Broken Heart)
OLLIE & THE NIGHTINGALES - Take Me to The River: A Southern Soul Story 1961 To 1977 - '68 Stax Records, unissued/'08 Kent Records
Nothing But A Heartache
THE FLIRTATIONS - Beg, Scream & Shout!: The Big Ol' Box Of 60's Soul - '68 Deram Records/'97 Rhino Records
Danger Heartbreak Dead Ahead
THE MARVELETTES - Beg, Scream & Shout!: The Big Ol' Box Of 60's Soul - '65 Tamla Records/'97 Rhino Records
I Sold My Heart To The Junkman
THE STARLETS a.k.a. PATTY LaBELLE & THE BLUE-BELLES - Beg, Scream & Shout!: The Big Ol' Box Of 60's Soul - '62 Newtown Records/'97 Rhino Records