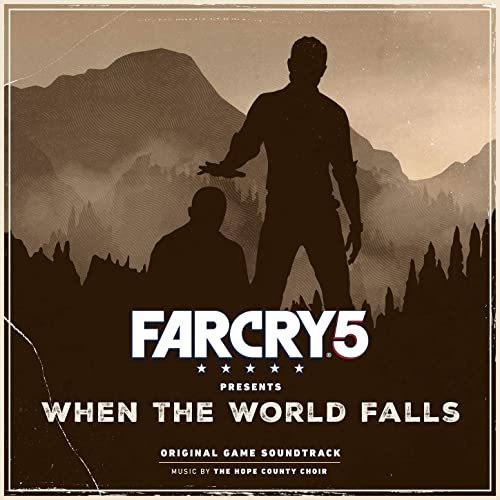 Grab The Guide
Thursday November 18th, 2021 with TwoKat
【HP+】Grab The Guide's Far Cry 5 Anthology Part III: Project at Eden's Gate + The Seed Family
❕ 𝗔𝗖𝗛𝗜𝗘𝗩𝗘𝗠𝗘𝗡𝗧 𝗨𝗡𝗟𝗢𝗖𝗞𝗘𝗗: Meet The Project at Eden's Gate ❕ 𝙒𝙚𝙡𝙘𝙤𝙢𝙚 𝙗𝙖𝙘𝙠 𝙩𝙤 𝙖𝙣𝙤𝙩𝙝𝙚𝙧 𝙚𝙥𝙞𝙨𝙤𝙙𝙚 𝙤𝙛 𝙂𝙧𝙖𝙗 𝙩𝙝𝙚 𝙂𝙪𝙞𝙙𝙚! "𝙒𝙝𝙮 𝙙𝙤 𝙮𝙤𝙪 𝙠𝙚𝙚𝙥 𝙘𝙖𝙡𝙡𝙞𝙣𝙜 𝙩𝙝𝙚𝙢 '𝙋𝙚𝙜𝙜𝙞𝙚𝙨?'" "𝙋𝙧𝙤𝙟𝙚𝙘𝙩 𝙖𝙩 𝙀𝙙𝙚𝙣'𝙨 𝙂𝙖𝙩𝙚. 𝙋.𝙀.𝙂. 𝙋𝙚𝙜𝙜𝙞𝙚𝙨. 𝙄𝙩'𝙨 𝙬𝙝𝙖𝙩 𝙩𝙝𝙚 𝙡𝙤𝙘𝙖𝙡𝙨 𝙘𝙖𝙡𝙡 𝙩𝙝𝙚𝙢." We're on week 3 of our Far Cry 5 Anthology and we're talking about Project at Eden's Gate, the cult wreaking havoc on Hope County. I introduce you to the leaders of the cult, John, Jacob, Faith, and of course Joseph Seed, and tell you a bit more about each of their regions and disciples. I'm also playing songs from 3 different Far Cry 5 albums today: "We Will Rise Again," "Into The Flames," and "When The World Falls." I also compare the different versions of the songs from each, and go back into detail about my "video games soundtracks are actually just concept albums" theory madness from a few months ago (more on than in an interview I did with Curiocity on CKCU which can be found on our Linktree!). Once again, I will be posting the full track lists for each album, but the star ★彡 beside the songs will tell you which ones I played live! Thank you all so much for hanging out with Grab The Guide, and I hope you enjoy the playlist! ▶️ 𝙋𝙍𝙀𝙎𝙎 𝙎𝙏𝘼𝙍𝙏!
𝗙𝗔𝗥 𝗖𝗥𝗬 𝟱 𝗣𝗥𝗘𝗦𝗘𝗡𝗧𝗦: 𝗪𝗘 𝗪𝗜𝗟𝗟 𝗥𝗜𝗦𝗘 𝗔𝗚𝗔𝗜𝗡 (𝗢𝗥𝗜𝗚𝗜𝗡𝗔𝗟 𝗚𝗔𝗠𝗘 𝗦𝗢𝗨𝗡𝗗𝗧𝗥𝗔𝗖𝗞)
We Will Rise Again (Reinterpretation)
Hammock - Far Cry 5 Presents: We Will Rise Again (Original Game Soundtrack)
Oh John (Reinterpretation)
Hammock - Far Cry 5 Presents: We Will Rise Again (Original Game Soundtrack)
Oh The Bliss (Reinterpretation)
Hammock - Far Cry 5 Presents: We Will Rise Again (Original Game Soundtrack)
Let The Water Wash Away Your Sins (Reinterpretation)
Hammock - Far Cry 5 Presents: We Will Rise Again (Original Game Soundtrack)
Build a Castle (Reinterpretation)
Hammock - Far Cry 5 Presents: We Will Rise Again (Original Game Soundtrack)
Set Those Sinners Free (Reinterpretation)
Hammock - Far Cry 5 Presents: We Will Rise Again (Original Game Soundtrack)
Keep Your Rifle By Your Side (Reinterpretation)
Hammock - Far Cry 5 Presents: We Will Rise Again (Original Game Soundtrack)
Now He's Our Father (Reinterpretation)
Hammock - Far Cry 5 Presents: We Will Rise Again (Original Game Soundtrack)
The World Is Gonna End Tonight (Reinterpretation)
Hammock - Far Cry 5 Presents: We Will Rise Again (Original Game Soundtrack)
Help Me Faith (Reinterpretation)
Hammock - Far Cry 5 Presents: We Will Rise Again (Original Game Soundtrack)
𝗙𝗔𝗥 𝗖𝗥𝗬 𝟱 𝗣𝗥𝗘𝗦𝗘𝗡𝗧𝗦: 𝗜𝗡𝗧𝗢 𝗧𝗛𝗘 𝗙𝗟𝗔𝗠𝗘𝗦 (𝗢𝗥𝗜𝗚𝗜𝗡𝗔𝗟 𝗚𝗔𝗠𝗘 𝗦𝗢𝗨𝗡𝗗𝗧𝗥𝗔𝗖𝗞)
The World Is Gonna End Tonight
Dan Romer, Peter Harper - Far Cry 5 Presents: Into The Flames (Original Game Soundtrack)
Oh John
Dan Romer, Charlie Mtn. - Far Cry 5 Presents: Into The Flames (Original Game Soundtrack)
Build a Castle
Dan Romer, Osei Essed - Far Cry 5 Presents: Into The Flames (Original Game Soundtrack)
Help Me Faith
Dan Romer, Madi Diaz - Far Cry 5 Presents: Into The Flames (Original Game Soundtrack)
Now He's Our Father
Dan Romer, Greg Holden - Far Cry 5 Presents: Into The Flames (Original Game Soundtrack)
Set Those Sinners Free
Dan Romer, Peter Harper - Far Cry 5 Presents: Into The Flames (Original Game Soundtrack)
Keep Your Rifle By Your Side
Dan Romer, Wil Farr - Far Cry 5 Presents: Into The Flames (Original Game Soundtrack)
We Will Rise Again
Dan Romer, Meredith Godreau - Far Cry 5 Presents: Into The Flames (Original Game Soundtrack)
Oh The Bliss
Dan Romer, Jenny Owen Youngs - Far Cry 5 Presents: Into The Flames (Original Game Soundtrack)
Let The Water Wash Away Your Sins
Dan Romer - Far Cry 5 Presents: Into The Flames (Original Game Soundtrack)
𝗙𝗔𝗥 𝗖𝗥𝗬 𝟱 𝗣𝗥𝗘𝗦𝗘𝗡𝗧𝗦: 𝗪𝗛𝗘𝗡 𝗧𝗛𝗘 𝗪𝗢𝗥𝗟𝗗 𝗙𝗔𝗟𝗟𝗦 (𝗢𝗥𝗜𝗚𝗜𝗡𝗔𝗟 𝗚𝗔𝗠𝗘 𝗦𝗢𝗨𝗡𝗗𝗧𝗥𝗔𝗖𝗞)
Build a Castle
The Hope County Choir - Far Cry 5 Presents: When The World Falls (Original Game Soundtrack)
Help Me Faith
The Hope County Choir - Far Cry 5 Presents: When The World Falls (Original Game Soundtrack)
Now He's Our Father
The Hope County Choir - Far Cry 5 Presents: When The World Falls (Original Game Soundtrack)
Keep Your Rifle By Your Side
The Hope County Choir - Far Cry 5 Presents: When The World Falls (Original Game Soundtrack)
Let The Water Wash Away Your Sins
The Hope County Choir - Far Cry 5 Presents: When The World Falls (Original Game Soundtrack)
Oh John
The Hope County Choir - Far Cry 5 Presents: When The World Falls (Original Game Soundtrack)
Oh The Bliss
The Hope County Choir - Far Cry 5 Presents: When The World Falls (Original Game Soundtrack)
Set Those Sinners Free
The Hope County Choir - Far Cry 5 Presents: When The World Falls (Original Game Soundtrack)
The World Is Gonna End Tonight
The Hope County Choir - Far Cry 5 Presents: When The World Falls (Original Game Soundtrack)
We Will Rise Again
The Hope County Choir - Far Cry 5 Presents: When The World Falls (Original Game Soundtrack)
𝙏𝙝𝙖𝙣𝙠𝙨 𝙛𝙤𝙧 𝙡𝙞𝙨𝙩𝙚𝙣𝙞𝙣𝙜!

𝙇𝙄𝙉𝙆𝙎

[𝘍𝘈𝘙 𝘊𝘙𝘠 5] https://www.ubisoft.com/en-ca/game/far-cry/far-cry-5

[𝘛𝘏𝘌 𝘍𝘈𝘙 𝘊𝘙𝘠 5 𝘚𝘖𝘜𝘕𝘋𝘛𝘙𝘈𝘊𝘒]

We Will Rise Again: https://open.spotify.com/album/4Gxql1kKRbHfHZnqrBGuAz?si=bTsdg8_ZQI6qSPVeMG3eTg

Into The Flames: https://open.spotify.com/album/1W4oWF6o8X6F8bNN5AhdtH?si=UcseN8InS_e1Ldev4aCnjw

When The World Falls: https://open.spotify.com/album/1YjekdD6RaUpb4AsMIPViQ?si=YiBjhR6MQ62xAFo5GmHHsg

[𝘍𝘖𝘓𝘓𝘖𝘞 𝘜𝘚] https://linktr.ee/grabtheguide