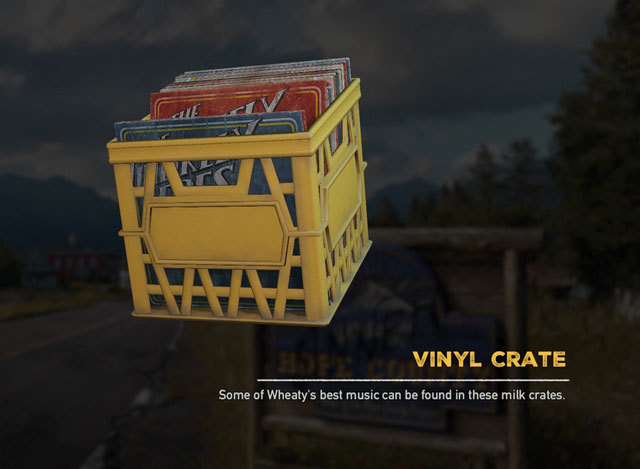 Grab The Guide
Thursday November 4th, 2021 with TwoKat
【Lvl+】The Far Cry 5 Anthology Begins + Every Song on the Hope Country Resistance Radio Playlist + Funding Drive!
❕ 𝗔𝗖𝗛𝗜𝗘𝗩𝗘𝗠𝗘𝗡𝗧 𝗨𝗡𝗟𝗢𝗖𝗞𝗘𝗗: Turn the Tables ❕ 𝙒𝙚𝙡𝙘𝙤𝙢𝙚 𝙗𝙖𝙘𝙠 𝙩𝙤 𝙖𝙣𝙤𝙩𝙝𝙚𝙧 𝙚𝙥𝙞𝙨𝙤𝙙𝙚 𝙤𝙛 𝙂𝙧𝙖𝙗 𝙩𝙝𝙚 𝙂𝙪𝙞𝙙𝙚! The Halloween fun may be over, but we're keeping the momentum going this week as the annual 𝗖𝗞𝗖𝗨 𝗙𝘂𝗻𝗱𝗶𝗻𝗴 𝗗𝗿𝗶𝘃𝗲 kicks into gear! This week I talk about my experience with hosting Grab the Guide and what radio has meant to me throughout my life. I also talk about how radio in video games has had a huge impact on how I host the show, why I go by TwoKat, and why I even got involved in radio in the first place! 𝙁𝙪𝙣𝙙𝙞𝙣𝙜 𝙙𝙧𝙞𝙫𝙚 𝙞𝙨 𝙤𝙣 𝙪𝙣𝙩𝙞𝙡 𝙉𝙤𝙫𝙚𝙢𝙗𝙚𝙧 𝟭𝟰𝙩𝙝 𝙨𝙤 𝙞𝙛 𝙮𝙤𝙪 𝙖𝙧𝙚 𝙖𝙗𝙡𝙚 𝙩𝙤, 𝙥𝙡𝙚𝙖𝙨𝙚 𝙨𝙪𝙥𝙥𝙤𝙧𝙩 𝙩𝙝𝙚 𝙨𝙩𝙖𝙩𝙞𝙤𝙣! Now, for the playlist. This week I have a surprise for Far Cry 5 fans. 𝗧𝗵𝗶𝘀 𝗽𝗹𝗮𝘆𝗹𝗶𝘀𝘁 𝗶𝘀 𝗲𝘃𝗲𝗿𝘆 𝘀𝗼𝗻𝗴 𝘁𝗵𝗮𝘁'𝘀 𝗽𝗹𝗮𝘆𝗲𝗱 𝗯𝘆 𝗪𝗵𝗲𝗮𝘁𝘆 𝗼𝗻 𝘁𝗵𝗲 𝗪𝗵𝗶𝘁𝗲𝘁𝗮𝗶𝗹 𝗥𝗮𝗱𝗶𝗼 + Licensed Tracks used elsewhere like "Only You," and "We'll Meet Again." 𝗘𝘃𝗲𝗿𝘆. 𝗦𝗶𝗻𝗴𝗹𝗲. 𝗢𝗻𝗲. 𝗔𝗹𝗹 𝟭𝟭𝟱 𝘀𝗼𝗻𝗴𝘀. I spent 𝗛𝗢𝗨𝗥𝗦 searching for lists of songs and compiling everything together into this 6 hour and 26 minute playlist. This all started with me desperately trying to find "Crooked Tree" by Huxlee after hearing it in game, and I thought "well, I'm here now, might as well find the rest of the songs too." And now I'm sharing the whole list with all of you! :) I am highly aware that there is not enough time on the planet to play lisy full list on air, but I will put a star (★彡) beside the songs I play live and the full list will always be here if you want it! If there are any songs I missed (I seriously doubt it but there is always a chance), please let me know in the comments and I'll add them! This was a major passion project and I am SO happy to share it with you this week! This also begins what I am calling the 𝗙𝗮𝗿 𝗖𝗿𝘆 𝟱 𝗔𝗻𝘁𝗵𝗼𝗹𝗼𝗴𝘆 as this game is going to take up a few episodes to itself! Thank you all so much for hanging out with Grab The Guide, and I hope you enjoy the playlist! ▶️ 𝙋𝙍𝙀𝙎𝙎 𝙎𝙏𝘼𝙍𝙏!
Blackjack Moon
7Horse - Let The 7Horse Run
Meth Lab Zoso Sticker
7Horse - Let The 7Horse Run
Roll On Down the Highway
Bachman-Turner Overdrive - Not Fragile
Rock 'n' Roll Fantasy - 2009 Remaster
Bad Company - Desolation Angels (2009 Remaster)
Nerve Jamming
Bass Drum of Death - Gb City
Boom Boom
Big Head Todd and the Monsters, Tom Lord-Alge - Beautiful World
Keys to Your Coffin
Bite The Buffalo - Big Blind
Chicken Bone Gang
Black Eyed Snakes - It's The Black Eyed Snakes
Skulldiggin
Black Joe Lewis - Electric Slave
★彡 Ain't No Easy Way
Black Rebel Motorcycle Club - Howl
Beat the Devil's Tattoo
Black Rebel Motorcycle Club - Beat the Devil's Tattoo
Train, Train
Blackfoot - Strikes
Put That There
Bob Log III - Log Bomb
Honey
Bonjah - Beautiful Wild
Fools Rush In
Brook Benton - Brook Benton - The Best of Brook Benton
Mess Around
Cage The Elephant - Tell Me I'm Pretty
Vincent
Car Seat Headrest - Teens of Denial
Put 'Em Up
Channel 3 - The God That You Deserve
Tiger Eyes
Claire Guerreso - Tiger Eyes
Ain't Got No Home
Clarence "Frogman" Henry - Ain't Got No Home: The Best of Clarence "Frogman" Henry (Reissue)
(I Don't Know Why) But I Do
Clarence "Frogman" Henry - Ain't Got No Home: The Best of Clarence "Frogman" Henry (Reissue)
Higher Than My Station
Close Your Eyes - Line In The Sand
Electric Worry
Clutch - From Beale Street to Oblivion
Psychotic Reaction
Count Five - Psychotic Reaction
★彡 Bad Moon Rising
Creedence Clearwater Revival - Green River
Up Around The Bend
Creedence Clearwater Revival - Cosmo's Factory
The Prowl
Dan Auerbach - Keep It Hid
Get Mine
DAVIS - Crooked Finger
Mashed Potato Time
Dee Dee Sharp - It's Mashed Potato Time/Do The Bird
Let's All Go To The Bar
Deer Tick - Divine Providence
Com / Broke
Dion Lunadon - Dion Lunadon
Raise Hell
Dorothy - ROCKISDEAD
Rebel Rouser
Duane Eddy - The Best Of Duane Eddy
Fast As You
Dwight Yoakam - This Time
Prizefighter
Eels - Hombre Lobo
Still Standing
Electric Owls - Still Standing
Cut Ya Down
Eli "Paperboy" Reed - My Way Home
Last Damn Night
Elle King - Love Stuff
W.I.A.D.F.Y.
Elliot BROOD - Mountain Meadows
★彡 When I Fall in Love
Etta Jones - Portrait of Etta Jones
Slow Ride
Foghat - Slow Ride / Save Your Loving (For Me)
All Right Now
Free - Fire And Water
This Diamond Ring
Gary Lewis & The Playboys - This Diamond Ring
★彡 Black Sheep
Gin Wigmore - Gravel & Wine
Country Sleaze
Goat Girl - Country Sleaze
★彡 Highway Tune
Greta Van Fleet - From The Fires
Safari Song
Greta Van Fleet - From The Fires
All Time Low
Grey Area - Grey Area
★彡 Barracuda
Heart - Little Queen
Hillbillies on Speed
Hillbilly Hellcats - Rev it up with Taz
Fake It
Holy White Hounds - Sparkle Sparkle
Smokestack Lightnin'
Howlin' Wolf - Moanin' In The Moonlight
When You're Down
Jim and the French Vanilla - Afraid of the House
Rocky Mountain Way
Joe Walsh - The Smoker You Drink, The Player You Get
Hot Blood
KALEO - A/B
★彡 No Good
KALEO - A/B
Black & Beige
Kid Karate - Black & Beige
Working in the Coal Mine
Lee Dorsey - The New Lee Dorsey
Um, Um, Um, Um, Um, Um (Curious Mind)
Major Lance - The Money Time / Um, Um, Um, Um, Um, Um (Curious Mind)
The Monkey Time
Major Lance - The Best Of Major Lance: Everybody Loves A Good TIme!
Hello Miss Lonesome
Marlon Williams - Marlon Williams
Sexual Healing
Marvin Gaye - Midnight Love
★彡 My Guy
Mary Wells - Mary Wells Sings My Guy
You Beat Me To The Punch
Mary Wells - 20th Century Masters: The Millennium Collection: Best Of Mary Wells
Powertrip
Monster Magnet - Powertrip
Van Gogh
OL'cd - Van Gogh
Smash The Control Machine
Otep - Smash The Control Machine
Quite Contrary
Parker Millsap - Parker Millsap
My Youth Generation
Palaye Royale - Boom Boom Boom (Side A)
Mad, Mad Heart
The Reverend Horton Heat - Rev
Gotta Get It
River City Rebels - Playin' To Live, Livin' To Play
Reload
SAINT PHNX - Reload
The Truth Won't Set Us Free
Sara Watkins - Young In All The Wrong Ways
Blood Sweat & Murder
Scott H. Biram - The Dirty Old One Man Band
Draggin' Down The Line
Scott H. Biram - Something's Wrong/ Lost Forever
Roll The Bones - Audiotree Live Version
Shakey Graves - Shakey Graves on Audiotree Live (2013)
Buffalo Nickel
Shovels & Rope - Little Seeds
I Hate You
Singapore Sling - Silver Monk Time
Up Jumped The Devil - Live
Soledad Brothers - Live
Bull In A China Shop
Switchfoot - Where The Light Shines Through
20th Century Boy
T. Rex - 20th Century Boy
Children Of The Revolution
T. Rex - Children Of The Revolution
Stranglehold
Ted Nugent - Ted Nugent
Shelter Song
Temples - Sun Structures (Deluxe Version)
Heavy Soul
The Black Keys - The Big Come Up
Lonely Boy
The Black Keys - El Camino
Dirty Sex
The Bloody Hollies - Yours Until The Bitter End
Ghost Dance
The Bright Light Social Hour - Space Is Still the Place
Rhythm of the Rain
The Cascades - Rhythm Of The Rain
Should I Stay or Should I Go
The Clash - Combat Rock (Remastered)
He's a Rebel
The Crystals - Da Doo Ron Ron: The Very Best of the Crystals
I Can't Sleep At Night
The Deadly Snakes - Ode To Joy
You Can't Sit Down
The Dovells - For Your Hully Gully Party/You Can't Sit Down
Save the Last Dance for Me - 2009 Remaster
The Drifters - Definitive Soul: The Drifters
This Magic Moment
The Drifters - All-Time Greatest Hits & More 1959-1965
Keep Your Hands to Yourself
The Georgia Satellites - Georgia Satellites
I'll Be Loving You
The King Khan & BBQ Show - Invisible Girl
Shake Real Low
The King Khan & BBQ Show - The King Khan & BBQ Show
★彡 Ophelia
The Lumineers - Cleopatra
Sharp Leather Walkin' Shoes
The Makers - Psychopathia Sexualis
Singin' A Song About Today
The Mooney Suzuki - People Get Ready
Buddy
The Orwells - Terrible Human Beings
Yes, I Know
The Pack a.d. - Positive Thinking
Only You (And You Alone)
The Platters - The Platters Golden Hits
Duendes
Quaker City Night Hawks - El Astronauta
The Ballad of Clutch Nixon
The Road Vikings - The Ballad of Clutch Nixon
Shots Heard Round The World
The Strike - Shots Heard Round The World
Disco Inferno
The Tammps - Playlist: The Best Of The Trammps
Get Free
The Vines - Highly Evolved
The Price of Punishment
The Warriors - Genuine Sense of Outrage
Carrion Crawler
Thee Oh Sees - Carrion Crawler / The Dream
Codeine
Trampled by Turtles - Blue Sky and the Devil
Little Silver Cross
White Reaper - The World's Best American Band
We'll Meet Again
Vera Lynn, Sailors, Soldiers and Airmen of Her Majesty's Forces, Roland Shaw & His Orchestra - Silver Memories: Our Vera
★彡 Crooked Tree
Huxlee - SuperRock (All Folked Up)
When The Morning Light Shines In (played during speaking breaks)
Dan Romer - Far Cry 5 (Original Game Soundtrack)
𝘐𝘧 𝘺𝘰𝘶 𝘮𝘢𝘥𝘦 𝘪𝘵 𝘵𝘩𝘪𝘴 𝘧𝘢𝘳, 𝘤𝘰𝘯𝘨𝘳𝘢𝘵𝘴! :𝘋

𝙇𝙄𝙉𝙆𝙎

[𝘚𝘜𝘗𝘗𝘖𝘙𝘛 𝘛𝘏𝘌 𝘚𝘛𝘈𝘛𝘐𝘖𝘕] https://cod.ckcufm.com/pledge/

[𝘍𝘈𝘙 𝘊𝘙𝘠 5] https://www.ubisoft.com/en-ca/game/far-cry/far-cry-5

[𝘍𝘖𝘓𝘓𝘖𝘞 𝘜𝘚] https://linktr.ee/grabtheguide