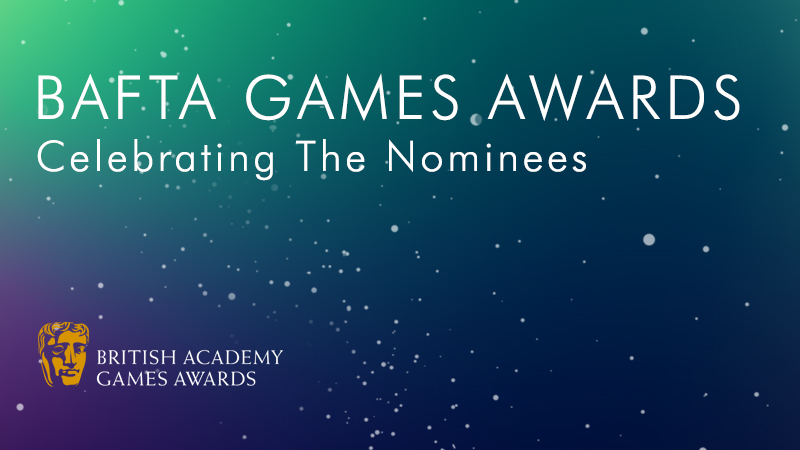 Grab The Guide
Thursday April 8th, 2021 with TwoKat
【Lvl+】Celebrating the March 25, 2021 BAFTA Game Awards winners!
❕ Achievement Unlocked: BAFTA's ❕ Welcome back to another episode of "Grab the Guide!" This week we're celebrating the winners of the 2021 BAFTA Game Awards that took place on March 25th! Get ready for lots of incredible music from the industry's top games! ▶️ PRESS START!
Learn more about the BAFTA winners here!

https://www.bafta.org/games/awards/2021-nominations-winners
Winner - THE LAST OF US PART II Development Team - Naughty Dog/Sony Interactive Entertainment Europe
The Last of Us Part II
Gustavo Santaolalla & Mac Quayle - The Last of Us Part II OST
Winner - HADES Jen Zee - Supergiant Games/Supergiant Games
No Escape
Darren Korb - Hades Original Soundtrack
Winner - GHOST OF TSUSHIMA Development Team
Tsushima Suite: III. Bushido
Shigeru Umebyashi - Ghost of Tsushima (Music from the Video Game)
Winner HADES Development Team - Supergiant Games/Supergiant Games
Good Riddance (feat. Ashley Barrett)
Darren Korb - Hades Original Soundtrack
Winner - SACKBOY: A BIG ADVENTURE Ned Waterhouse, Jess Gaskell, Pete Smith - Sumo Digital Sheffield/Sony Interactive Entertainment Europe
Sackboy: A Big Adventure
Jay Waters, Joy Thwaites - Sackboy: A Big Adventure (Original Soundtrack)
Winner - CARRION Development Team -Phobia Game Studio/Devolver Digital
Main Theme
Chris Velasco - CARRION OST
Winner - SEA OF THIEVES Development Team - Rare Ltd/Xbox Game Studios
The Sea of Thieves
Robin Beanland - Sea of Thieves OST
Winner - SACKBOY: A BIG ADVENTURE Joel Smith, Cesar Bittar, Pete Smith - Sumo Digital Sheffield/Sony
Knitted Knights of the Imagisphere
Jay Waters, Joy Thwaites - Sackboy: A Big Adventure (Original Soundtrack)
Winner - HADES Development Team - Supergiant Games/Supergiant Games
Wretched Shades
Darren Korb - Hades Original Soundtrack
Winner - ANIMAL CROSSING: NEW HORIZONS Development Team - Nintendo EPD/Nintendo
Welcome Horizons (Title Theme)
Yasuaki Iwata, Yumi Takahashi, Shinobu Nagata, Sayako Doi, Masato Ohashi - Animal Crossing: New Horizons Soundtrack
Winner - ANIMAL CROSSING: NEW HORIZONS Development Team - Nintendo EPD/Nintendo
2AM
Yasuaki Iwata, Yumi Takahashi, Shinobu Nagata, Sayako Doi, Masato Ohashi - Animal Crossing: New Horizons Soundtrack
Winner - MARVEL'S SPIDER-MAN: MILES MORALES John Paesano, Scott Hanau, Alex Hackford - Insomniac Games/Sony Interactive Entertainment Europe
Main Theme
John Paesano - Marvel's Spider-Man: Miles Morales OST
Winner - HADES Greg Kasavin - Supergiant Games/Supergiant Games
The Bloodless
Darren Korb - Hades Original Soundtrack
Winner - KENTUCKY ROUTE ZERO: TV EDITION Development Team -Cardboard Computer/Annapurna Interactive
Dark Rum Noir
Ben Babbitt - Kentucky Route Zero (Original Soundtrack)
Winner - LAURA BAILEY as Abby in The Last of Us Part II
All Gone (The Promise)
Gustavo Santaolalla & Mac Quayle - The Last of Us Part II OST
Winner - LOGAN CUNNINGHAM as Hades, Achilles, Poseidon, Asterius, Charon, and the Storyteller in Hades
Death and I
Darren Korb - Hades Original Soundtrack
Winner - DREAMS Development Team - Media Molecule/Sony Interactive Entertainment Europe
Dreamiverse Dash
Ian Livingstone - Dreams OST
Winner - THE LAST OF US PART II Naughty Dog/Sony Interactive Entertainment Europe
A Father for a Daughter
Gustavo Santaolalla & Mac Quayle - The Last of Us Part II OST
Follow Us! https://linktr.ee/grabtheguide

【Choose Your Status Effect!】

Each week in the month will have a different status effect! Check this weeks out below!

【Lvl+】SPECIAL EVENT

This will be for a random special event or take-over including guest hosts, special playlists and more!

EXAMPLES: Birthday Playlists, Guest Playlists, Genre Theme