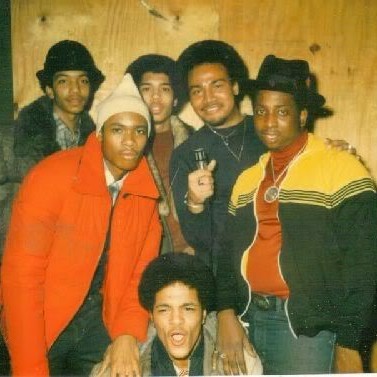 Chance Meeting
Friday February 4th, 2022 with Heavy Ben
Black History Month wayback machine to early hip hop, electro and disco rap
Chance meeting on a big apple of the street and a sensation Respecting that this was not made to cater to a white audience in the first place, to me there is a distinct, brief, sweet spot in hip hop history. Sugarhill Gang's "Rapper's Delight" took everyone by surprise in 1979, but then it took several years for rap to catch on in a big way. Grandmaster Flash & The Furious Five's "The Message" in 1982 was an early breakthrough. Def Jam records started in 1983. Run-DMC's first album was in 1984. L.L. Cool J's in 1985. Electro and break dancing took hold and motion pictures Breakin' and Beat Street soon followed. What came in between? Less played these days is the 1979-82 disco rap that I personally find to be real party starters. Leagues away from today's hip hop, the nascent scene had a message from day one, but was distinguished by organic productions based on actual musicians (!) amid accessible disco and funk loops. Not yet commercial. 10-minute songs. Independent artists and record labels. It is more positive, less cynical, less gangsta, not digital, and not contrived for an algorithm. Pictured: Harlem World Crew, a moniker credited to "Fat" Jack Taylor, president of Tay-Ster and Rojac Records, and owner of the Harlem World club that promoted the burgeoning hip-hop scene. Harlem's 116th Street was ground zero for Jack Taylor's network of enterprises, both legitimate and otherwise. From the 1960s into the 80s Fat Jack, as Taylor was widely known on those mean streets, was one of Harlem's flashiest and toughest characters, allegedly a local drug kingpin. No matter what he may have been in the business of selling, it is a certainty that Taylor was a shrewd businessman who understood the value of diversification. Launching a record label was one of his many ventures. In the late 1950s Taylor inaugurated Rojac Records, attempting to capture the musical pulse of Harlem on microgroove the way Berry Gordy was managing to perfection in the Motor City. No doubt the ultimate goal was to accrue stacks of Benjamins by releasing a non-stop barrage of hits on Rojac and its sister Tay-Ster label. Rojac and Tay-Ster issued a steady stream of product through the latter half of the 60s. Taylor relocated his base of operations to Detroit at the end of the decade. The labels were briefly revived in 1980 as an early hip hop/disco label with offices above the Harlem World Disco nightclub and issued several releases until Taylor's death a few years later.
Big Apple Rappin' (National Rappin' Anthem)
Spyder-D - 12" - Newtroit - 1980
Here To Stay (Me And My Double R.R.)
Count Coolout - 12" - WMOT Records - 1981
Jazzy Sensation (Manhattan Short Version)
The Kryptic Krew Featuring Tina B - 12" - Tommy Boy - 1982
Death Rap
Margo's Kool Out Crew - 12" - Heavenly Star Records - 1980
D. J. Style
Mr. Q - 12" - Monica's Production - 1979

Right There
Two Sisters - 12" - Sugarscoop - 1983
When You're Standing On The Top
Super 3 - 12" - Street Beat Records Inc. - 1982
Rappers Convention
Harlem World Crew - 12" - Tay-Ster - 1980
School'n (Put Your Mind To The Message)
Sharod - 12" - Funk Groove Music Publishing Co. - 1980