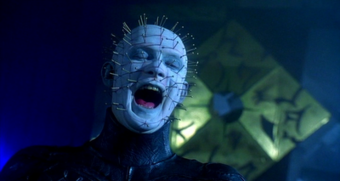 Mystic & Severe
Thursday October 29th, 2020 with Michael O'Keefe
Some Sort of Love – Interviews from TIFF & Genre Fests
It is almost Halloween so that means the time is on for Spooky Love! Things get kicked off with a reviews of all 4 movies in the 'The Complete Lenzi/Baker Giallo Collection. Consider these movies and reviews as sexually fatalistic. All 4 interviews reflect a strange display of affection to varying degrees from Director Adam Stovall whose Fright Fest movie 'A Ghost Waits,' shows a man falling in love with the ghost in his house. To the interview with Madeleine Sims-Fewer & Dusty Mancinelli whose film 'Violation,' is one of the most intelligently rough movies of the year that played in Midnight Madness at TIFF this year. It shows what someone will do to cover up infidelity in ways that will alarm but also hopefully speak to you. Fantasia gets the love too with Director Justin Dyck and Writer Keith Cooper talking about their flick 'Anything for Jackson,' which shows what elderly Satanists will do for love. Finally, Actress Laetitia Dosch and Director Danielle Arbid opine about Parisian love seen in their film 'Simple Passion,' which played during TIFF this year. Another TIFF movie from France focusing on LGBTQ + issues called 'A Good Man,' gets reviewed as does the Fantasia movie from India 'Kriya,' which looks at a man lured in with sexuality to become a channel for an occult summoning. 'Hail to the Deadites,' looks at the love seen in 'Evil Dead,' fans it played at Fantasia AND Fright Fest - it gets reviewed. Fright Fest movie 'Held,' as do two Los Angeles Asian Pacific Film Festival projects: short film 'Basurero,' & feature 'Coming Home Again.' Lots of love to you this Funding Drive if you enjoy the show a $5 donation would be most appreciated. As always, I have great movie music to break up the reviews and interviews!
NYC Main Title
Roberto Donati - Cannibal Ferox Soundtrack - Grind House Releasing
Knife of Ice Theme
Marcello Giombini - So Sweet... So Perverse - Severin Films
Tomorrow Woman
Carlo Maria Cordio - Aenigma - Severin Films
Up In Flames
Koko Taylor - David Lynch's Wild At Heart (Original Motion Picture Soundtrack) - Polydor
Killing
Chris Alexander - Demons - The Soundtrack Remixed - Rustblade

Meeting With A Pink Tie
Andrzej Korzyński - Possession - Original Motion Picture Soundtrack - Mondo Vision
Cool Cat Walk
Angelo Badalmenti - David Lynch's Wild At Heart (Original Motion Picture Soundtrack) - Polydor