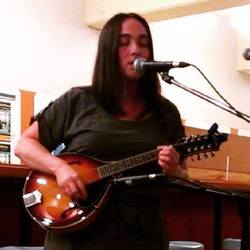 Thursday Early Blend
Thursday January 21st, 2016 with Suzette Schmiedel
Art for Social Change
ART FOR SOCIAL CHANGE Is it possible that what we feel and experience through art changes who we are becoming? Find out with special guest Maria-Hélèna Pacelli, a multidisciplinary artist and activist who holds a Bachelor of Fine Arts and a Master's in Women's Studies and who's research examines the intersections of art and social change. She will also be sharing with us a few creative songs while playing live her mandolin to socially inspire change.
Woodstock
The Enid - A Celebration Of Joni Mitchell - Songs By & For Her + Stories


Starvin` Artists - Dyke Day - Pride 2010
Kate Reid - Youtube

The One
Keith and Renee - Detours

Room For Less
Alise Marlane - Room for Less

Special Guest:
Maria-Hélèna Pacelli
Title: multidisciplinary artist, yoga teacher, activist - art for healing and social change
www.mariahelenapacelli.com
https://soundcloud.com/mariahelenapacelli
Twitter: @pixiewaves
Instagram: @mariahelenapacelli
Facebook: https://www.facebook.com/mariahelenapatchouli/

To subscribe for free to this show email suzette@wellnesslearning.ca