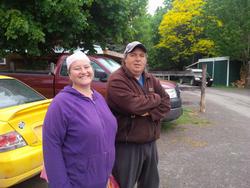 Thursday Early Blend
Thursday May 28th, 2015 with Tony Copple
Big Sky Ranch, and the Ritchie Street Drummers
Big Sky Ranch in Kemptville has saved 1800+ animals from not being alive since 2002, finding homes for the majority. Tony Copple visited the ranch to find out more and met Founder Andy Parent, Office Manager Pauline Lefleur, and some very contented animals. Music in this program is from the singers and drummers of Ritchie Street, Ottawa, where being alive is in itself an achievement.
Big Sky Ranch is an animal sanctuary in rural Kemptville. I visited the Founder Andy Parent, and Office Manager Pauline Lafleur at the ranch to breathe in the atmosphere of a place where so many animals of different species are able to live a good life, even if they have been abandoned or suffering medical conditions.
chat
Andy Parent - chat
chat
Pauline Lefleur - chat
neighs, grunts, barks, etc
Various horses,emus,llamas etc - chat

Alleluija
Ritchie Street singers - Ritchie Street DVD

African drumming
The Ritchie Street Drummers - Ritchie Street DVD