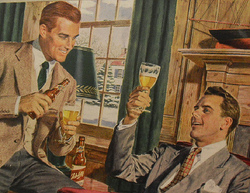 Thursday Special Blend - Geek On
Thursday October 10th, 2013 with Kiernan Mac
Geek On! Is Craft Brewing The Quintessential Geek Hobby?
Beer – the nectar of the Gods; the amber of the ancients; the drink of the divines. Over the centuries many have tried to master its creation, yet very few have claimed the venerable title of "Brewmaster". However, the art of brewing has seen a resurgence over recent years, especially within geek culture. Hence, it may be argued that micro brewing – that is, craft beer making – may be the quintessential geek hobby of the 21st century. Relive the discussion as host Kiernan Mac, along with special guests, "the bombastic, ballistic, beer brothers", Simon and Philippe Colverson, delves into discussing whether beer making is the quintessential geek hobby. Has craft brewing developed in popularity besides other geek-related pastimes? Have "the people" contributed to the resurgent success of brewing? How can you, valued listener, get started brewing beer? Find out only on Geek On!
Home for a Rest
Spirit of the West - Spirituality 1983-2008: The Consummate Compendium

Rocky Road to Dublin
The Dubliners - The Best of The Dubliners
Banks of Newfoundland
Great Big Sea - Fortune's Favour

Seven Deadly Sins
Flogging Molly - Within a Mile of Home