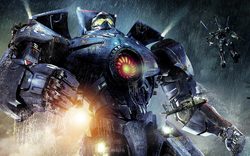 Thursday Special Blend - Geek On
Thursday October 17th, 2013 with Kiernan Mac
Geek On! Is "Pacific Rim" The Most Politicized Film Of 2013?
This past summer, western audiences experienced director Guillermo del Toro's modern masterpiece "Pacific Rim"; A film about humanity's survival, gargantuan monsters, and giant fighting robots. At its core though, "Pacific Rim" is not just a two-hour film about giant robots punching giant monsters, instead it has a deeper more political meaning. A meaning that is characteristic of the film's status as arguably the greatest political fairy tale of the modern age (well, at least thus far). And did I mention giant robots? Relive the discussion as host Kiernan Mac delves into discussing whether or not Guillermo del Toro's "Pacific Rim" is the most politicized film of 2013. Does Guillermo del Toro, through "Pacific Rim", offer the best advice for combating international militant terrorism? Are "Kaijus" representative of climate change? Will there be an equally political sequel? Find out only on Geek On!
http://geekmarket.ca
The Dead Heart (The Midnight Oil Cover)
Alexisonfire - n/a

Pompeii
Bastille - Bad Blood
The World I Know
Collective Soul - Collective Soul
It's the End of the World As We Know It (And I Feel Fine)
R.E.M. - Document