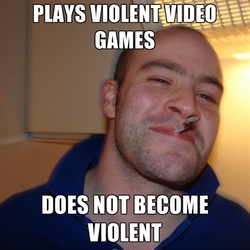 Thursday Special Blend - Geek On
Thursday October 3rd, 2013 with Kiernan Mac
Geek On! Have Video Games Made People More Moral?
In an age of mass social paranoia and fear, isn't it nice to sit down and unwind with a nice, simple video game? Well of course! Unless that game is "Cthulu Saves the World", in which case you're just exacerbating the problem. Anyway! From "Bioshock" and role-playing games; to "Grand Theft Auto" to "The Last of Us", games in which decision-making is an integral part of the mechanics of these games have, in essence and to the contrary, contributed to individuals being more moral within society. Relive the discussion as host Kiernan Mac, along with returning guest blogger Zachary Laflamme, delve into discussing the relationship between video games and morality. Does playing a violent video game necessarily make an individual more violent or is it rather the video game's community? Do achievements and in-game rewards contribute to gamers practicing "good" and "bad" morals within a video game? Are humans the real monsters in "Monster Hunter"? Find out only on Geek On!
Civilization
Justice - Audio, Video, Disco.
Stack Shot Billy
The Black Keys - Rubber Factory
Mad World
Tears For Fears - n/a
Poka Rokin
Ashley MacIsaac - Crossover