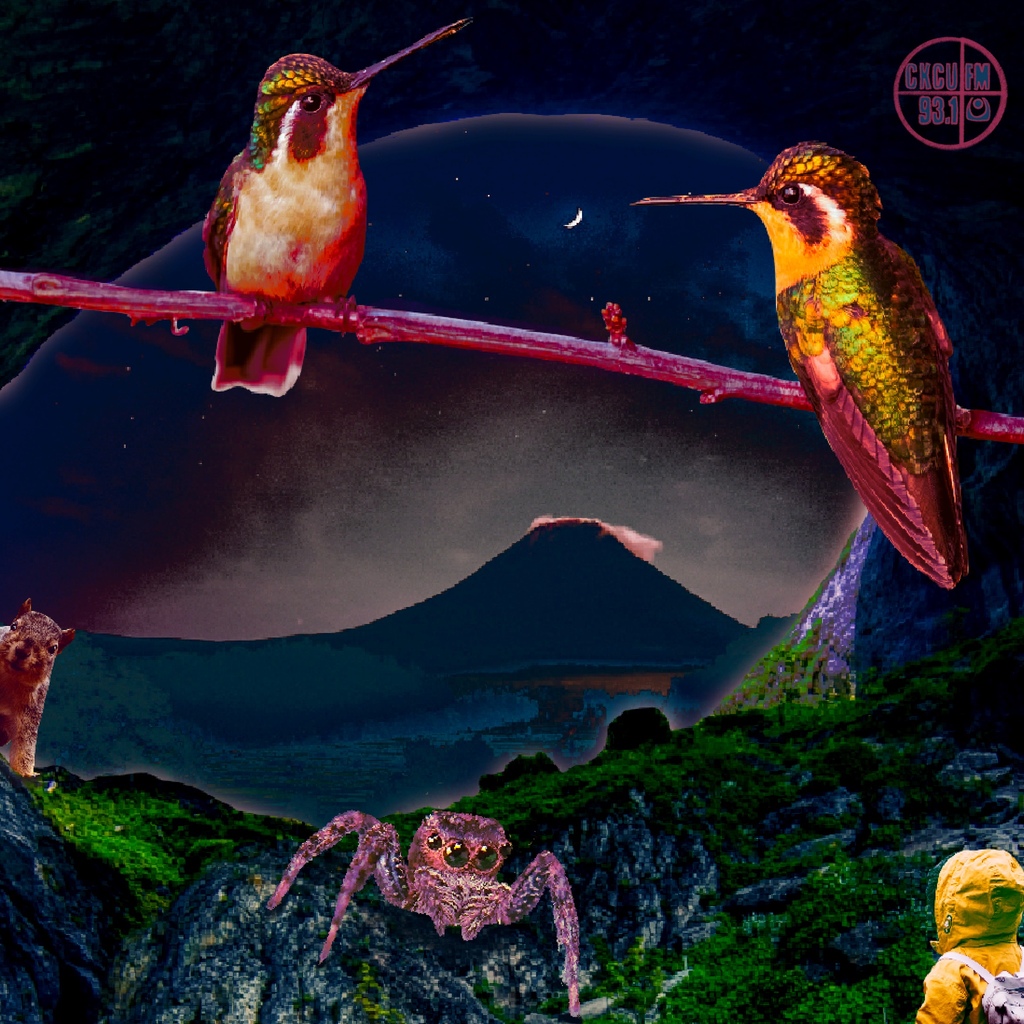 Monday Special Blend
Monday April 11th, 2022 with Jumpin' Joel Flash & Kim Valentine
BING BONG WE'RE BACK with more Ottawa/Gatineau tunes on the Monday Special Blend!
After a week away, Kim Valentine and I RETURN for more yik yaks & local tracks! YOU'LL HEAR TUNES from Sunday Riot Club, Duke Redbird, Twin Flames, Sultans of String, Leen Hamo, Sean Duhaime, Jesse Lindsay, Vi, The Life-Size Men, Backseat Dragon, J. Morris, Aspects, The Ottawa Guitar Trio, and Max Webster!
Blue River Liquor Shine
Max Webster - Universal Juveniles

On This Earth
Aspects ft. J. Morris - s/t


Aspects has been rocking and making music on his guitar for almost 20 years now. A true musician in all "Aspects", he has worked with Grammy award-winners and played alongside Motown legends. Opened up at festivals with the Foo Fighters, Beck and Blue Rodeo and countless legends. He has made music with the Wu tang clan, Bone Thugs N Harmony, G-Unit, MOP & The Lox. Eminem's team D12 rap about him in a song called "I Love Canada", and worked heavily with the Outlawz, an American hip hop group founded by Tupac Shakur. Playing blues/Soul/Hip-hop/jazz on the guitar he is one of the most rounded musicians you will ever see! He is also heavily involved in the community and Native activism and has won a few awards from the city.

https://open.spotify.com/artist/69LoIKhuJuda9MLrxWLrLn?si=mzTaNOUjSNOcz2R0jYItKQ&nd=1
ON THIS EARTH: https://www.youtube.com/watch?v=adm2zWpYyvM
Cold Out Here
J. Morris ft. Aspects - s/t


Born & raised in Ottawa J Morris formerly known as Dynamic has enough energy to power a fleet of hybrid cars, enough soul to raise a church roof & enough music in his blood to contaminate the average man. The son of a well known reggae singer Ras Lee & an award winning radio host it's no wonder why J Morris is full of musical vibes.

https://open.spotify.com/artist/2lBhWjnKtds7Lq9tP7e8Vk
COLD OUT HERE: https://www.youtube.com/watch?v=gDCmpyHeT6I
Je Cherche Le Nord
Jesse Lindsay - s/t

It'll be Mine
Jesse Lindsay - s/t

Singer/songwriter Jessy Lindsay explores an indie-pop style intertwined with jazz sonorities to create liberating music. Using catchy melodies coupled with honest lyrics, the young musician shares her truth. She discovered her passion for music during her youth after playing her grandparents upright piano. Today, the artist is reenforcing her reflections on the challenges of being a young woman to nourish the creation of her first EP.

https://www.jessylindsay.com/

PLAYING THURSDAY!

Encore Ottawa Season 3
Sean Duhaime Trio | 10 pm
Jessy Lindsay | 10:30 pm
https://shenkmanarts.ca/sean-duhaime-trio-jessy-lindsay

Encore Ottawa: https://shenkmanarts.ca/en/encoreottawa3
Craigslist Guitar
Backseat Dragon - Splash Pad

Tom Bergeron Fan Club
Backseat Dragon - Splash Pad

get it,, cause backseat driver

https://backseatdragon.bandcamp.com/releases

PLAYING FRIDAY!

★Modeville, Robin Kenny, and Backseat Dragon★
FRIDAY, APRIL 15, 2022 AT 8 PM
Avant-Garde Bar - 135½ Besserer
https://www.facebook.com/events/412175814054363
Minecraft: Haggstrom
The Ottawa Guitar Trio - s/t


Street Fighter II: Guile's Theme
The Ottawa Guitar Trio - s/t

Composed of Nathan Bredeson, Alex Bougie and François Lacelle, The Ottawa Guitar Trio has made it their mission to highlight the accessibility and reliability of classical music to modern audiences. The ensemble explores the classical guitar's unique dynamic and textural palette to bring to life a repertoire of dynamic movie soundtracks, nostalgic video game scores, timeless classical repertoire, as well as original music for guitar trio.

https://www.ottawaguitartrio.com/
Dead to You
Vi - Afterlife


Sleep Through
Vi - Afterlife


Alt-pop artist Vi came to prominence with her debut EP "blackwater." The singer-songwriter spent her early childhood in Qatar and began crafting moody music from her bedroom after moving back to Ottawa in her early teenage years. Drawing her inspiration from heartbreak and hardships, her vulnerable lyrics are known to resonate deeply with others. Due to her unique sound, many say she is like no other. 
 After taking a hiatus to focus on creating new music, Vi has so much she wants to say. Her words are best translated through her vulnerable lyrics and mesmerizing melodies. Vi's debut album titled Afterlife was just released and showcases this reflective time and newfound attitude towards life. Vi's hypnotic harmonies and dreamy lyrics take you on a journey of self-reflection and past relationships - and believe me when I say, this is a journey you'll want to take.

https://whoisvimusic.com/
SHIFTER Writeup: https://shiftermagazine.com/music/afterlife-by-vi-review
Happy Tuesday
The Life-Size Men - Up Yours... A Lot!

PS2
The Life-Size Men - Up Yours... A Lot!

Life-Size Men and their talented research team are endlessly trying to write the perfect 3 minute power pop song.

https://life-sizemen.bandcamp.com/releases

Playing Tuesday!

JR. GONE WILD w/ guests Life-Size Men
TUESDAY AT 8:30 PM – 11:30 PM
The Rainbow - 76 Murray St.
https://www.facebook.com/events/272134708225574
Opportunity
Sean Duhaime - Opportunity

Just in Time (for being late)
Sean Duhaime - Opportunity

The Sean Duhaime Trio is an original jazz fusion group, led by guitarist and composer, Sean Duhaime. On March 21st, 2020, Sean released his latest EP entitled "Opportunity" on the website Bandcamp which also has four original tracks, including a single released in 2019, "I Can't Dance".

https://seanduhaime.bandcamp.com/

PLAYING THURSDAY!

Encore Ottawa Season 3
Sean Duhaime Trio | 10 pm
Jessy Lindsay | 10:30 pm
https://shenkmanarts.ca/sean-duhaime-trio-jessy-lindsay

Encore Ottawa: https://shenkmanarts.ca/en/encoreottawa3
The Power of the Land
Sultans of String ft. Duke Redbird & Twin Flames - s/t


Tell the Night
Sultans of String ft. Leen Hamo - s/t


Sultans of String create "Energetic and exciting music from a band with talent to burn!" (Maverick Magazine, UK). Thrilling audiences with their genre-hopping passport of Celtic reels, flamenco, Gypsy-jazz, Arabic, Cuban, and South Asian rhythms, fiery violin dances with kinetic guitar, while bass and percussion lay down unstoppable grooves.

https://sultansofstring.com/

BIG CONGRATS to Twin Flames for their wins at the Canadian Folk Music Awards!


2022 CFMA Winners:
Vocal Group of the Year / Groupe vocal de l'année
Twin Flames for/pour Omen (Quebec)

Indigenous Songwriter(s) of the Year / Auteur compositeur(s) autochtone de l'année
Chelsey June & Jaaji for/pour Omen

https://www.twinflamesmusic.com/
Lost in Paradise
Sunday Riot Club - s/t


Light this City
Sunday Riot Club - s/t

Sunday Riot Club is Ottawa's relentless upcoming act.

Sunday Riot Club's sound is a mix of many genres and influences such as The Cult, Guns N'Roses, Billy Idol, Kiss and many more. Their live show will bring you back to the 80's era of rock music when the show was as important as the music.

https://www.sundayriotclub.com/
New Video: https://www.youtube.com/watch?v=rzGEK8UHEXc